Best Mattress for Stomach Sleepers in Canada
This research is supported by you, our readers, through our independently chosen products, which earn us a commission at no additional cost for you. Learn More
As a top-rated mattress for stomach sleepers in Canada, the Novosbed has a cradling surface and a dense core that ensures you stay afloat for proper spine positioning. Since too much sinkage can cause spinal misalignment in stomach sleepers, the overall sturdiness of the Novosbed makes it an excellent choice.
While testing the mattress, it cushioned enough to massage my muscles without feeling restrictive or causing me back discomfort. However, members of our team (over 230 pounds) that also checked the mattress had to request the additional Comfort+ layer to help them make the mattress firmer before being comfortable.
Based on Our Test
During the test, I found the Novosbed to be sturdy with a well-built layer that cradles my body perfectly. The test showed that it's a good fit for stomach sleepers who are having a hard time enjoying a cozy sleep, the mattress provides good relaxation to the spine
Recommended for:
The Novosbed top mattress layer is more cradling for pain relief than the Puffy and Ghostbed.

The base layer is sturdy enough to guarantee lumbar support.

It offers premium motion isolation, excellent for couples and partnered sleepers.
Cons:
There was some off-gassing while unwrapping the package.

The mattress does not have any special cooling features.
"Use a bed frame to aid mattress breathability, as raising the mattress off the floor creates more pathways for heat dissipation and temperature regulation in general."
Highlights
The Puffy mattress offers better cradling than the GhostBed Flex, making it the best choice for lightweight stomach sleepers..

The mattress is optimized for breathability with its gel-infusion and cooling mattress cover.

Its comfort layer is adept at tension alleviation through body contouring.
Next up on our list of the best mattress for stomach sleepers in Canada is the Puffy mattress. Lightweight stomach sleepers require a healthy amount of cradling, as a too-firm mattress can cause pressure buildup on body joints. And this is why I think the Puffy mattress would be a great option for lightweight users, as its medium-firm build offers you a generous hug and a sturdy base layer to deliver stress relief and lumbar support.
However, my favorite feature while reviewing this mattress was its motion isolation. I tested the mattress with my partner, and although I had my partner get in and out of bed multiple times, I didn't feel any disturbance. Safe to say, the Puffy mattress is good for both couples and lightweight stomach sleepers.
Based on Our Test
I think the lightweight sleepers would appreciate the way the Puffy cradles their body, plus the body contouring and alignment for the shoulders and back. While testing it, I found the cover to be made with a breathable material that helps moisture escape from its surface and also made in such a way that prevents it from getting stained easily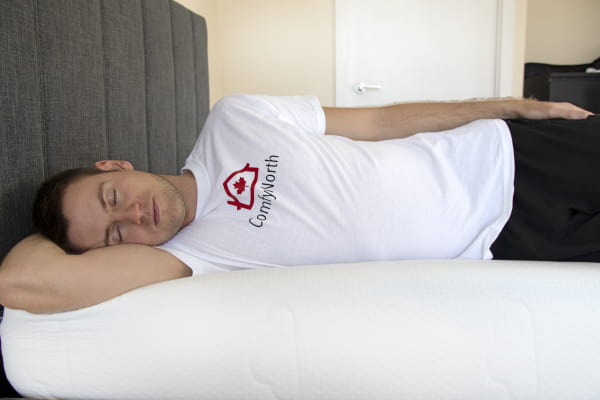 Recommended-for:
It has an extended sleep trial period, ideal for hesitant shoppers.

The mattress comes with a lifetime warranty for durability assurance.

It is budget-friendly.
Cons:
Its firmness level might not be perfect for heavier stomach sleepers.

There is no reinforced edge support.
"The heavier a stomach sleeper, the firmer the mattress needs to be. This helps limit sinkage and spinal misalignment as much as possible."
Highlights
Its incredibly dense core provides rigid support to counter sinkage and enhance natural spine positioning.

The mattress uses several cooling features to achieve optimal thermoregulation, making it better than the Novosbed in heat dissipation and retention.

A proprietary bounce layer combats the quicksand feeling that the memory foam creates.
My experience with the GhostBed Flex has led me to believe that the mattress will be a perfect fit for stomach sleepers who tend to run hot during rest. While its innerspring base is adept at dissipating body heat, the gel-infused comfort layers help you stay cool throughout the night. Adding this to the support and push-back generated by the mattress' base, it delivers premium comfort for stomach sleepers.
Moving on to my high point, the edge support. The GhostBed Flex reinforced edges allowed me to sleep on the mattress edge without fear of falling or sagging. I particularly liked this feature as I shared the bed with my partner, and afforded me more sleeping space even without sleeping in the middle of the bed.
Based on Our Test
Based on the test, the most outstanding thing about the Ghostbed for me is its ability to always remain cool at any time of the day which sets it aside from others. I found the mattress dense, as well as how it offers me better support compared to the other foam.
Recommended-for:
The Ghostbed Flex works for couples because it has better edge support than the Novosbed and Puffy mattresses.

There is zero motion transference, removing the disturbance caused by body movements.

Its dense build assures the user of longevity in use.
Cons:
It is expensive and not ideal for shoppers on a budget.

The mattress is heavy and cannot be easily moved.
Types of Stomach Sleeper Mattresses
The best types of stomach sleeper mattresses are foam, latex, innerspring, and hybrid mattresses. Even though they are all excellent mattress types, each has its drawbacks:
Foam. The options in this category are polyurethane (polyfoam) and memory. Memory foam mattresses are more popular because of their extreme cushioning and pain relief features. However, they tend to retain heat and sometimes limit movements. On the other hand, polyfoam has better breathability and bounce.
Innerspring. Innerspring mattresses are excellent for stomach sleepers because of their firm support base and thin comfort layers. They are known for their reinforced edges and optimal breathability. However, it's not recommended for people suffering from back pain since it's not adept at pain relief.
Latex. Latex mattresses are made from either natural or synthetic latex. Although expensive, they are known for their motion isolation features, breathability, and durability. Latex mattresses are also adept at pain relief and can efficiently alleviate tension.
Hybrid. A significant percentage of luxury mattresses are hybrid, and this is because hybrid mattresses fuse two or more mattress types together in their design. They are known for being durable and sturdy with incredible edge reinforcement; however, due to their bulk, they can be extra-heavy.
"Air mattresses are another great option for stomach sleepers. This is because the firmness level can be customized to user satisfaction."
Factors to Consider When Buying Mattresses for Stomach Sleepers
There are some factors that users should keep in mind when making their purchases. Durability for longevity, the mattress' cooling abilities, how efficient it is at pain relief, the give-and-support level it offers, and how allergenic the mattress cover is. With lots of tips to consider, here are the major ones:
Firmness. Sleeping style is very essential to choose a mattress firmness level (1). While soft mattresses are great for side and back sleepers, stomach sleepers require a sturdy surface that can provide them with ample support needed for appropriate spinal alignment.
Durability. Choose a mattress with a sturdy build (2). The mattress shouldn't start sagging after some time as this can be detrimental to spine health in stomach sleepers. An extended warranty period is a good indicator as it can be taken advantage of in case of deterioration.
"Make the most of sleep trials before making your purchase. The sleep trial period allows users to identify mattress problems and ensure compatibility.
Temperature Regulation. The mattress's construction and cooling features determine breathability and temperature regulation. It also determines whether the mattress would retain or dissipate body heat.
Hypoallergenic. Since stomach sleepers mostly have their faces pressed to the mattress, it's vital that the mattress cover is hypoallergenic. It should resist dust, mites, motes, and other allergy-causing irritants. It'll also help if the mattress cover can be easily cleaned.
Pain Relief. The amount of cushioning a mattress has to offer determines pain relief. Even though firm mattresses

tend to have less cradling, their comfort and transition layers ensure pressure alleviation and relaxation.
"As a stomach sleeper, it's best to use soft or medium-firm pillows. High loft pillows create pressure on the spine and can lead to back pain."
What type of mattress is best for a heavy stomach sleeper?
A hybrid mattress type is best for a heavy stomach sleeper. Hybrid mattresses incorporate the rigidity of innerspring mattresses with features from other mattress types to provide support, durability, and cushioning. And in addition, they are also breathable.
Should stomach sleepers use soft mattresses?
No, stomach sleepers shouldn't use soft mattresses. A soft mattress offers too much sinkage, which can harm spinal alignment in stomach sleepers. A stomach should use a firm or medium-firm mattress that doesn't sink and can provide adequate lumbar support.
Conclusion
The vital point to take away from this article is that stomach sleepers require a mattress that can provide them with the proper support needed for appropriate spinal alignment and comfort.
For people who can't decide on a mattress choice, my recommended pick for this article is the Novosbed. It is a comfortable and versatile mattress excellent for stomach sleepers due to its firmness level. In addition, its extra kit option for adjusting mattress firmness is especially great for heavier sleepers.
Did you enjoy the read? Or are there ways where you think we can improve? Why don't you drop a comment? And we'll surely get back to you.
References
WebMD Blog. (Nov 03, 2021). How Your Sleep Position Affects Your Health. Retrieved from https://www.webmd.com/sleep-disorders/ss/slideshow-sleep-positions

Satra Technology. (n.d). Durability Testing of Beds and Mattresses. Retrieved from https://www.satra.com/spotlight/article.php?id=452