How to Buy a Mattress in Canada: Step by Step Mattress Buying Guide
This research is supported by you, our readers, through our independently chosen products, which earn us a commission at no additional cost for you. Learn More
Last updated September 6, 2020
Author:
Comfynorth Team
For many people, shopping is a form of entertainment.
But when it comes to buying a new mattress, things can take a different (stressful) turn.
How do you buy a suitable model? What factors matter when it comes to choosing your new bed? Should you just settle for anything that feels comfy?
I've prepared a mattress buying guide to help you answer those questions (and more). Let's see what exact steps you need to take to buy a new mattress in Canada.
Things to Consider Before Shopping
1 in 4 adults (aged 18-34) in Canada are not getting enough sleep.
Source: https://www.canada.ca/en/public-health/services/publications/healthy-living/canadian-adults-getting-enough-sleep-infographic.html
And while it's often hard to determine what may cause this issue, typically, an unsuitable mattress is one of the most common reasons.
To find the best mattress in Canada, you need to prepare beforehand. There are some things you should learn even before starting the shopping process, including:
Mattress types
One of the most important aspects of my mattress buying guide in Canada is the difference between the main mattress types on the market. Each material has its specific characteristics and a unique feel, which means certain bed types might not be suitable for everyone.
Here are the most common mattresses you can come across these days:
Innerspring

. Being among the most popular (and the cheapest) mattresses, spring beds offer a good amount of bounce and resilient support all across the surface, including the edges. They are also good for thermoregulation as there's unobstructed airflow between the coils. However, innerspring beds aren't ideal for pressure relief. And because of their bounciness, spring mattresses don't absorb motion that well. This means your movements can disturb your sleeping partner.

Foam

. Now, there are two common types: polyfoam and memory foam.

Memory foam mattresses

are contouring and adapt to the curves of one's body. They are perfect for those seeking instant relaxation and want to reduce tension in their body. Polyfoam has a slightly faster response to pressure and a more resilient feel. Both memory and polyurethane foam tends to sleep hot unless it's infused with cooling gel or has an open-cell structure. However, such mattresses are typically more expensive.

Latex

. Latex mattresses are among the priciest ones due to their durability. Latex can be natural or synthetic. Both types are very resilient and work great for bouncy pressure relief. While a foam mattress can make you feel like you're sleeping "in" your bed, latex beds create the opposite sensation of sleeping "on" top of the material. Latex mattresses don't trap body heat and make a good choice for hot sleepers.

Hybrid

.

Good hybrid mattresses

combine the best from all words. They use coils for sturdy, uniform support and either foam or latex (sometimes both) for gentle cushioning and pressure relief. Hybrids are quite expensive and may not work for budget shoppers. Additionally, they tend to be very heavy and may be hard to transport if needed.

Airbeds

. Less popular for daily use, modern airbeds can be quite comfortable nonetheless. More expensive models come with separate air chambers for targeted support. Additionally, such mattresses allow users to adjust the firmness level by deflating or inflating the bed. However, they have a rather limited lifespan and are prone to tearing. Additionally, airbeds are not that good for pressure relief, which can be an issue for many users. It's a good option for sleepers on a budget, but I would advise using an air mattress as a temporary measure only.
Mattress sizes
Depending on how much sleeping space you require, you need to consider the available mattress sizes before shopping:
| Size | Measurements (cm) | Measurements (inches) |
| --- | --- | --- |
| Twin | 96 x 190 | 38 x 75 |
| Twin XL | 96 x 203 | 38 x 80 |
| Full | 134 x 190 | 54 x 75 |
| Full XL | 137 x 203 | 54 x 80 |
| Queen | 152 x 203 | 60 x 80 |
| King | 193 x 203 | 76 x 80 |
| California King | 182 x 213 | 72 x 84 |
Keep in mind that the bigger the mattress is, the more it would cost.
Delivery
When shopping for a mattress in Canada, you need to consider the delivery conditions.
Firstly, if the company doesn't offer free shipping, you need to be aware of the additional expenses on your part. Luckily, most online mattress brands offer free shipping, but there can be exceptions.
Additionally, some stores offer the White Glow delivery service. The company will hire people to deliver the bed right to your door and even set it up in your bedroom. This is extremely convenient, especially if your bedroom is on the second floor (or you live in an apartment building) and you need help carrying the mattress up.
Another aspect to consider is the way the mattress can be shipped. Most companies ship their mattresses compressed and vacuum-sealed in a box. However, some bed designs don't allow for that. In this case, you will receive your new mattress in its full size, which can cause some transportation issues.
Sleep trial
If you don't know how to buy a proper mattress or what you need exactly, pay attention to the models that come with an extended sleep trial.
A sleep trial means that you can use your new mattress at home for a while and then return it if the bed isn't comfortable enough for you. Additionally, a sleep trial is needed if the mattress requires a break-in period (meaning that your body needs time to adjust to the new bed and vice versa, the mattress materials need to adapt to your body curves).
Online mattress brands typically have longer in-home trials. Brick and mortar stores may offer a sleep trial length varying from 1 week to a couple of months. Keep in mind that some companies charge a restocking fee when you decide to return your mattress (1). However, it's better to test the mattress and pay the restocking fee to return it than not being able to test it at all. In this case, you can end up with an uncomfortable bed that might be a pain to resell.
Step-by-Step Mattress Buying Guide in Canada
It seems like Canadians are close to getting those ideal 8 hours of sleep.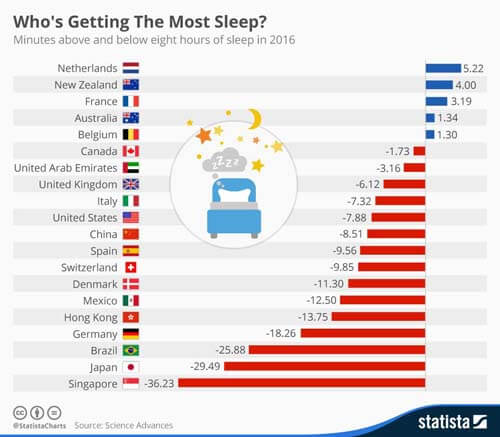 Source: https://www.statista.com/chart/4845/whos-getting-the-most-sleep/
But "close" doesn't mean we are there already.
Here's the deal though: a good mattress has a chance of improving your sleep quality drastically. So, consider the following step-by-step mattress buying guide in Canada that would (hopefully) help you find your perfect bed:
Decide on your budget

. Mattress prices vary from around $200 and can reach sky-high levels. So, it's better to decide right away how much you are willing to spend on your new bed. Keep in mind that shopping around the holiday season can help you benefit from sales and discounts.

Pick the mattress type

. You are already familiar with the most common mattress materials. And now it's time to decide which one would work for you the best. If you want a good bounce, go with a spring bed. If you require gentle pressure relief and want to be "hugged" by your mattress, pick foam. Hybrid beds offer a balanced combination of both. Latex mattresses have a rather unique feel and offer resilient support and springy pressure relief.

Consider your favorite sleeping position

. This aspect is extremely important, as your mattress firmness level must be suited for your sleeping position. Why? To keep your spine properly aligned during the night. Not only will this help you feel more comfortable but also will keep your back healthy. Now, the

best mattresses for

side sleepers

are typically softer ones (around 3-4 on the firmness scale, with 10 being the firmest).

Back sleepers

are advised to pick medium to medium-firm mattresses (5-6 on the firmness scale). As for

stomach sleepers

, they are usually recommended to sleep on firm beds (rated around 7-8 on the firmness scale). If you are a

combination sleeper

and tend to change positions during the night, you should pick something in between, around 5-6 in the firmness scale. Keep in mind that these recommendations apply mostly to

average

individuals (from around 130 to 230 pounds). Which brings us to the next step.

Consider your weight

. Just like the sleeping position, your weight can determine the needed firmness level of your mattress.

Lightweight

individuals (below 130 pounds) should pick softer mattresses. And just like that,

heavier

users (above 230 pounds) should consider firmer beds for each sleeping position. For instance, if you are a heavier stomach sleeper, you need an extra-firm mattress (rated around 8-9).

If you are dealing with any health issues, consult your doctor

. There are many

mattresses suitable for back pain

, arthritis, post-surgery, spinal stenosis, and so on. Your doctor can recommend a proper bed suited for your specific condition.

Decide on the size

. You are already familiar with common mattress sizes. Queen is the most popular one and it can easily accommodate two adults. Cal King often comes in a split version (with different firmness levels on two halves of the bed), which is perfect for couples that have different comfort preferences. King is often an option for partners who like to sprawl in bed (or share it with their kids or pets occasionally). And Twin XL is usually enough to accommodate a taller adult.

Compare models (and prices) online

. The next step would be to compare your possible options. Pick a few attractive ones and see what the main difference between them is and which company offers the best price.

Narrow down your options and check the reviews

. Once you get rid of the least attractive options, you can check other users' reviews. See how the mattress you want to buy performs for different types of sleepers and holds up with time. This will give you a rough idea of whether the bed is worth your money.

Check the warranty and the trial period

. As mentioned before, a good trial period is a must. The same goes for the warranty. Typically, an extended mattress warranty (more than 10 years) signifies that the manufacturer is sure of their product (which means they have used quality materials). And always read the fine print as it could be hiding potential pitfalls and extra expenses.

Consider the accessories

. Often, mattress shopping doesn't end there. You may need to invest in a mattress protector (to extend your bed's life) (

2

) or new bedsheets (if you are upgrading to a larger bed). Additionally, a new mattress may require a suitable foundation. It's better to check these things before finalizing your purchase to understand how much you are going to spend in total.
Should You Shop Online or in Stores?
Now when you know how to buy a mattress, you may start wondering:
"Where should I buy it from?"
These days, you have 2 options: online and in brick and mortar stores. But what's the difference and which one is better?
Let's consider the pros and cons of each option.
Pros
Cons
Online
lower prices (as online stores cut the middleman and save money on the brick and mortar expenses);
extended sleep trials are common, which allows users to test their new beds longer;
it's easier to compare multiple models when shopping online;
no pressure, as there's no sales assistant following you around;
online reviews can often help you make the right choice.
you can't get personalized shopping guidance (while a sales assistant can consult you in a brick and mortar store);
there's no way to test the mattress before buying it;
you may have to pay for shipping, especially if the mattress company is not Canadian.
In stores
you can test the mattress before buying (actually, as many mattresses in the showroom as you want);
most local mattress stores don't charge their customers for shipping;
you can get guidance from the in-store mattress expert;
you can try to negotiate the price if your budget is limited.
may be hard to compare different models side-by-side, especially when dealing with multiple companies and vendors;
not as convenient as shopping online in the comfort of your home;
some sales assistants can be too persistent, which may annoy shoppers a lot;
mattress prices are typically higher as the brick and mortar stores have to deal with more expenses than online brands.
Conclusion
So, now you know how to buy a mattress in Canada.
The task doesn't seem so hard, right?
You just need to figure out what material (and feel) you prefer and consider your weight and sleeping position. Don't forget to consult your doctor if you have any health or mobility issues. And if you are looking for a great value, remember that shopping during the holiday season can help you benefit from countless sales.
Are you ready to ditch your old mattress? Do you plan to shop online or in stores? Let us know in the comments!
References
:
Michelle Ullman (19 August, 2020). 9 Tips for Buying a New Mattress. Retrieved from

https://www.thespruce.com/tips-for-buying-a-new-mattress-4071878

Best Buy (June 20, 2018). Mattress Buying Guide: Finding the Perfect Mattress. Retrieved from

https://blog.bestbuy.ca/buying-guides/mattress-buying-guide