Best RV Mattresses in Canada in 2023: Top 3 Picks and Buyer's Guide
This research is supported by you, our readers, through our independently chosen products, which earn us a commission at no additional cost for you. Learn More
Sleeping in an RV can be very exciting, as it offers multiple benefits and more freedom when it comes to recreation.
On the downside, RVs often lack in terms of comfort.

That's when a great mattress can make all the difference. Today's guide will share the best RV mattresses in Canada and explain how to choose the most suitable model to achieve unparalleled comfort.
A Quick Preview
Highlights
bouncy transition foam to prevent the quicksand sensation;

machine-washable cover for easy maintenance;

sturdy and slow-moving support layer to minimize motion transfer.
It's an incredible mattress that offers excellent value for money as it comes cheap despite being constructed from premium materials. The Douglas RV mattress is $500 cheaper than the Douglas Summit mattress. However, it still offers similar contouring and support, making it just as much of a luxury RV mattress. The Douglas RV offers more sinkage than the Douglas Summit by 0.09 inches. I would recommend the Douglas RV slightly more as it can provide more contouring at a better price.
While reviewing the mattress, I used the side and back sleeping positions. I noticed that the mattress generates adequate lumbar support for spinal alignment while offering sufficient cradling for tension relief. From my tests, the Douglas RV mattress had 1.87 inches of sinkage, making me feel a good balance between support and comfort. The Douglas RV was 0.36 inches firmer than the GhostBed RV mattress. That means the Douglas RV mattress is better for sleepers who want slightly more support while enjoying the benefits of pressure-relieving memory foam. However, some members of our team (over 230 pounds) that tested the mattress complained of back pain when adopting the stomach sleeping style.
The mattress would also be a great bargain for couples/partnered sleepers as it features a slow-moving gel-infused foam that is efficient at absorbing body movements for minimal sleep disturbance. I really liked this feature as this meant the mattress could stay cool despite our combined body heat while also allowing me to get in and out of bed without disturbing my partner.
Motion isolation is essential for an RV on the road, as you can get more restorative sleep when your partner isn't jostling you. According to my review, the Douglas RV absorbed motion up to 2 inches from my glass of water and compressions. This is an excellent level of motion isolation, and my partner remained undisturbed for most of the night. The Douglas RV mattress is 2 inches more isolating than the GhostBed RV mattress, making it better suited to light sleepers who need powerful motion isolation features. It has the same level of motion isolation as the Douglas Summit for $500 cheaper. Therefore, I highly recommend the Douglas RV to restless couples who want to make a worthwhile investment.
Based on Our Tests
During our tests, the team concluded that the Douglas RV has incredible pressure relief capabilities due to the mattress' blend of support and cushioning. No matter the sleeping style, the mattress cradled our testers' hips, shoulders, back, and knees for premium comfort.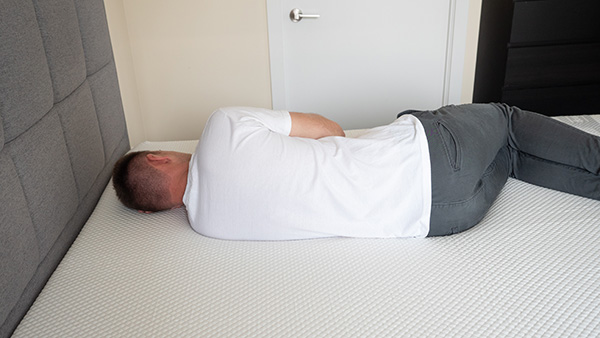 Recommended For:
Restless partners.

The Douglas RV mattress had motion-absorbing layers that contour and isolate motion, helping sleepers rest more easily without being disturbed;

Sleepers on a tight budget.

The Douglas RV mattress is well-priced, helping sleepers enjoy a more accessible luxury mattress that can suit tight budgets;

Sleepers who need a balance of comfort and support. The Douglas RV mattress has enough sinkage for good contouring yet can easily keep the hips and spine aligned for good support.
Pros:
Changing position is easy on the mattress thanks to the low motion transfer;

Has enough pressure relief which would be beneficial for side and combination sleepers;

Foam infused with cooling gel that prevent sleepers from getting hot and sweaty.
Cons:
Not firm enough for strict stomach sleepers;

Heavy sleepers (250 pounds and more) won't find it convenient as they will sink.
Highlights
adaptive feel for pinpoint support and proper weight redistribution;

two cooling layers to achieve sweat-free sleep;

medium-firm feel to guarantee sturdy, reliable support

.
Next up on our list is the GhostBed RV mattress. I think the GhostBed RV would be an excellent choice for hot sleepers because of its patented cooling properties engineered to keep an always-cool surface.
No matter how spacious your mobile home is, ventilation is usually limited due to the walls and a vehicle's higher tendency to run hot. However, the GhostBed RV guarantees cool comfort alongside sufficient cradling for stress relief.
From my tests, the GhostBed RV mattress had a temperature of 31.7 degrees Celsius. This is cool enough to keep my temperature neutral, and I never experienced any discomfort while on the road. This is similar to the Douglas RV mattress, where the GhostBed RV was 0.4 degrees hotter. That makes both good options for temperature-neutral sleep.
However, the GhostBed RV was slightly outclassed by the Douglas Summit RV mattress by 1.4 degrees. This is understandable, as the Douglas Summit RV is priced at $701 more than the GhostBed RV. I would recommend the GhostBedRV to sleepers who want coolness at an affordable price, while hot sleepers who need as much cooling as possible may be better suited to the Douglas Summit RV.
The GhostBed RV also offers excellent cradling. When I reviewed this mattress, I recorded a sinkage of 2.23 inches. This is a deep amount of cradling for an RV mattress where I felt cushioned, especially on my side, for adequate pressure relief. This is 0.45 inches more cradling than the Douglas Summit RV mattress, which means the GhostBed RV is better suited to sleepers who enjoy slightly more sinkage, cradling, and pressure relief.
While testing the GhostBed RV, my favorite feature was the mattress's targeted pressure relief and ease of movement. The mattress contoured my hips, shoulders, and back, creating a soothing feel that helped my muscles relax better. And despite the intense hug provided by the mattress, it wasn't restrictive, and getting out of bed was easy (thanks to the company's proprietary Ghost Bounce layer). I recorded a bounce as high as 7.89 inches, meaning the Ghost Bounce layer does an excellent job of keeping me buoyant. I could switch positions with minimal effort. This is slightly more bounce than the Douglas Summit RV mattress by 0.43 inches, making the GhostBed RV mattress the better choice for ease of movement.
Based on Our Tests
We tested it in the summer, and I feel the cool gel layer offers amazing cooling. Without a doubt, it's ideal for those on a summer adventure.
Recommended For:
Sleepers who prefer ease of movement.

The GhostBed RV has an incredibly high bounce level, ensuring ease of moving across the width of the bed;

Sleepers who enjoy a temperature-neutral mattress.

The GhostBed RV can disperse heat to keep you free of night sweats and comfortable on the open road;

Sleepers who enjoy pressure relief

. The GhostBed RV mattress offers more sinkage, which helps with weight redistribution and pressure relief.
Pros:
Cool temperature relief that hot sleepers will enjoy;

CertiPur-US certified, which means it's been tested to be free from harsh chemicals;

It's firm enough for heavy sleepers.
Cons:
Lack of motion isolation isn't ideal for light sleepers who get disturbed quickly;

Heavy users (250 lbs and above) will find it too soft.
Highlights
the CoolSense® cover and ecoLight® gel foam draw heat away, keeping you cool at night no matter the temperature outside;

the ecoLight® cooling gel foam is cushioning and supportive, helping to ease pressure points after a long day of travel;

the Elastex® Foam helps create a robust perimeter, ensuring you feel stable while sitting or lying on the edge.
The Douglas Summit is my best luxury option due to its cooling technology, excellent motion isolation, and quick bounce-back speeds. The best RV mattresses need to combat the varying temperature, which is often extreme, while out on the road. Luckily, the Douglas Summit RV has cooling technology in its cover and a top gel memory foam layer that helps draw away heat and moisture. From my tests, the Douglas Summit RV mattress had a temperature of 30.3 degrees Celsius, and I felt cool and dry while resting on the plush cover. This is 1.4 degrees cooler than the GhostBed RV mattress, which makes the Douglas Summit RV and its unique cooling technology a must for hot sleepers. It is also cooler than the Douglas RV by 1 degree. I highly recommend the Douglas Summit RV mattress for any hot sleeper needing a reliable bed to combat heat.
The Douglas Summit RV mattress also boasts excellent motion isolation. Life on the road can be tiring, so restorative sleep with as few disturbances as possible is necessary for couples or sleepers who share the bed with a pet. According to my review, the Douglas Summit RV absorbed motion up to 2 inches from my compressions and glass of water. This is a high absorption level, and my partner couldn't notice when I got in and out of bed. The Douglas Summit RV has 2 inches more motion isolation than the GhostBed RV mattress. That means the Douglas Summit RV is the better option for sleepers who get disturbed easily and need that extra absorption power.
The space in an RV is usually limited, so any assistance moving around is greatly appreciated. The Douglas Summit RV is a good solution, as its springiness ensures you can easily move across its surface anytime. From my tests, the Douglas Summit RV mattress only took 0.5 seconds to recover from compressions fully. I could move from my side to my stomach with little effort. This is faster than the GhostBed RV mattress by 0.4 seconds, making the Douglas Summit RV mattress a better option for smaller spaces and an easier time moving around the mattress's surface.
Based on Our Tests
After conducting tests with it, I discovered the Douglas Summit RV mattress shone the most with its coolness and isolation abilities. I could stay cool and comfortable, experience great pressure relief, and not worry about disturbing my partner.
Recommended For:
Sleepers who enjoy convenient cleaning.

The Douglas Summit RV mattress has an easy-to-remove cover that can be popped in the wash, keeping your RV space cleaner more easily;

Restless couples.

This model offers excellent motion absorption that improves couples' sleep with fewer jostlings at night;

Hot sleepers.

The Douglas Summit RV mattress can keep hot sleepers cooler thanks to its heat-dispersing cover and cool gel memory foam.
Pros:
Easy-to-remove cover for effortless cleaning;

Excellent motion isolation for undisturbed sleep;

Excellent cooling qualities for a sweat-free sleep.
Cons:
Slightly expensive price tag;

Too low of bounce for fast movement.
Why You Should Trust Me
To come up with a list of the best RV mattresses in Canada, I've tested many mattresses, each for about 2 weeks in an actual RV, noting down their most important characteristics. While testing them, I categorized them based on their thickness, edge support, thermoregulation abilities, noise, and hypoallergenic characteristics. These criteria determine whether a mattress manages to provide support for the back, regulate the air and avoid sweating, keep quiet when tossing and turning, and keep the allergens away. Factors like warranty, pricing, trial period, and how trustworthy the manufacturer is, are also important, so I note them as well.
With respect to the factors mentioned, I chose some of the RV mattresses that ranked higher in all criteria. To prepare the final list, I checked the mattress weights to determine whether it's a good fit for an RV, since it shouldn't be too heavy. Having all the information I needed to handpick the final products, with the help of my methodologies and first-hand experience, I chose these 5 mattresses to help you decide on the next mattress for your RV.
Choosing Among RV Mattress Sizes
Dimensions make RV models different from standard mattresses in a box that shoppers typically buy for their bedrooms these days. Overall, RV mattresses are shorter or narrower than regular models. Additionally, they tend to be somewhat thinner to allow for improved portability.
The most common RV mattress sizes include:
RV Bunk Beds

, which may vary from 28 x 75 inches to 35 x 79 inches;

Twin

– 38 x 75 inches, which is also a standard mattress size;

Twin XL

– 38 x 80 inches, which is a standard mattress size suited for taller solo sleepers;

Full/Double

– 54 x 75 inches (a standard mattress size that can fit into most RVs);

RV Queen

mattress size

– 60 x 80 inches, which measures the same as standard Queen beds but is typically thinner;

Short Queen

– 60 x 74 inches, which is shorter than

RV Queen mattresses in Canada

while still being able to accommodate two sleepers;

RV King

mattresses

– 72 x 80 inches, making them narrower than standard King models;

Short King

– 72 x 75 inches, which is similar to

RV Queen mattresses in Canada

but with extra width for two sleepers.
Shoppers can also find such sizes as RV Olympic Queen (66 x 80 inches), RV Eastern King (76 by 80 inches), and RV California King (72 x 84 inches). However, Short Queen mattresses and RV Queen models remain among the most popular options these days.
What Is the Best RV Mattress Type?
Many people believe that sleeping in an RV cannot be as comfortable as sleeping at home.
However, that's not necessarily true. If the sleeper chooses a suitable mattress type, they can enjoy sound rest even in their RV.
So, here are the main types of RV mattresses and their characteristics that may affect one's comfort:
Foam

. Such RV mattresses typically use a dense polyfoam layer for support and visco-elastic memory foam layers to offer proper cushioning. Foam

RV mattresses in Canada

are widely available and affordable in most cases. This mattress type has a slow-moving, adaptive feel. The top foam layers adjust to the sleeper's shape, aiding weight redistribution and tension alleviation. That's why

memory foam mattresses in Canada

are especially popular among people with bad backs and those who have sharp/painful pressure points. At the same time, foam mattresses may sleep warmer than anticipated. Shoppers can look for gel-infused or open-cell models to prevent overheating, but such mattresses typically cost a bit more.

Innerspring

. Spring mattresses belong to the most affordable category and can be an excellent solution for shoppers on a budget. Innerspring RV mattresses are bouncy and breathable. This means they can deliver resilient support and don't sleep hot. Additionally, spring models typically have sturdy edges, allowing them to offer more sleeping space. At the same time, spring

RV mattresses in Canada

are slightly less durable than other types. They may also lack cradling, which can be a big issue for side sleepers or people with tender pressure points.

Hybrid

. Hybrid mattresses blend different materials together to achieve a well-balanced feel. These mattresses typically combine coils (for support) with foam or latex (for cradling). Such a blend makes hybrids not too bouncy and not overly cradling (great for people who want "something in the middle"). Hybrid mattresses aren't likely to sleep hot and often have strong edges, offering more sleeping space. At the same time, they tend to be thicker and bulkier than other mattresses. Therefore, this type might not work for some RVs.

Latex

. RV latex mattresses are relatively rare, but there are a few options on the market nonetheless. Latex is very durable. It's also famous for its bouncy support combined with adaptive properties. As a result, latex mattresses do an excellent job of relieving pressure without restricting one's movement. Latex also sleeps neutral, making this material ideal for chronic hot sleepers (

1

). That being said, latex mattresses can be very expensive. They also tend to be heavy, which can be a problem for some RV owners.
How Much Do RV Mattresses in Canada Cost?
Although RV mattresses are less expensive than regular ones, some models in Canada cost as low as $500, while others can be as high as $2000. The price isn't static, and various other factors like breathability, mattress type, size, density, and cover are taken into consideration.
The main point of any purchase made is value, and if a budget-friendly mattress has everything you seek in a mattress, there's no point in going for a costlier model. However, it's also important to note that expensive mattresses are usually designed to be much more comfortable than their cheaper counterparts.
Other Factors to Consider When Shopping for an RV Mattress in Canada
Finding the right RV mattress involves multiple factors. Some are big, and others are just simple details, but they can affect one's comfort equally.
So, here are the factors shoppers need to consider if they want to make the most informed decision:
Sleeping style

. Shoppers should choose the firmness of their RV mattresses based on the way they sleep. This way, they will receive optimal support that may help them maintain a healthy sleeping posture. Side sleepers require more of a hug for the protruding body parts, so they are advised to pick softer RV mattresses. Back sleepers need reliable support with moderate sinkage for the body curves. That's why they tend to feel comfortable on medium mattresses. And stomach sleepers need to stick to firmer models. Sturdy support will prevent them from sinking in the belly or hip area and staining their lower backs (

2

).

Body weight

. The sleeper's weight will determine how much pressure they will put on the mattress. Heavier individuals (over 230 pounds) need to go one step firmer for each sleeping style to receive decent support and avoid unhealthy spinal curvatures. And petite sleepers (less than 130 pounds) should choose slightly softer mattresses to prevent developing painful pressure points.
When choosing an RV mattress, you should also consider the overall vehicle weight as a heavy mattress might affect your vehicle's balance and navigation
Allergen-resistant design.

RV mattresses are often exposed to moisture and dust. This means they are more likely to create a favorable environment for bacteria and allergens. Therefore, a great RV mattress has to use hypoallergenic components. A removable cover can also come in handy. It will allow for easier maintenance, helping sleepers prevent allergen build-up.

Edge support

. This aspect is often overlooked, but sturdy mattress edges can give sleepers extra space. Typically, spring and hybrid mattresses can deliver the best edge support.

Thickness

. Most RV mattresses don't reach more than 10 inches in height. Shoppers need to remember that it might be difficult to fit a thicker mattress into the sleeping quarters, even if the RV itself is quite large.

Noise

. RVs often serve as communal spaces for travelers. Naturally, nobody wants to wake up in the middle of the night because of a noisy mattress. Typically, foam and latex are the quietest when bearing weight. Hybrid mattresses can also be noise-free if the support coils are wrapped in fabric.

Temperature regulation. Sleeping hot is one of the biggest nighttime disruptions people typically face. Therefore, a good RV mattress has to maintain a neutral temperature throughout the night. Typically, spring and latex models sleep the coolest. Hybrid mattresses may also remain neutral if the top comfort layers aren't overly thick. As for memory foam, it's better to choose models that have gel-infused layers or a breathable, open-cell structure.
Do you need a special mattress for an RV?
Yes, as most standard mattresses can't fit into RVs' sleeping quarters. RV mattresses are typically thinner and shorter/narrower, allowing them to work with most RV types.
How thick should an RV mattress be?
A good RV mattress should be about 5-6 inches thick, as many RVs can't accommodate taller models.
What is the difference between an RV Queen and a regular Queen?
RV Queen and standard Queen mattresses have the same dimensions – 60 x 80 inches. However, RV Queen mattresses are typically thinner, making them much easier to fit into RVs' sleeping quarters.
Wrapping Up
Restful sleep is possible even when being far from home. That's what great RV mattresses are made for. Readers just need to make sure they get the suitable firmness and the materials that would make them feel the most comfortable. Plus, they should consider a few extra factors (like edge support and cooling) for an enhanced experience.
Looking for an RV mattress for your next trip? Allow me to recommend the Douglas RV mattress. It is an incredible mattress that manages to balance cushioning for body cradling with denseness for lumbar support, ensuring optimal relaxation and pain relief. And the best part is that it comes at no cost to your budget.
Still have questions about finding the best RV mattress in Canada? Alex Savy, the Co-Founder and Chief Editor at Comfynorth has reviewed countless sleep products with over 4 years in the industry and can help you find what you're looking for. Reach out through email at [email protected]. When emailing Alex, include your full name and phone number or email address.
References:
Mallory Creveling (January 27, 2021). Memory Foam vs. Latex Mattresses: How to Choose. Retrieved from

https://www.healthline.com/health/healthy-sleep/memory-foam-vs-latex

Nayana Ambardekar (November 03, 2021). How Your Sleep Position Affects Your Health. Retrieved from

https://www.webmd.com/sleep-disorders/ss/slideshow-sleep-positions