This research is supported by you, our readers, through our independently chosen products, which earn us a commission at no additional cost for you. Learn More
Everyone wants to get good sleep, and with a proper mattress, that's quite possible.
However, when it comes to finding the best memory foam mattress in Canada, the market, sadly, doesn't have much to offer.
Don't worry, though!

I've made detailed research and tested five mattress models that can bring the comfy sleep back into your life. So, check them out below and see which one will help you get a good night's sleep!
A Quick Preview
Highlights
3 firmness options to satisfy all types of sleepers;

The firmness level can be adjusted after the purchase, which increases shoppers' chances of getting their perfect mattress;

Open-cell memory foam for increased breathability;

Removable and washable cover, super easy to care for;

Good motion absorption, suited for restless couples.
I thoroughly enjoyed reviewing the Novosbed memory foam mattress and concluded that this is the best overall memory foam mattress in Canada. This mattress performed excellently in most parameters during my testing.
The Novosbed mattress is made using premium materials that felt smooth and soft when I tested it. The mattress's improved open-cell memory foam made me sleep more comfortably, and I noticed that the bed remarkably dispelled my heat. From my tests, I noticed the Novosbed had 29.5 degrees Celsius across its surface area after lying down. I was cool enough to be free of overheating or night sweats. This is 2.3 degrees cooler than the Douglas, a similar memory foam mattress. Between these two, the Novosbed performs slightly better for heat dispersion and can help hot sleepers feel cooler. Moreover, the removable Tencel cover also adds to this mattress's coolness and feels cool to the touch and gentle on my skin.
Additionally, the Novosbed mattress offers impressive contouring, and the bed gently cradled my frame, making me feel comfortable. According to my review, the Novosbed had 1.92 inches of sinkage, which was enough to contour to my shoulders without me feeling 'stuck.' The Novosbed has the same sinkage as the Douglas mattress, making both good options for a responsive memory foam feel.
"I reviewed the three firmness options Novosbed, and they all supported my weight impressively."
This mattress also aligned my hips, neck and spine better than most memory foam mattresses I have tested.
Based on Our Tests
During the test, I found that I was comfortable sleeping on this bed throughout the night as it gave me additional support for my spine. I also discovered that the Novosbed is quite sturdy, making it perfect for active sleepers.
Recommended for:
All sleep positions.

The mattress is available in three firmness levels, and in case your chosen firmness appears to be uncomfortable for you, you can order a Comfort+ kit to adjust it. Thus, this model can satisfy most kinds of sleepers out there;

Couples

. Good edge support of the Novosbed paired with relatively low motion transfer can be beneficial for active sleepers and their partners — and anyone who shares a bed;

Hot sleepers.

The combo of open-cell memory foam and a breathable Tencel cover excels at withdrawing body heat and prevents you from hot sleeping.
Pros:
Excellent motion isolation to keep disturbances to a minimum;

Excellent support to keep the spine and hips aligned;

Good cooling capabilities for hot sleepers.
Cons:
The deep hug this mattress offers might seem restricting to some sleepers;

Heavier users may sleep warmer on this mattress as they will sink in deeper into the foam.
Highlights
Medium-firm feel, designed to accommodate a wide range of sleepers;

Breathable eucalyptus-derived fabric blend for cooler sleep;

Responsive transition layer to fight the "stuck-in-the-foam" feeling;

Zippered cover for fuss-free cleaning;

Gel foam comfort layer for a pleasant cooling sensation.
If you're on a tighter budget, the Douglas mattress will be perfect for you! In my opinion, this bed offers impressive features at an affordable price point. The Douglas mattress materials feel top-quality regardless of the affordable price, and the mattress felt responsive and firm when put through rigorous testing.
In conjunction with the moisture-wicking Tencel cover, the top comfort layer ensured I slept cool. In my opinion, the motion transfer on the Douglas mattress felt just about average. When testing, the Douglas absorbed motion up to 2 inches from my glass of water, which is an excellent level of motion isolation. My partner didn't notice most of my more significant tossing and turning. The Douglas performs exceptionally well with 3 inches better motion isolation than the GhostBed Flex. That makes the Douglas a better choice for sleepers who have restless partners.
I liked the combination of materials on the Douglas mattress, which made it feel cool while supporting my spine. According to my review, the Douglas had 1.92 inches of sinkage, contouring enough for pressure relief while keeping my spine aligned. The Douglas had 0.58 inches less sinkage than the Puffy, making the Douglas a good option for sleepers who prefer to sleep less 'in' their mattresses. In addition, the eco-friendly construction is a feature that will please most environmentally conscious sleepers.
Based on Our Tests
During my tests, I saw that the eco-light foam cradled my body regardless of my current sleeping position. It also served as a buffer that protected my body's major pressure points against excess impact.
Recommended for:
Those on a limited budget. The Douglas is a reasonably priced mattress that is no worse than its more expensive competitors. It's pretty durable and has a balanced medium-firm feel, which can work for many sleepers;
Eco-conscious users. The mattress is manufactured with renewable energy sources and eco-friendly materials. So if you look for a budget-friendly alternative to a natural latex mattress, go for the Douglas;
Individuals with hypersensitivities. The washable cover and certified materials make the Douglas a good purchase for people with respiratory disorders or allergies.
Pros:
An excellent price point for sleepers on a tight budget;

Easy-to-remove cover;

Excellent motion isolation for fewer disturbances.
Cons:
Might not be supportive enough for strict stomach sleepers;

May not seem comfy enough for heavier users (as they will sink deeper into the comfort layers and might not receive the needed level of support).
Highlights
Removable hypoallergenic cover that protects against the buildup of allergens and insects.

5-layer foam construction offers excellent support to the bones and joints of sleepers.

Improved breathability features with a cooling gel cloud that helps keep a cool surface even in warm weather.
The Puffy mattress is the best memory foam mattress for side sleepers I've tested because of the excellent support, thanks to the 5-layer construction. Like most memory foam mattresses, this bed contoured around my body, cradling my joints. When testing this mattress, I noted a 1.7-second bounce-back speed from compressions. This is exceptionally contouring, and I noticed the foam was slow-adaptive, molding to my body and releasing tension. The Puffy was 0.6 seconds slower than the GhostBed Flex, making the Puffy the better option for slow-adaptive comfort. The Puffy mattress has just the right amount of hug, and I didn't feel excess pressure on my hip, waist and shoulders. From my tests, the Puffy had 2.5 inches of sinkage while I was lying down. This is deep enough that I was well-enveloped and experienced adequate pressure relief. The Puffy has 0.55 inches more sinkage than the GhostBed Flex, which means the Puffy can work better for a classic memory foam feel.
I liked that the removable cover on the Puffy mattress is made with a breathable fabric that feels lightweight. Moreover, the mattress cover is hypoallergenic, so you don't have to worry about the fabric triggering any allergies. From my tests, the Puffy mattress offers above-average edge support. So, I didn't enjoy sleeping around the bed's perimeter much.
"In my opinion, the motion transfer is more than adequate, and I'm sure couples will enjoy sleeping on this mattress."
Based on Our Tests
I am particularly fascinated by the comfort provided by the 5-layer sleep system of this mattress when I tested it. The various functionalities this bed offers make it perfect for people who love to rearrange their bed spaces like myself.
Recommended for:
People who use their mattresses for different purposes

: if you are an individual that moves your mattress about, then there is a high chance you will be putting it on different surfaces. This mattress is just right for people with varying needs for their beds because of its versatility.

People with easily irritable skins

: The detachable, stain-resistant, hypoallergenic cover ensures that you can sleep without the fear of waking up with skin irritations.

Hot sleepers: The gel-infused cloud foam provides good temperature regulation for the mattress, effectively making the mattress surface cool. In addition to this, the top foam is breathable, which is perfect for hot sleepers.
Pros:
Excellent pressure relief due to a high sinkage level;

Easy-to-remove cover;

Excellent contouring as it has slow-adaptive foam layers.
Cons:
The ever-cool surface can be a disadvantage in freezing weather

Some users complain of the mattress not having enough bounce.
Highlights
Uses a Ghost Ice cover that's pleasantly cool to the touch;

Thick gel memory foam layers contour and cradle for muscle tension relief;

The Ghost Bounce layer keeps you feeling buoyant, increasing ease of movement.
The GhostBed Luxe is my best memory foam mattress for couples due to its excellent ability to isolate motion, deep contouring sinkage, and high bounce level. Motion isolation is essential for couples as it allows light sleepers to feel movement from their partner less, helping them sleep more easily. From my review, the GhostBed Luxe absorbed motion up to 3 inches away from my glass of water, which is enough to absorb the most significant motion. My partner could barely feel it when I was tossing and turning. The GhostBed Luxe has 0.5 inches less motion isolating capabilities than the Puffy. However, both are similar and work as options for couples needing a good isolating mattress.
Another feature of the GhostBed Luxe that stood out to me was its deep sinkage. Sinkage is great for contouring and pressure relief. From my tests, the GhostBed Luxe had 2.7 inches of sinkage, and I was deeply enveloped in the soft upper layers. The GhostBed Luxe was 0.75 inches more contouring than the GhostBed Flex, making the GhostBed Luxe the better option for sleepers who enjoy deep sinkage, contour, and pressure relief.
The GhostBed Luxe also has a high bounce. A high bounce level is excellent for sleepers who need ease of movement across the surface of the mattress. When reviewing the GhostBed Luxe, I recorded a bounce level of 8.01 inches, mainly due to the Ghost Bounce layer and responsive base. I could freely shift sleeping positions without much effort. The GhostBed Luxe was 1.22 inches springier than the Novosbed, meaning the GhostBed Luxe is better suited to sleepers who toss and turn and need extra springiness.
Based on Our Tests
We determined through our tests that the GhostBed Luxe was comfortable and springy, allowing me to switch positions quickly, and kept my spine neutral.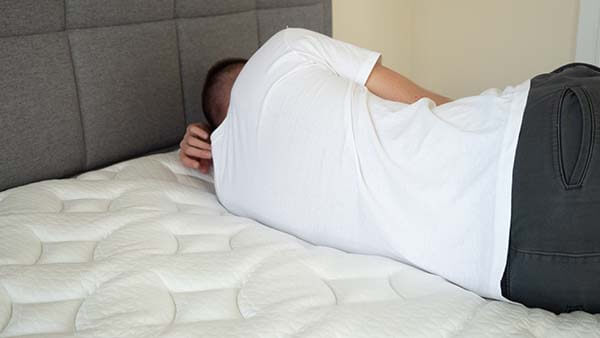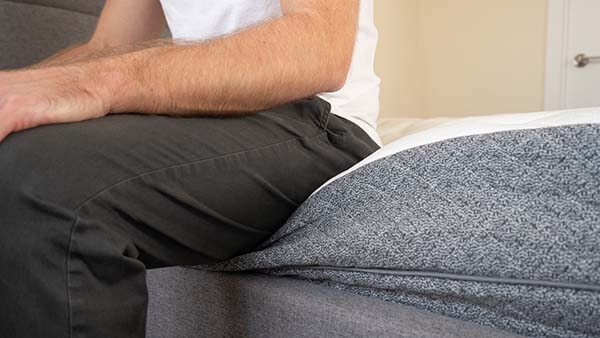 Recommended for:
Couples.

The GhostBed Luxe has good motion isolation properties that help sleepers stay undisturbed while sharing the bed with a restless partner.

Sleepers who enjoy deep sinkage.

The GhostBed Luxe has soft, cradling upper layers that can envelop and relieve pressure quickly.

Sleepers who prefer responsive memory foam. The GhostBed Luxe uses responsive memory foam that bounces back from compressions quickly, ensuring you never feel 'stuck' while shifting positions.
Pros:
Excellent motion isolation due to its soft, cradling layers;

Excellent bounce thanks to its Ghost Bounce layer;

Good edge support for stability when getting out of bed.
Cons:
Sleeps on the hot side;

Non-removable cover.
Highlights
Its coils ensure you're buoyant and restriction-free while lying in the layers;

The Ghost Ice fabric in the cover and gel memory foam help disperse heat, keeping you cool;

The slow-adaptive memory foam contours and molds to your body, helping you feel 'weightless.'
The GhostBed Flex is my best memory foam mattress for hot sleepers due to its breathable construction and cooling materials, its ability to keep you buoyant for ease of movement, and excellent edge support. A cool mattress is effective for combating night sweats and accidentally waking up throughout the night. Luckily, the GhostBed Flex offers excellent coolness. From my review, the Ghostbed Flex had a temperature record of 30.4 degrees Celsius, enough to keep my temperature neutral and cool during the night. This is 1.6 degrees cooler than the GhostBed Luxe, making the GhostBed Flex the better option for hot sleepers due to its cooling cover, gel memory foam, and breathable coils.
The GhostBed Flex also has an excellent bounce rate. A high bounce rate is crucial for quickly switching sleeping positions. The GhostBed Flex's use of coils and a Ghost Bounce layer effectively create a responsive sleep surface that I found helpful for moving across the bed's surface easily. From my review, the GhostBed Flex had a total bounce of 9.01 inches, 1 inch more than the GhostBed Luxe. Of the two, the GhostBed Flex's coils make it the better option for a buoyant sleeping experience.
Another feature I enjoyed regarding the GhostBed Flex is its strong edge support. A good edge support ensures the entire width of the bed is stable, and there's no risk of falling out when sitting near the edge. From my review, the GhostBed Flex had a sinkage of 3.7 inches. When I was sitting on the edge, I was supported and didn't feel at risk of accidentally falling. The GhostBed Flex had better edge support than the GhostBed Luxe by 0.2 inches, making the GhostBed Flex a better option for stable edges.
Based on Our Tests
After putting it to the test, I found the GhostBed Flex was comfortable on my back, with ease of movement and springy buoyancy that helped me feel contoured, relieved of pressure, and able to move easily.
Recommended for:
Hot sleepers.

Ghost Ice technology, gel memory foam, and breathable coils make the GhostBed Flex excellent at heat dispersion for hot sleepers;

Sleepers who enjoy freedom from restriction.

The coils in the GhostBed Flex help keep you buoyant and free to switch positions quickly;

Sleepers who prefer stable edges. The robust edges of the GhostBed Flex create a stable edge to get out of bed more easily.
Pros:
Excellent bounce for ease of movement;

Excellent cooling properties to keep the heat at bay;

Good edge support for effortless sitting or lying at the edge.
Cons:
Non-removable cover;

Does not isolate motion well.
Why You Should Trust Me
I've tested a lot of memory foam mattresses in Canada, each for over 5 days to 2 weeks. I've taken note of their most important properties. While testing them, I paid attention to the foam density, firmness, thermoregulation, cover material, and edge support. These factors demonstrate whether a memory foam mattress can provide enough support for the back, regulate the temperature on warm summer nights, or keep the body away from hazards or allergens. I also consider manufacturer-related factors, such as the cost, warranty, nights of trial, and company credibility, so I only introduce the trustworthy picks.
Then, I came up with a narrowed down list from all the initial memory foam mattresses. To finalize the list, I checked one last point, which is whether the fire barrier in these memory foam mattresses is made from fiberglass or other materials, prioritizing the ones without fiberglass. Having everything put into place, with the help of my methodologies and first-hand experience, I put these products in a list to help you make mindful decisions when buying memory foam mattresses in Canada.
Who Will Benefit the Most from Memory Foam Mattresses?
You may have noticed that the most popular mattresses on the market feature at least one layer of memory foam. And you find yourself wondering "are memory foam mattresses good?"
And it's totally natural.
The pressure-relieving effects of memory foam and the amount of cradling it can offer are the best among the mattress materials.
Still, some users may benefit from a memory foam mattress more than others:
Individuals with chronic pain.
There's quite an interesting hypothesis concerning the pain-relieving properties of memory foam. See, it's a temperature-sensitive material, meaning it feels more rigid in cold environments and becomes softer as the temperature rises. Since pain often comes with an inflammation process, which raises the temperature around the inflamed area,

memory foam will become more cradling in those spots

, providing the necessary relief.

People with spinal misalignment.

Memory foam can adapt to your spinal curves even if they have some imperfections. This might help slow down the progression of your scoliosis or lordosis and help you relax for a more refreshing sleep.
"In my opinion, the cradling sensation memory foam mattresses provide makes these mattresses the ideal choice for sleepers who need to realign their spine."
People with allergies.

Memory foam mattresses might work well for people with allergies. The reason behind that is that denser foams have smaller pores, so they're more difficult for dust mites to chew in. And dust mites are known as the most common allergens in households.

Those with a physically demanding lifestyle.

A memory foam mattress can turn your bed into a cozy cradle and decrease the time you'll spend tossing and turning before you get comfy. So, you'll spend more time sleeping and recovering, which will improve your physical strength and performance.

Those who share a bed with someone.

The prominent feature of any memory foam mattress is its low motion transfer. So, if you share a bed with a restless sleeper, a memory foam mattress can ensure uninterrupted sleep for both of you.
Also read: TOP 5 Best Mattresses in a Box in Canada
"Unfortunately, most memory foam mattresses lack proper edge support. But a sturdy bed frame made of steel or sturdy wood might help you reinforce the edges."
How to Choose the Best Memory Foam Mattress in Canada?
Now, I want you to know one thing:
The best mattress is the one that feels comfortable personally for you. So, you should rely on your personal preferences as the top priority before making any purchase.
Still, there are some general recommendations that can help you find a suitable memory foam bed in Canada a lot easier. And I will list them for you just below.
Foam Density
Foam density shows how
durable your mattress will be, and how well it will dissipate heat (denser foams have more pores of a smaller size which makes it more difficult for heat to escape).
The density is measured in pounds per cubic foot (PCF) and the minimal numbers to look for start at 4-4.5 PCF.
"Always check the density of the base layer. The base is essential for maintaining the durability and enhancing the properties of the upper layers."
Firmness
The firmness of your mattress will define whether you'll feel comfortable sleeping on it. Even though the perception of firmness varies from person to person, it's usually tied to two things: your weight and your sleeping position.
So, let me explain this connection below:
Soft mattresses.

These typically feature soft upper layers that have a pronounced give. Larger users might sink through these layers and feel the firm transition and base layers. This may not only cause overall discomfort but also result in spine misalignment. Smaller sleepers, on the contrary, will benefit from a softer mattress, especially if they sleep on their side, as side sleepers typically need deeper sinkage for proper alignment.

Medium & medium-firm mattresses

. These can actually make a good fit for most users. Medium mattresses have less pronounced but sufficient sinkage and can support your spinal alignment in almost any sleeping position without creating pressure points. And if you're on the heavier side, you can opt for a medium-firm bed. It will properly support your lower abdomen and hips, evenly distributing the weight.

Firm mattresses

. Memory foam beds with a firmer feel are an excellent pick for sleepers that weigh more than 220 pounds. They withstand larger weight better and prevent unnatural curves. Also, a firm mattress will work for stomach sleepers, as it can align the lumbar spine without straining it.
"If you're unsure about the right firmness for you, I suggest testing out mattresses with different firmness levels to know which firmness level is most comfortable for you"
Thermoregulation
The main issue of memory foam mattresses is heat retention.
...That's what I would say if I were writing this review a couple of years back.
Today, many brands have successfully solved this issue by infusing foam with cooling gel, copper, or charcoal.
Infusions make memory foam change its structure from closed-cell to open-cell, which helps dissipate heat and prevents you from sleeping hot.
Gel particles are the most popular option among cooling memory foam mattresses. Gel works to draw the excess away from one's body and locks it inside. This helps prevent heat build-up and can create a temperature-neutral sleep environment.
Another option suited for hot sleepers is open-cell foam. Such foams have an aerated structure. There are countless small air channels that allow the air to travel through. Such mattresses are more breathable and thus, sleep cooler.
However, keep in mind that even if you get yourself a cooling memory foam mattress, there's still a chance to sleep warmer than usual. Why? Because memory foam is hugging and cradling. And if you sink a bit deeper, you will be enveloped by the mattress's comfort layers. Naturally, this can make you feel warmer during sleep.
Suitable Firmness for Your Sleeping Position
To get the most out of your new mattress, you need to pick the firmness level that is suitable for your specific sleeping position. Now, this may vary from user to user depending on personal preferences, but here are the general rules:
Side sleepers.

Since this position requires good pressure relief and a decent amount of cradling for the protruding parts (hips and shoulders), the best option would be a soft mattress. If you are a heavier sleeper, a medium one will work.

Back sleepers

. A medium or medium-firm mattress will provide enough cushioning for your hips and buttocks while keeping the spine in a neutral position.

Stomach sleepers. For this sleeping position, you will require stronger support. Your mattress should be firm or at least medium-firm to prevent the pelvis from sinking in.
Combination sleepers

. If you tend to change positions while sleeping, you might enjoy a medium-firm mattress the most. Something not too firm and not too soft will be able to give you balanced support throughout the night.
Also read: Mattresses Suitable for Back Pain
Other Considerations When Shopping for a Memory Foam Mattress
So, at this point, you probably understand what makes a good memory foam mattress and how to choose a model that would work for you.
Here's the deal though:
There are certain factors that some users neglect (or forget about) when it comes to shopping. However, they are still just as important. And paying attention to those details can help make a better choice. So, let's take a look at them:
Sleep trial.

Here's the deal: most memory foam mattresses require a break-in period. To put it simply, your new mattress will need time to adapt to your body (just like your body will need to get used to a new bed, probably). Therefore, the first time you lie down on your new mattress, you might not feel super comfortable. You will need to give it a few nights to understand how the mattress really feels. And if it isn't 100% comfortable, a sleep trial will allow you to return your mattress for a full refund. It's a crucial aspect that would be especially helpful for uncertain shoppers (someone who isn't sure what they need).

Warranty. This one will protect you and guarantee your peace of mind. An extended warranty period can be a good indication that the mattress is quality-made, so look for companies that cover at least 10 years of use. Also, pay attention to what exactly the warranty covers. For instance, foam tends to develop body impressions or sagging after some time (especially cheap, low-density foams), so make sure the warranty covers this issue before finalizing your purchase.
Size. Memory foam mattresses, like all types of mattresses, come in different sizes. Memory foam mattresses are dense, and there will be a difference in the weights of various sizes. So, if you intend to move your memory foam mattress around, you should consider the size you are opting for.

Another critical factor is the size of your bedroom. Carefully consider the size of the memory foam mattress you're buying concerning the space in the bedroom you intend to put it in. People are usually advised to leave enough space for movement.

Cover material. The most common options these days include pure cotton, Tencel, bamboo, polyester, and natural + synthetic blends. Many users prefer cotton due to its breathability and good moisture absorbency (1). Tencel and bamboo are also natural fabrics that offer proper air circulation and could aid cooler sleep. However, polyester or blended covers are a bit easier to care for. They also tend to be a bit sturdier and start showing signs of wear and tear later (in most cases). Nonetheless, you should remember that polyester and other synthetic fabrics aren't that breathable. Therefore, they might not work for hot sleepers or someone who experiences night sweats frequently.
The dilemma commonly faced by many intending buyers of a memory foam mattress is making the right option with regards to the mattress cover. Cotton mattress covers are breathable but are easily stained, so it will be hard for you to get your pet or a toddler on them. On the other hand, mattress covers made with polyester or synthetic blends are easier to care for but not as breathable. So, you need a balance between breathability and maintenance.
As a tip, always lookout for a removable mattress cover option in a memory foam mattress. This way, you won't have to sacrifice the breathability feature of your bed for easy maintenance and vice versa.
Budget

. Allow me to share just a few tips. First, if you decide on your budget from the very beginning, you will quickly narrow down the list of options (which will make the decision-making process easier). Second of all, keep in mind that many mattress companies offer financing to the customer. You can pay for your new mattress in smaller amounts gradually if you want to put less stress on your budget. And finally, if you wish to save more, you can shop around the holiday season when most mattress companies offer very attractive discounts.

Safety certifications. You are probably aware that the foam manufacturing process involves various chemicals, including fire retardants. Some of them can emit VOCs (Volatile Organic Compounds) which may be harmful if inhaled. That's why a good memory foam mattress has to be safety certified (as proof that the manufacturer didn't use any harmful or potentially hazardous substances in the process). Look for such certifications as CertiPUR, GOTS (Global Organic Textile Standard), GreenGuard, Oeko-Tex, etc. (2).
Fire barrier. Not all mattress retailers will tell you this, but there are models that use fiberglass as a fire barrier. If the fiberglass escapes (for instance, if you rip the cover), it can be very dangerous. The fibers are so tiny that they are nearly impossible to clean. They can get into your eyes and airways, causing irritation and even more serious problems. That's why you might want to check the fire barrier material before purchasing your memory foam mattress. Keep in mind that cheaper models are more likely to use fiberglass. And do not hesitate to contact customer service if the product page does not mention the fire barrier material.
Edge Support. If you are a restless sleeper or sleep with a partner, you will need all the mattress space you can get. Unfortunately, foam mattresses tend to sag at the edges. Fortunately, many memory foam mattress products have outstanding edge support, and you should look out for them. The edge support in your memory foam mattress means more sleeping room for you and your partner.
Memory foam mattresses: Online vs. in-store shopping
After knowing the considerations for choosing the best memory foam mattresses in Canada, the next step is to decide on your means of purchase. There are only two generally known choices as far as shopping is concerned. Shopping online or going to your preferred local store to browse through.
While in-store shopping is an incredible experience, an online store offers some perks and benefits that the local brick-and-mortar store does not. Online shopping affords users the ease of access needed to browse through catalogs unhindered and without having a salesperson hassling or trying to convince them otherwise.
Another advantage of shopping online is the home delivery process that comes with it; the extra effort required to haul your mattress home is removed. Furthermore, online stores feature enticing promotional sales and discounts that allow users to save more money.
In addition, users can research their desired products by reading unbiased customer reviews. People tend to trust the words of their fellow consumers more than that of a salesperson, and then there's the opportunity to ask questions that local stores don't offer quite as well.
"In my opinion, buying a memory foam mattress online offers unmatched comfort since you can order from the comfort of your couch; however, if you prefer testing the mattress, buying from a local store may be the preferred option."
Are memory foam mattresses easy to clean?
Generally, yes, especially if your mattress has a removable cover. You might also want to vacuum your mattress regularly and spot-clean any stained areas (using a mild detergent).
How long do memory foam mattresses last?
Memory foam mattresses usually last for up to 10 years, depending on the foam density and the manufacturing quality.
How much do memory foam mattresses cost?
On average, memory foam mattresses cost around $800-1,000. Of course, you can find much cheaper models, but they are very likely to use low-density (hence, low-quality) foams.
Can I use a memory foam mattress with an adjustable bed frame?
Yes, most memory foam mattresses are adaptive enough to be used with adjustable beds. However, in this case, your memory foam mattress might have a shorter lifespan (due to the compression of certain sections when being used in different positions on an adjustable bed frame).
Conclusion
Memory foam is best known for its motion isolation characteristic. Bringing this feature to the bedroom has been a fantastic innovation in the sleep industry. Therefore, it is not surprising that memory foam mattresses are getting more notoriety in Canada, and I am highlighting the best ones available.
Claiming the recommended pick position for this article is the Novosbed mattress. The mattress is fast becoming a household name known for superior comfort as it features an incredible cooling technology and all memory foam mattresses' general pain relief properties. In addition, the product has an optional comfort kit that allows the user to adjust firmness level preference.
What is your experience with memory foam mattresses? Do you agree with my list, and what are your main criteria when buying a memory foam mattress? Please feel free to share in the comments.
References
:
The staff of the CCI Textile Lab (published 1986, revised 1996, 2008). Natural Fibres – Canadian Conservation Institute. Retrieved from

https://www.canada.ca/en/conservation-institute/services/conservation-preservation-publications/canadian-conservation-institute-notes/natural-fibres.html

Candice Batista (March 22, 2016). How To Buy Your First Eco Mattress. Retrieved from

https://www.huffingtonpost.ca/candice-batista/buying-an-eco-mattress_b_9522836.html
2
Sleep Experts Consulted