Best Mattresses for Side Sleepers in Canada
This research is supported by you, our readers, through our independently chosen products, which earn us a commission at no additional cost for you. Learn More
Highlights
Two inches of high-density foam and soft coils help to conform around the body, relieving pressure.
The coils have a reinforced middle, ensuring the hips are lifted for better spinal support.
The cover and coils are coil and breathable, helping hot sleepers from waking up from night sweats.
The Osgoode is my best spring mattress due to its excellent bounce, fast response, and balanced sinkage.
Sometimes, side sleepers struggle with too-soft mattresses that don't allow ease of movement. The Osgoode gets around this with its pocketed spring coils that offer measured bounce to keep you feeling buoyant. In light of my hand compression tests, I measured a bounce of 7.3 inches. This is high enough that sleepers who toss and turn will find no restrictions on this sleep surface.
The Osgoode performed better than the Douglas in bounce by 1.86 inches. I would recommend The Osgoode for any sleeper hoping to get a bouncy, buoyant sleep surface.
Fast response also plays a role alongside bounce. The Osgoode uses high-density foam that is naturally springy with a quick recovery speed. From my hand compression tests, it took only 0.4 seconds for the foam and coils to spring back. This is quick enough that I felt sleepers could switch sleeping positions without feeling 'stuck.'
The Osgoode had better response timing than the GhostBed Flex by 0.7 seconds. I would suggest The Osgoode for restless sleepers who prefer unrestricted movement.
The Osgoode has well-balanced sinkage that can help side sleepers feel comfortable when resting on their shoulders and hips. In my compression tests, I measured a sinkage of about 1.87 inches. This is deep enough that, from my experience, side sleepers will get enough pressure relief from the top comfort layer while receiving support to keep their spine neutral from the coils below.
Sinkage of The Osgoode Mattress

This model did better for firm sinkage than the GhostBed Luxe by 0.83 inches. I would recommend The Osgoode to sleepers who want a firm sleep surface that is still comfortable enough to cradle the shoulder and hips.
Based on Our Tests:
When testing this model with hand compressions, I found it quite comfortable with good springback. The mattress is soft enough to accommodate protruding body parts like the shoulders and hips.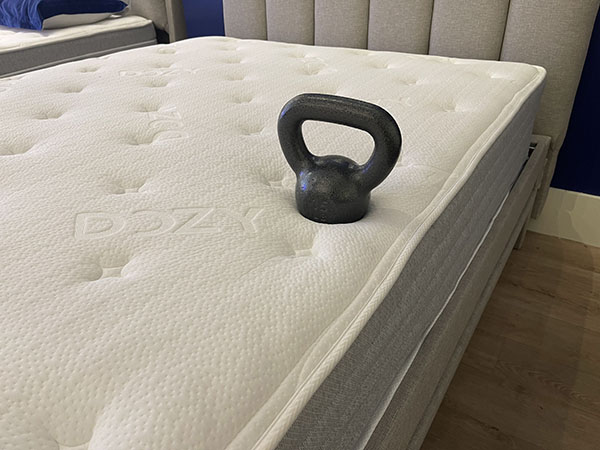 Recommended for:
Hot sleepers. This model has a breathable design, helping disperse heat for hot sleepers.
Sleepers who enjoy balanced sinkage. The Osgoode offers a mix of soft foam and pressure-relieving coils that keep the spine aligned.
Sleepers who prefer freedom of movement. The Osgoode offers quick pushback power with fast-acting foam, helping keep your movement restriction-free.
Pros:
Excellent bounce for sleepers who want ease of movement;
Excellent coolness for hot sleepers;
Excellent price for sleepers on a tight budget.
Cons:
Uses high-density foam, not memory foam, so not as contouring;
Comes shipped as is, not in a box, so it is a bit more difficult to move.
Highlights
Thick, cushioning layers allow for deep pressure relief and weight redistribution;

Gel memory foam layers and absorbent base isolation motion help couples sleep with fewer disturbances;

The reactive GhostBounce layer ensures you don't feel 'stuck' in the cradling foam layers.
The GhostBed Luxe is my best option for couples due to its excellent ability to muffle motion, thick, conforming layers, and quick response time. Couples who are side sleepers need a cradling mattress that is soft for the shoulders and can absorb motion. Luckily, the GhostBed Luxe offers a soft sleeping surface that is highly adept at isolating motion. According to my review, the GhostBed Luxe absorbed motion up to 3 inches away from my glass of water. When testing with my partner, I could toss and turn, and they only noticed the more significant motions, so most minor motion was isolated. The GhostBed Luxe wasn't as isolating as the Puffy by about 0.5 inches. The Puffy would be the one to choose for sleepers who need a little extra isolation. However, both isolate motion at a similar level.
The GhostBed Luxe offers generous sinkage. This is helpful for side sleepers who want to feel 'weightless' and be fully wrapped by cradling memory foam throughout the night. From my tests, the GhostBed Luxe has 2.7 inches of sinkage, and I was comfortable and relieved of pressure in the compressed layers. The GhostBed Luxe had 0.78 inches more sinkage than the Douglas, making the GhostBed Luxe a better option for sleepers who prefer being well-enveloped and 'in' their mattress.
Another feature I think is helpful with the GhostBed Luxe is its quick recovery speed. This model has deep sinkage, and slow-adaptive foam can feel like restrictive quicksand due to a high amount of sinkage. Luckily, the GhostBed Luxe can bounce back quickly, ensuring you never feel 'stuck.' From my review, the GhostBed Luxe took only 0.4 seconds to recover from compressions fully. I could switch from my side to my back with minimal effort. The GhostBed Luxe has a 1.3-second faster response time than the Puffy, meaning the GhostBed Luxe is better for freedom of movement.
Based on Our Tests
After conducting tests with it, I found I was incredibly comfortable on my side. However, thanks to its fast-acting foam layers, I could just as quickly get up and change my sleeping position.
Recommended for:
Couples.

The GhostBed Luxe's ability to isolate motion can help couples who share a bed from being disturbed by each other's movements during the night.

Fans of a modern memory foam feel.

The GhostBed Luxe has deep sinkage, yet the foam is surprisingly fast at bouncing back. This ensures you can enjoy deep-penetrating cradling that doesn't make you feel 'stuck.'

Sleepers who prefer being 'in' rather than 'on' their bed.

The GhostBed Luxe offers soft, compressing top layers, molding to your body for a profound cradling effect.
Pros:
Excellent motion isolation for side-sleeping couples;

Excellent pressure relief due to its soft, highly compressive top layers;

Good response timing for ease of movement.
Cons:
Not enough heat dispersion for hot sleepers;

Non-removable cover.
Why You Should Trust Me
I've reviewed a lot of mattresses in Canada by testing them over the course of 5 days to 2 weeks, taking note of their strong and weak points focusing on side sleepers and their needs. While testing, I've paid special attention to thickness, pressure relief, edge support, thermoregulation, hypoallergenic nature, and the effectiveness of comfort layers to narrow down the products with the highest qualities. When it comes to side sleepers, these factors can determine whether the body pressure points, like the hips and shoulders, are relieved, cooled down, and supported. I've also taken into consideration factors like price, warranty, sleep trial, and durability.
Based on the above factors, the 5 products on this list ranked higher among all the mattresses. To verify and finalize these choices, I've conducted research to find out what mattress materials can be ideal for side sleepers and help with their spine alignment, back pain, and shoulder pain. Having all the pieces of the puzzle put together with the help of my testing methodologies and first-hand experience, I've put together this list along with the features helpful for side sleepers to help with decision-making.
What Makes a Mattress Suitable for Side Sleepers?
Side sleepers require a soft or medium-firm mattress with significant hug/sinkage to relieve pressure on the hips, shoulders and lower back. The ideal firmness rating for side sleepers is between 4-6 out of 10 (1 being the softest firmness level and 10 being the firmest). That's why memory foam mattresses are the best for side sleepers.
Memory foam mattresses typically offer exceptional contouring and don't feel as firm as hybrid or latex mattresses. "In my opinion, zone support is a helpful feature side sleepers will benefit from." Mattresses with zoned support feel softer at the shoulders to relieve pressure but firmer at the hips to provide additional lower back support.
Thick Comfort Layers
Those who sleep on their side, generally tend to sink deeper into the mattress layers.
And here's the tricky part:
If the upper layers aren't thick enough, the user might feel the firm base layer — especially if they're on the heavier side — and develop pressure points.
So, if you look for a top-rated mattress for a side sleeper in Canada, make sure that it has two comfort layers or one layer that is on the thicker side.
Targeted Pressure Relief
Another thing to look for in a good mattress for side sleeping is pressure relief. And the best material to give you that is memory foam. It is temperature-sensitive, which means it becomes softer when exposed to your body heat and hence, contours your body more precisely (2).
However, to avoid heat retention issues, I recommend that you look for mattresses with open-cell or gel-infused foam in the upper layers. It often feels a bit softer than regular foam but is more breathable.
Hypoallergenic Materials
You can see the term "hypoallergenic" in many product descriptions.
But here's the deal:
There are no Federal standards or definitions that govern the use of the term 'hypoallergenic' (3). That's why you need to do your own research when shopping.
Still, mattresses marketed as hypoallergenic are more likely to be safe for side sleepers with hypersensitivities.
Because when you sleep on your side, your face is pretty close to the mattress.
And if your mattress contains some chemicals within its layers, it can provoke your allergy episodes and make them worse in the long term.
That's why it's advisable to opt for natural latex, plant-based foams, and natural or semi-natural fabrics, such as cotton or Tencel.
Some highly rated Canadian mattresses for side sleepers have a removable cover that you can wash. This will prevent the dust and dander from building up and save you from allergy outbreaks.
Thermoregulation
Side sleepers typically experience a deeper hug. And because the comfort layers of the mattress envelop them more, side sleepers often deal with overheating at night.
Therefore, a good mattress has to combat this issue. Generally, hybrid and latex models show the best performance in terms of cool slumber. Foam mattresses, on the other hand, are notorious for sleeping hot. That being said, many of them use cooling components (like gel infusion or open-cell design) to counteract heat retention.
What Mattress Firmness Is Best for Side Sleepers?
Side sleepers may benefit the most from soft and medium mattresses. This level of firmness offers a great hug for pressure points in your hips and shoulders and prevents the arm you sleep on from going numb because of your body's pressure (4).
However, it's worth mentioning that firmness perception is subjective and can be linked to your weight. For example, if you weigh more than 250 pounds, a medium mattress may fail to offer you proper support. In this case, consider scaling up the firmness level and go for a medium-firm model.

What Is the Best Mattress Type for Side Sleepers?
So, you already know what makes a good mattress for side sleepers and what firmness level you should choose.
But when it comes to selecting a certain mattress type, one can easily get lost. After all, they all have their peculiarities.
So, let's take a closer look at the most popular mattress types for side sleepers and see which one would work for you the best:
Memory foam.

Favored for its hugging feel, memory foam effectively molds to the shape of the sleeper's body (

4

). It is a highly adaptive material that will easily fill in the curves of your body while allowing the heavier parts to sink in a bit deeper. Such properties make memory foam an excellent option for side sleepers. However, you should remember that this mattress type can often trap body heat. If you wish to avoid that, consider models that use open-cell or gel-infused foams (at least for the comfort layer).

Polyurethane foam

. This type is slightly more resilient than memory foam and doesn't have that quicksand feeling. Polyfoam is cheaper but can hug the protruding body parts just as well. Therefore, it would work for side sleepers too.

Latex

. Latex mattresses are known for their pressure-relieving properties. However, this material is rather bouncy and will not hug your body just as much. I mean, it would still allow for sinkage when lying on one side, but you will not feel stuck in your mattress. Due to its resilience, latex might also be a good solution for restless or combination sleepers as it does not restrict movement.

Hybrid. When it comes to side sleeping, a hybrid mattress might be an excellent choice, but you should be careful. You see, because of the reliable coil base, hybrid mattresses often feel very sturdy and resilient. Therefore, a good hybrid model for side sleepers should have extra-thick comfort layers that would gently hug the protruding hips and shoulders.
Also read: Mattresses in a Box in Canada
A side note: innerspring mattresses might not be the best option for side sleepers, as they don't typically offer that much cradling for the protruding body parts (5) (which can cause discomfort and even painful pressure points). As for air mattresses, while they allow for firmness customization, I do not recommend using them regularly. Even the best air mattress will not deliver the needed targeted support and pressure relief when lying on one side.
Other Considerations When Looking for a Good Mattress for Side Sleepers
There are some extra factors you might want to account for when shopping, especially if you wish to make a well-thought-out decision:
Warranty

. This one is simple, but many shoppers forget about this aspect. The warranty coverage will protect you against defects, premature sagging of your new mattress, or other disappointments. That's why it's necessary to read what the warranty covers before making a purchase.

Sleep trial

. You can also call it a "comfort guarantee". A sleep trial will allow you to test your new mattress for some time and return it for a full refund in case it doesn't feel comfy. It might also be a perfect solution for those shoppers who aren't sure what they are looking for exactly. However, keep in mind that many mattresses require a break-in period. Therefore, don't be in a hurry to apply for a refund after the first few nights. Give your body more time to get used to a new sleeping surface.

Edge support.

This aspect can be crucial for those side sleepers who enjoy lying near the edge (often with their arm hanging down the side of the mattress). Edge support is also important for couples who require more sleeping space. Whatever the case is, hybrid mattresses usually have the sturdiest edges among all types.

Cover

. Now, a removable zippered cover is always a huge plus. It will make cleaning much easier for you. Also, pay attention to the fabric type. Natural fabrics (such as cotton, bamboo, Tencel, viscose) are breathable and good at wicking moisture. This means they might sleep cooler. As for polyester (or polyester blends with natural fabrics), it is less breathable but easier to care for.

Seals of approval.

In other words, safety certifications. Check for such seals of approval as CertiPUR-US, GreenGuard, Global Organic Latex Standard (GOLS) for latex mattresses, Global Organic Textile Standard (GOTS), Organic Content Standard, or Oeko-Tex Standard.

Thickness

. For proper support and enough cradling, you might want to avoid thin mattresses (stick to 8-inch models and up). However, if you are a heavier sleeper (over 230 pounds), you may need something extra-thick to get the needed amount of cushioning and to enjoy proper support.

Motion absorption (for partnered sleep).

If one of you is a restless sleeper, you need a mattress that would effectively absorb shock from motion and prevent it from transferring to the other side of the bed. In this case, consider foam or latex mattresses. If you want a hybrid bed, at least make sure that it has thick enough comfort layers that would minimize motion transfer.

Durability. Another vital feature to look for in a quality mattress for side sleepers is the mattress durability. Even though this is not easily identified, mattress type and construction influences it. Mattresses with a dense core tend to last longer.
Price. All considerations for purchase are still subject to a user's budget. The best recommendation is to make a purchase where the value being offered is commensurate with the price. However, it is essential to note that expensive mattresses have more sleep enhancing features than their less costly counterparts.
Also read: Mattresses for Back Pain
A quick tip: while choosing the best mattress for side sleepers, don't forget to pay attention to your pillow as well. It should be thick and firm enough to keep your head supported and fill in the space between your neck and the mattress surface. You might also use an extra pillow to put between the knees for proper spinal and hip alignment.
Source:
https://www.experiencesenara.com/chiropractor-peoria/side-sleeper-struggles-fighting-pain-caused-by-poor-sleep-postures/
Where to Buy a Good Mattress for Side Sleepers
You can buy a good mattress for side sleepers online or at a physical store. Sleepers can purchase the mattress from the manufacturer's website or merchant websites such as Amazon, eBay, etc. Buying a mattress online is the most convenient option, and you can get your bed by sitting on your couch.
Fortunately, most mattress manufacturers offer a return policy, so you can return the mattress if it doesn't meet your needs. However, if you don't want to go through the whole process of returning the mattress, you can visit a store and test how the mattress feels before spending your hard-earned money.
Ultimately, where you decide to buy a mattress depends on your preference. Buy the mattress online if you want the most convenient option. Moreover, you'll be exposed to more mattress options online than at a store. However, if you prefer testing the mattress before buying it, I recommend purchasing the bed at a store.
F.A.Q.
How firm should a mattress for a side sleeper be?
Side sleepers typically require a deeper hug and a generous amount of sinkage for their protruding body parts. Therefore, average side sleepers are usually recommended to choose medium or soft-to-medium models. Heavier folks (above 230 pounds) require more support, so they are advised to pick medium to medium-firm mattresses. As for lightweight side sleepers (less than 130 pounds), soft mattresses usually work the best.
Is memory foam good for side sleepers?
Generally, yes. Memory foam does a great job of molding to the curves of one's body, so it can deliver targeted support and usually aids proper weight distribution. Additionally, gentle comfort layers of memory foam mattresses often minimize the risk of developing painful pressure points in side sleepers.
How do I know if my mattress is too firm?
There are a few ways to tell if your mattress is too firm for you. Firstly, it might be overly stiff if you wake up with shoulder, neck, or back pain. If you feel too much pressure on the protruding body parts when lying down, that might also be a sign of unsuitable mattress firmness. Another "symptom" to look out for is waking up multiple types during the night, especially due to the discomfort at your pressure points.
How thick should a mattress for a side sleeper be?
In most cases, anything between 8 and 14 inches would work for side sleepers. Just remember that this sleeping position requires more cushioning, so try to stay away from thin mattresses. Additionally, if you are a larger user (over 230 pounds), you might want to consider a taller mattress (at least 10-12 inches) that would have thicker comfort layers and a taller, sturdier support layer.
Summary
Every sleeping experience is unique, so there can't be a universal mattress for anyone. But in this review, I've tried to collect the best mattresses for side sleepers in Canada that can suit the demands of even the pickiest side sleepers. Like me. And that's why it's very difficult to outline my favorite.
In my opinion, the best option for side sleepers is the Douglas. It offers cost-effective pricing, it has a soft firmness that is excellent for pressure relief and motion isolation. Couples who share the bed can utilize Douglas' motion isolation the most.
Still have questions about finding the best mattress for side sleepers in Canada? Alex Savy, the Co-Founder and Chief Editor at Comfynorth has reviewed countless sleep products with over 4 years in the industry and can help you find what you're looking for. Reach out through email at [email protected]. When emailing Alex, include your full name and phone number or email address.
References:
Anna's Linens (December 26, 2012). National Sleep Survey Pulls Back The Covers On How We Doze And Dream. Retrieved from

https://www.prnewswire.com/news-releases/national-sleep-survey-pulls-back-the-covers-on-how-we-doze-and-dream-184798691.html

Abe Abbas (October 27, 2019). How to Create an Allergy-Free Home With the Right Furniture. Retrieved from

https://www.thespruce.com/create-allergy-free-home-1391566

Jill Seladi-Schulman (November 20, 2019). Why Does Your Shoulder Hurt When You Sleep, and What Helps? Retrieved from

https://www.healthline.com/health/pain-when-sleeping-on-shoulder

Beth Sissons (August 28, 2020). Memory foam mattresses vs. hybrid mattresses. Retrieved from

https://www.medicalnewstoday.com/articles/memory-foam-vs-hybrid

Candace Osmond (March 04, 2020). What are the Benefits of an Innerspring Mattress? Retrieved from

https://www.homedit.com/benefits-of-an-innerspring-mattress/