The Osgoode by Dozysleep Mattress Review
This research is supported by you, our readers, through our independently chosen products, which earn us a commission at no additional cost for you. Learn More
If you're tired of too-stiff mattresses and feeling trapped in unresponsive foam, this may be your ticket to better sleep.

From the Dozy company comes a solution to reshape how you think and experience a good night's rest. The Osgoode spring mattress offers comfortable, traditional sleep at an affordable price.
Today, I will review The Osgoode mattress's features and unique points and which sleepers it best suits. I'll share how it felt for me in different sleeping positions so you can feel confident considering this mattress.
The Osgoode Mattress Review
: Our Rating
| Score | Categories |
| --- | --- |
| 9.5 | Off-gassing |
| 9.5 | Firmness |
| 8.5 | Cooling |
| 8.5 | Sinkage |
| 8.5 | Response |
| 9 | Bounce |
| 7 | Edge Support |
| 7 | Motion Transfer |
| 8.16 | Sex (Sinkage + Edge Support + Cooling / 3) |
| 8.4 | Overall Score |
You can review our methodology here if you want to learn more about how we review and test mattresses.
The Osgoode Mattress Review
: Construction and Design
Beginning my review of The Osgoode by Dozysleep mattress, I'll share its construction and design and what features stuck out to me the most.
The cover of The Osgoode is made of Tencel, which is cool to the touch. I was pleasantly surprised by its textured design and cooling sensation. Lying on the surface was also quite comfortable.
Under the cover is some padding that offers cushioning between your body and the coils. I enjoyed how this padding didn't initially retain heat during my tests while remaining spongy and cushioning.
Under the padding is a layer of high-density foam, also acting as a transition layer between you and the coils. I found the foam to be open-cell, not initially retaining heat. Based on my tests, you can roll and feel comfortable on the side, back, and stomach, largely due to this layer. It prevents from feeling the coils beneath.
The base of The Osgoode consists of pocketed coils that are slightly plying and responsive. The centre coils are reinforced to lift the hips better.
Delivery and Off-Gassing of The Osgoode Mattress
Unlike many online brands, The Osgoode does not come compressed. However, that doesn't mean delivery is a challenge. The entire process to move the mattress inside the house/apartment is as smooth as with mattresses delivered in a box.
The major difference between mattresses-in-a-box and uncompressed mattresses is the added convenience. Mattresses in a box like the Douglas and Novosbed are easier to move around if you are a single person at home.
However, if you have more than one person at home and can be available for the delivery, having the mattress delivered uncompressed tends to be an easy and carefree process.
The 'new mattress' smell was relatively minimal.

Due to the minimal use of foams and an emphasis on spring coils, the off-gassing process shouldn't take long, 3-4 hours at most. This is slightly better than most memory foam mattresses, which are known for longer off-gassing processes.
I was impressed with smell of the mattress, earning it a rating of 9.5. However, leaving it in a closed room may take slightly longer to complete the off-gassing process.
The Osgoode is better at this criteria than the Douglas, an all-foam model, as it usually takes 2-3 days for them to off-gas fully.
Firmness of The Osgoode Mattress: How Does it Feel?
Firmness determines how soft or firm a mattress feels when lying down on it. Most high-quality mattresses land in the 6-7 range, as this is enough to provide cushioning comfort and spinal support. I rate The Osgoode as 7 on the scale for firm mattresses.
I could easily test out this mattress's springs and notice how responsive and gentle they were during my tests. There was slightly firmer in the centre of the mattresses, but not enough to affect the overall softer feel of the mattress.
I rate it as 9.5 as it falls in the 6-7 range regarding firmness.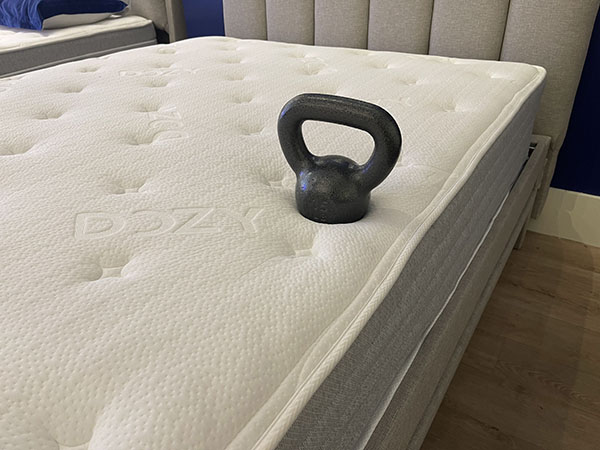 The Osgoode by Dozysleep Mattress Review
: Cooling Features
The cooling of a mattress directly relates to how well it can disperse heat and mostly applies to hot sleepers or sleepers who struggle with night sweats. The Osgoode uses a mix of cooling and breathable technologies to provide a cooler sleep.
From my tests, The Osgoode had a temperature of 30 degrees Celsius. This was thanks to its Tencel cover, which felt pleasantly cool under my skin, and its coils, which encourage airflow.
The Osgoode had better mattress cooling qualities than the Douglas by 1.7 degrees. That means The Osgoode is better for sleepers who struggle with feeling hot at night.
However, there are brands such as Eight Sleep that offer a better cooling effect with a new cooling technology. This is why I rate it as 8.5.
Sinkage of The Osgoode Mattress
Sinkage plays into the firmness of a mattress and helps with pressure relief. Firmer mattresses tend not to allow enough sinkage, which can lead to pressure building.
Based on my tests, The Osgoode had a sinkage of 1.87 inches. It allows you to have a feeling that you're 'on' a mattress rather that 'in' it.

The Osgoode is quite similar to the Novosbed in this criteria. The Osgoode has 0.05 inches less sinkage than Novosbed but you don't feel this difference.
That makes The Osgoode as good as Novosbed at this category. So, I rate it as 8.5 as it might be a bit less cushioning for people who love to be huged by their mattress.
Response of The Osgoode Mattress
The response of a mattress is responsible for how easy it is to move around in bed and is helpful for sleepers who don't enjoy feeling trapped whenever they want to change sleeping positions. The Osgoode offers an excellent, well-balanced response that cradles without feeling restrictive.
Derived from my tests, The Osgoode recovered from impressions after 0.4 seconds. It's fast enough to do not restrict yoru movements. Due to this, I rated The Osgoode a solid 8.5 in this category.
This model responded more quickly than the Novosbed by 0.5 seconds. That makes The Osgoode mattress more suitable for sleepers who prefer ease of movement but honestly, the difference is quite difficult to spot or feel.
Also Read: The Summerhill Mattress Review
The Osgoode Mattress: Bounce
The bounce of a mattress relates to firmness and ease of movement and directly pertains to being able to move across the mattress easily. The Osgoode, due to being a spring mattress, has excellent bounce to offer sleepers who prefer an easier time getting around.
Derived from my tests, The Osgoode had a bounce of 7.3 inches, earning a rating of 8.5 in this category. Based of my review, you can move freely and enjoy springy comfort that is soft yet supportive.
The Osgoode had more bounce than the Douglas by 1.86 inches and by 0.51 inches more than Novosbed, making The Osgoode better suited to active couples than more popular memory foam mattresses. So, I rate it as 9 in this category.
Edge Support of The Osgoode Mattress: Is it Supportive?
Edge support is how durable and stable the edges feel when sitting or lying on them, and mostly pertains to sleepers who enjoy hugging or sitting on the edges. The Osgoode balances soft and supportive edges from the mattress pocket coils.
From my review, I sat along the edge of The Osgoode Mattres moderately safely without feeling like I would accidentally slip out of bed. However, this mattress has worse edge support than popular memory foam mattresses, giving this model a rating of 7 in this category.
The Osgoode by Dozysleep Mattress Review
: Motion Transfer
Motion transfer is how well a mattress can isolate motion from travelling and disturbing a nearby partner. It mainly pertains to restless couples or sleepers who share the bed with a pet or co-sleep. Luckily, The Osgoode performs quite well despite having responsive coils but not as good as some other hybrid mattresses.
In my tests, I delivered compressions across the mattress towards the object I used for review. The Osgoode absorbed motion from my movements until I was about 4 inches away, which is a moderate level of motion isolation.
However, The Osgoode mattress performed better than the GhostBed Flex, which is also a hybrid mattres, by about 1 inch. That makes The Osgoode better suited for restless couples and those who co-sleep but not as good as Novosbed and Douglas due to their memory foam construction.
Due to this, I gave The Osgoode a rating of 7 in this category which is quite good for a hybrid mattress.
The Osgoode Mattress: Performance for Sex
Performance for sex is heavily dependent on the bounce, cooing, and edge support categories of a mattress. Overall, The Osgoode performed well in these categories. It fell slightly behind in cooling but made up for it in the sinkage category.
Due to this, The Osgoode is an excellent choice for active couples and earned an 8.16 in this category. Its bounce also helps couples move around easily.
How It Feels for Different Types of Sleepers
Mattresses are a personal experience. The same model will feel different for each sleeper due to weight, preferences, and sleeping position. For this reason, I have tested The Osgoode in every sleep position and given my insight on how it would feel depending on your weight. That way, you can determine whether The Osgoode is right for your home.
For reference, I am an average-weight sleeper.
Sleeping Positions: Summary
| Sleeping Position | My tests |
| --- | --- |
| Side Sleepers | It's a comfortable mattress that is unlikely to give you any pressure on shoulders or hips andi has relatively good spinal support. |
| Back Sleepers | I liked the reinforced centre the most that is crucial for back sleepers. The springs designed to feel nice on yout back. |
| Stomach Sleepers | The reinforced centre helps in this position as well as for back sleeping, keeping hips lifted. |
Recommended For
Restless couples.

The Osgoode uses soft coils and padding to help keep motion transfer to a minimum, which can help restless couples and light sleepers have fewer distractions at night.

Fans of a bouncy bed. The Osgoode offers excellent bounce with its pocket coils, helping make it easier to move across the mattress width.
Sleepers who prefer a traditional spring feel.

The Osgoode is quickly responsive and bouncy, providing sleepers with a traditional feel that doesn't inhibit movement.

People who are looking for value for the money. This mattress is much cheaper than popular options like Douglas, Endy, Casper but offers decent quality.
Other Important Information
There are a few other factors to consider before selecting The Osgoode for your home, which include its price, its 5-year warranty, its 125-night sleep trial, and free delivery in the Toronto area.
Price
Price is always essential to consider before choosing a mattress, especially for those on a tight budget. Thankfully, The Osgoode offers a budget-friendly price while not compromising on the features necessary for a good night's sleep.
The Osgoode is less expensive than the Puffy and Douglas by $850 and $350, respectively. It is also priced better than the GhostBed Luxe by $1149. Despite these differences in price, The Osgoode offers similar cooling technology and support to feel just as comfortable, if not more, than these other brands.
5-Year Warranty
Warranty is essential for a high-quality mattress as it gives you confidence in the company and mattress you're investing in. The Osgoode comes with a fairly long warranty of 5 years, which covers all manufacturer defects like torn stitching and broken coils.
The Osgoode has slightly less warranty than a few other brands, shorter than the Douglass's warranty by 15 years, and shorter than the GhostBed Luxe's warranty by 20 years.
Considering this, if a longer warranty is a make-or-break deal for you, another mattress may be more suitable. If you don't mind a warranty that is sizable yet shorter than what is offered elsewhere, The Osgoode is a suitable choice.
125-Night Sleep Trial
A sleep trial is necessary to get a feel for a mattress and determine if it will suit you night after night for the foreseeable future. Luckily, The Osgoode has a sizable sleep trial that is fairly lengthy, giving you lots of time to consider the mattress before committing.
The one difference between this sleep trial and sleep trials provided by other brands is that the Dozy company will only provide refunds on unopened mattresses, not on opened ones. Opened mattresses are eligible for exchange for a softer or firmer model.
The Osgoode has a sleep trial that is more lengthy than the Puffy by 24 nights. However, it's shorter by 240 nights compared to the Doulgas mattress. That puts The Osgoode in a good mid-area for sleepers who want the assurance of a moderately lengthy sleep trial.
Free delivery in the Toronto Area
Free delivery is an added bonus that puts more money in your pocket when choosing a mattress. The Osgoode offers free delivery in Toronto and the Greater Toronto Area, an added bonus for sleepers living there.
However, an additional shipping fee is added to your order if you are outside Toronto and the GTA. This differs slightly from the Puffy and Douglas, which offer free shipping throughout Canada's metropolitan areas.
So, if free shipping is more your style and you live in Toronto, The Osgoode is an excellent choice. If you're outside the GTA, choosing another mattress with free shipping may be better.
Summary
Finding quality sleep doesn't have to be a challenge. The Osgoode can be a suitable solution for sleepers seeking a quality spring mattress for a reasonable price. The springs are supple yet sturdy, and the body weight is evenly redistributed for pressure relief and healthy spinal alignment.
The Osgoode would best suit fans of a bouncy, responsive bed.
What are your thoughts on The Osgoode mattress? Let us know in the comments below!
Pros:
Excellent bounce;

Excellent price point;

Good cooling qualities;

Almost no off-gassing.
Cons:
Non-removable cover;

Not firm enough for heavier stomach sleepers.