This research is supported by you, our readers, through our independently chosen products, which earn us a commission at no additional cost for you. Learn More
Do you know that feeling when you wake up tired? As if you didn't sleep at all?
This happens when your bed is not comfortable enough.

To save you from this nightmare, I have prepared my review of the best mattresses in a box in Canada. So, let's find out which mattress can become the savior of your good night's sleep!
A Quick Preview
Highlights
3 firmness options to choose from, suited for different types of users and sleeping positions;

natural Tencel cover for improved breathability;

close conforming for targeted pressure relief and effective weight distribution;

machine-washable cover for fuss-free maintenance;

open-cell comfort foam for cooler sleep.
The Novosbed mattress is my pick for the best mattress in Canada, and for a good reason. Firstly, this mattress comes in a great design constructed with high-quality materials that offer a sturdy sleeping surface during testing. I noticed that this mattress feels medium firm and springy. The Novosbed mattress is made using memory foam for the comfort layers and polyfoam for support. I discovered that the memory foam layers contoured nicely around my body, and the sinkage was more than adequate. From my review, I recorded 1.92 inches of sinkage while lying in the Novosbed, 0.03 inches firmer than the GhostBed Flex. That makes both mattresses excellent for contouring while still feeling supportive and keeping the spine straight.
The Tencel fabric cover on the mattress made me feel cool, and I was impressed that the material felt cool to the touch and soft. While testing the Novosbed, the surface temperature got up to 29.5 degrees Celsius while in use. This is 2.5 degrees cooler than the GhostBed Luxe, meaning the Novosbed is the better option for hot sleepers. Another thing I love about the Novosbed bed is its pressure-relieving capabilities, and sleepers suffering from joint pain will find this mattress very effective at relieving painful symptoms.
In my opinion, the Novosbed performs admirably in many of my review parameters, making it the best mattress in a box in Canada.
Bottom line:
The Novosbed is a very versatile mattress. Moreover, it uses high-quality materials and has a rather luxurious feel. I'm sure that it has all the chances to satisfy almost any user.
Based on Our Tests
While testing the Novosbed, my favorite feature was how the mattress regulates temperature, and it's thanks to the open air cell foam construction. So I wholeheartedly recommend this mattress for people who have a habit of sweating and want to enjoy more cooling at night.
Recommended for:
Uncertain shoppers

. If you aren't sure what you need, the Novosbed would be perfect for you. The after-purchase adjustment kit will help you configure your mattress to suit your needs better if the initial firmness wasn't completely right.

All types of sleepers

. As the Novosbed offers 3 firmness levels, there's a suitable option for any sleeping position.

People who love memory foam but hate sleeping hot

. The Novosbed offers that classic hugging feel of memory foam. However, thanks to the open-cell technology, it doesn't sleep hot.
Pros:
Excellent cooling qualities for hot sleepers;

Excellent motion isolation for fewer disturbances at night;

Good bounce for ease of movement.
Cons:
Offers a generous hug and might sleep warmer for heavier individuals who sink in deeper into the mattress layers;

Doesn't have much bounce to it and can restrict movement during sex (or if you are a combination sleeper who switches positions frequently during the night).
Highlights
medium feel to cater to a wide range of sleepers;

breathable and moisture-wicking cover for cooler sleep;
superb motion isolation, great for couples and restless sleepers;
resilient transition layer to combat the quicksand sensation;
120-night sleep trial to guarantee each shopper's satisfaction.
In my opinion, the Douglas mattress features a construction that will benefit most sleeper types. It doesn't matter if you're a back, side, stomach or combination sleeper; the Douglas mattress will make you sleep comfortably. I discovered that the latex foam layers ensure that this mattress stays cooler than those produced with memory foam. However, this mattress didn't hug my body like the other memory foam mattresses I reviewed. The Douglas had a sinkage of 1.92 inches, which is 0.78 inches firmer than the GhostBed Luxe. Looking at both models, the Douglas would better suit sleepers who prefer less contour that could interfere with ease of movement.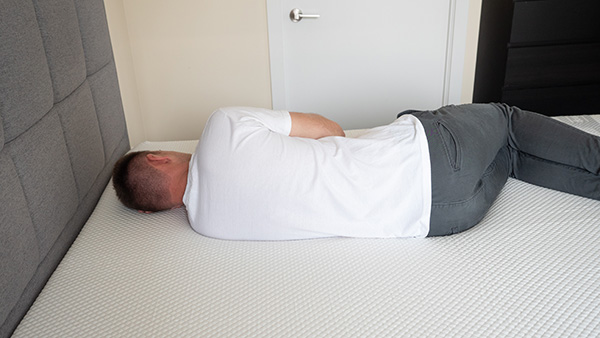 The medium-firm feel was as impressive as I imagined, and the pressure relief capabilities were notable once I slept on the mattress. However, one area I didn't like was the edge support. I found the edge support on the Douglas mattress to be below average, so sleepers who prefer sleeping on their mattress's perimeter might be underwhelmed. Perhaps the most impressive thing about this mattress is the affordable price point. I didn't find many products that can compete with the excellent value of the Douglas mattress. The Douglas was priced $500 cheaper than the Puffy, $600 cheaper than the Novosbed, and $700 cheaper than the GhostBed Luxe. However, the Douglas still offers similar contouring, pressure relief, and a responsive classic memory foam feel.
Based on Our Tests
After sleep testing the Douglas mattress, what stood out for me was how different layers of foams are combined to make this mattress bouncy, supportive, and cool. The top layer of cooling memory foam helps draw heat away from the body while the second layer of responsive Elastex foam offers a satisfying bounce to ease movement.
Recommended for:
Side and back sleepers

. The Douglas offers enough cushioning for your shoulders and hips. However, it might be too soft for stomach sleepers.

People who want good value for money

. When you look at what the Douglas has to offer and the price it is sold at, you will be pleasantly surprised.

Someone who wants pressure relief without feeling stuck

. Being an all-foam mattress, the Douglas offers superb pressure relief and that cozy hugging feel. However, because the transition layer is quite bouncy, it will not make you feel stuck. Additionally, this works great for combination sleepers: you can shift effortlessly during the night.
Pros:
Excellent price point;

Excellent motion isolation for restless partners;

Excellent pressure relief thanks to slow-adaptive foam layers.
Cons:
Significant contouring of the top layer might restrict movement a bit, which can be an issue for combination sleepers (and it's not the most ideal for sex either);

Mediocre edge support, may not work for couples who require more sleeping space.
Highlights
Whether you are a back sleeper, side sleeper, or stomach sleeper, this mattress is designed to suit all sleeping positions.

Boasts a good balance of comfort and support with cooling on the side.

The ultimate spinal alignment for pressure relief.

Decent edge support to offer more sleeping space.
The Puffy mattress features a comfortable cushion that stood out during my review. This mattress is an all-rounder, and the quality stands out among other Canadian beds I reviewed. I appreciated the Puffy mattress's construction which comprises five foam layers. These foam layers combined to offer me a firm and comfy sleeping platform. While testing, the Puffy had compressions of 2.5 inches, which was more than enough for pressure relief and a generous body hug. The Puffy had deeper compressions than the GhostBed Flex by 0.55 inches, making the Puffy a more contouring option for sleepers who prefer sleeping 'in' their mattress.
The foam layers are covered by a breathable fabric which I found to be cool-to-touch and lightweight. Remember the five foam layers we discussed earlier? These layers also offer top-tier pressure-relieving capabilities, which I found impressive. When I was reviewing the Puffy, it took the upper layers 1.7 seconds to fully bounce back from compressions, making the foam slow-adaptive for adequate pressure relief. The Puffy was 0.9 slower than the Douglas mattress, making the Puffy the one with a more classic memory foam feel out of the two.
This mattress also feels cool so that you can sleep cool in the hot summer months. I found the edge support adequate, so there weren't too many issues when I rested on the bed's edges. Overall, the Puffy mattress offers helpful features that make it my second choice for the best mattress in a box in Canada.
Based on Our Tests
Although our tester is a side sleeper and did feel the mattress conforming to his body, I feel this mattress is ideal for sleepers of all positions. Its medium plush feel is comfortable for most side, back, stomach, and mixed sleepers, although personal preference makes a big difference.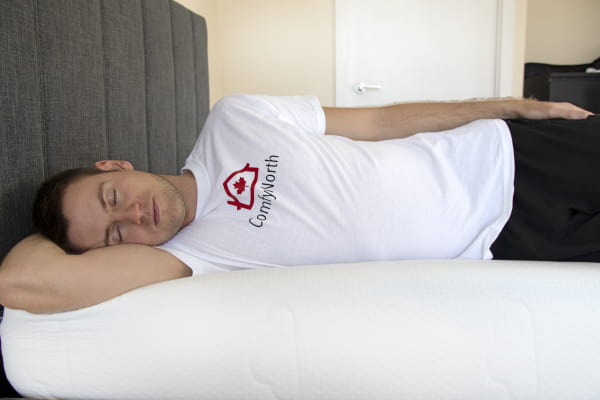 Recommended for:
All sleeping positions. The Puffy mattress was designed with a 5-layer sleep system with a firm core support base, making it suitable for every sleeping position type.
Pressure Relief. The mattress core helps keep the spine aligned no matter the sleeping position and, in effect, relieves pressure vital for a good night's rest.
Hot sleepers. The breathability of this mattress makes it perfect for hot sleepers. You don't have to be bothered about waking up to a warm bed or in your perspiration with this mattress.
Pros:
Excellent cradling for deep-penetrating relief;

Excellent motion isolation thanks to its Cooling Cloud foam layer;

Good cooling for effective heat dispersion.
Cons:
It may not provide enough motion isolation for partners

While it is perfect for hot sleepers and warm weather, the ever-cool surface may become an issue in cold weather.
Highlights:
Cool-to-the-touch cover with excellent heat dispersion qualities to keep you feeling cool.

Soft firmness for extra contouring and plush comfort for effective tension release.

Has responsive layers so you don't feel 'stuck' in the memory foam.
The GhostBed Luxe is my best memory foam mattress in a box as it has thick sinkage, excellent motion isolation, and a high amount of bounce. Thick sinkage is one of the best ways a memory foam mattress can relieve pressure, and the GhostBed Luxe has some of the highest sinkage rates I've tested. I recorded 2.7 inches, which is 0.2 inches more than the Puffy. This means the GhostBed Luxe can cradle and mold to the body's shape more, and create a feeling of 'weightlessness'.
Another feature that I think is helpful regarding the GhostBed Luxe is its ability to isolate motion. Motion isolation is beneficial for sleepers who share the bed with a restless partner or pet, as the absorbent layers can reduce motion transfer. From my tests, the GhostBed Luxe absorbed motion up to 3 inches away from my glass of water, which is on the higher side. I didn't notice most of my partner's tossing and turning during the testing period. The GhostBed Luxe was only 0.5 inches behind the Puffy in regards to motion isolation, making both similar in their ability to reduce jostling during the night.
The GhostBed Luxe, despite its high sinkage, offers a high amount of bounce. I recorded 8.01 inches for its total bounce value, meaning it's springy. I could easily shift positions during my testing period with this model. The GhostBed Luxe had 1.22 inches more bounce than the Novosbed, meaning the GhostBed Luxe is the better option of the two for ease of movement.
Based on Our Tests
From my review, the GhostBed Luxe had excellent contouring and deep sinkage for a traditional memory foam feel. However, I never felt restricted in my movement, and could easily change from my back to my side.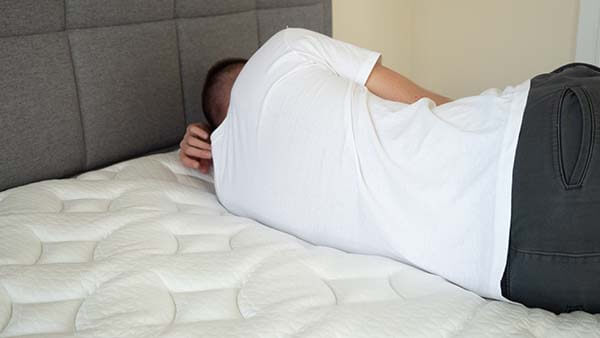 Recommended for:
Fans of deep pressure-relief.

The GhostBed Luxe offers excellent pressure relief as it has deep sinkage, redistributing your weight easily.

Restless partners.

The GhostBed Luxe's soft, cradling layers can absorb most motion, helping you and your partner sleep with fewer disturbances.

Sleepers who prefer ease of movement.

The GhostBed Luxe's bouncy and responsive layers keep you feeling buoyant while lying down, keeping your movement restriction-free.
Pros:
Excellent bounce for ease of movement;

Excellent sinkage for deep pressure relief;

Good firmness for contouring and body hug.
Cons:
Slightly high price tag;

Non-removable cover.
Highlights:
It has multiple gel-infused memory foam layers great for pressure relief.

The wrapped coils bear the sleeper's weight and make sleep more relaxing.

Impressive mattress core thickness which adds support, durability, and longevity.
Do you want the best cooling experience on a Canadian mattress? Then, the GhostBed flex mattress is for you. The spring support on this hybrid mattress created a medium-firm feel that adequately supported my body, and I'm confident that heavy sleepers won't feel different. On top of that, the 7-layer foam construction created a sleeping surface that felt comfortable on my skin and responsive.
Like other high-quality hybrid mattresses, the GhostBed felt springy when I laid on it. I recorded a total of 9.01 inches for the GhostBed Flex's bounce during my review. This is on the high end, and I noticed good responsiveness and excellent buoyancy when changing sleeping positions. This bounce is 2.22 inches higher than the Novosbed's bounce, mainly due to the GhostBed Flex's use of coils. This mattress felt cool during testing, thanks to the gel foam layer. According to my review, the GhostBed Flex had a temperature of 30.4 degrees Celsius after lying on the surface for a few minutes. I never experienced any heat build up or night sweats. The GhostBed Flex's temperature was 1.4 degrees cooler than the Douglas, meaning the GhostBed Flex can disperse heat slightly better.
In my opinion, this mattress' motion transfer was also more impressive than the Puffy mattress, and I'm sure couples will be impressed with how well the GhostBed absorbs movement.
Based on Our Tests
During review, we opened the GhostBed Flex cover and saw that the top foam was perforated, which accounted for its super cooling feature. This helps keep sleepers cool by channeling heat away from their body while they sleep. These perforations, along with the next layer of cooling gel foam, help keep even the warmest sleepers comfortable.
Recommended for:
For partnered sleepers.

The individually wrapped and reinforced coils in this hybrid mattress allows sleepers to sleep at separate sides of the bed without being disturbed or sinking off the edge.

For heavier sleepers.

With the thick core layer and coils in this hybrid mattress, heavier sleepers would get enough support for a good slumber.

For side sleepers.

The gel memory foam layer would cradle pressure points like neck, shoulder, and hips for side sleepers, allowing them to sleep more comfortably.
Pros:
Excellent bounce for ease of movement and changing positions;

Good cooling quality to help keep night sweats at bay;

Excellent pressure relief thanks to its slow-adaptive foam.
Cons:
Might not be plush and cradling enough for strict side sleepers;

Not in the price range for budget shoppers.
Why You Should Trust Me
I've reviewed a lot of mattresses in Canada by testing them over the course of 5 days to 2 weeks, taking note of their strong and weak points. While testing, I've paid special attention to support, pressure relief, motion isolation, thermoregulation, and composition to narrow down the products. Each of these factors determine whether a mattress can perform well in different situations, such as when sleeping with a partner, during hot nights, or after a long day of work dealing with back or shoulder pain. I also take into consideration factors like price, warranty, sleep trial, and manufacturer credibility.
Based on the above factors, the 4 products on this list ranked higher among all the other mattresses. To verify and finalize these choices, I've determined whether the layer composition and material making up these mattresses can provide pressure relief and back support. Having all the pieces of the puzzle put together with the help of my methodologies and first-hand experience, I have prepared this list to help you make better decisions when making purchases.
What to Look for In a Good Mattress In a Box: Buyer's Guide
I know that searching for a new mattress can be rather stressful.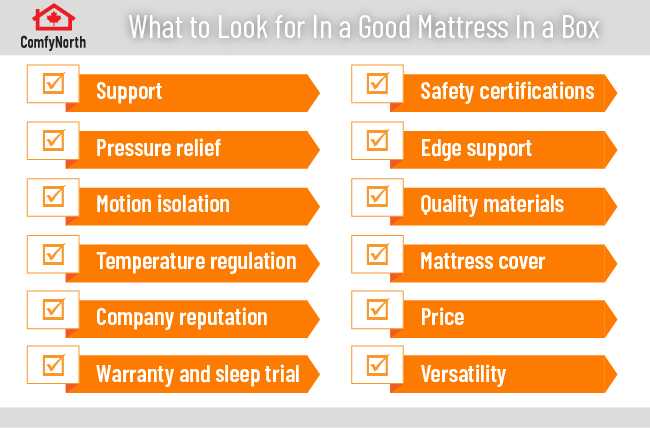 Here's the thing though:
If you know what to look for, the shopping process becomes much easier (and stress-free, ideally). So, in order to be prepared, you might want to consider the following aspects:
Support

. Proper support and weight distribution during the night can help your body maintain a healthy sleeping posture (which can also help you avoid aches and pain in the morning) (

1

). A good mattress should have a sturdy, thick base layer that could easily accommodate your body weight. Thicker coils or high-density foam are preferable in this case. Also, make sure you choose the correct firmness level for your body type and preferred sleeping position (which we have discussed above).

Pressure relief.

This aspect is especially important if you have sensitive joints or want instant relaxation. A mattress with good pressure-relieving properties has to conform closely to one's body and fill in the curves (basically, hug the body gently). In this scenario, you might want to give your preference to memory foam or hybrid mattresses that have extra-thick comfort layers.

Motion isolation (for partnered sleep).

If one of you is a restless sleeper, your mattress must absorb shock from motion well (if you don't want to disturb each other during sleep, that is). Memory foam shows the best results in this category, but you can also consider latex and hybrid mattresses with thick foam comfort layers.

Temperature regulation.

I bet you would agree that sleeping hot is extremely uncomfortable. To avoid that, choose latex or hybrid mattresses, as they are neutral in terms of temperature. If you are a fan of memory foam, pick a model that uses either open-cell or gel-infused foams.

Company reputation.

Buying a mattress online can seem risky, so it won't hurt to choose only among reputable companies. To find one, you can simply read other users' reviews. See how the company you are considering handles negative reviews and deals with returns to get at least a general idea.

Warranty and sleep trial

. These two aspects will protect you as a customer, so pay attention to them when shopping. An extended warranty can mean that the manufacturer uses quality materials and can be sure of the product's durability. As for the sleep trial, it will give you a chance to test the new mattress and see whether it works for your body and sleeping position.

Safety certifications (especially if you are a sensitive user). Some mattresses use harmful chemicals and fire-retardants during the manufacturing process, which can be an issue for many sleepers (2). Therefore, to stay safe, look for such certifications as Global Organic Textile Standard (GOTS), CertiPur, OEKO-TEX, etc.
Edge support

. This aspect might be crucial, but only in certain scenarios. For instance, you may require stronger edge support if you and your partner need more space but don't want to buy a larger mattress. With stronger edges, you can sleep closer to one without worrying about rolling off during the night. Reliable edge support may also come in handy for back pain sufferers who find it a bit harder to get out of bed due to pain. Stronger edges will provide more support and a little boost for you to get up.

Quality materials

. When shopping for a new mattress in a box, you probably want your investment to be a long-lasting one. That's why it's crucial to pay attention to the quality of the materials. Now, if we're talking about memory foam, consider the density rating. As a rule of thumb, the denser the foam is, the more durable it's going to be. The same rule applies to latex. Although, keep in mind that denser foam and latex often have a firmer feel. And if you're thinking about purchasing a hybrid or an innerspring mattress, look at the coil gauge rating. A lower rating would mean thicker (and more durable) coils.

Mattress cover. Of course, every mattress comes with a cover, whether it is detachable or not. The durability of your mattress can be down to how you maintain your mattress cover. Mattresses can either have a stain-resistant cover or not. The mattress cover can also be detachable or not. It is good to opt for a stain-resistant mattress cover and better to go for a detachable stain-resistant cover. On the other hand, make sure to check if the mattress cover is hypoallergenic. Hypoallergenic covers stop dust, dust mites, and other allergens that can irritate entering your mattress.
Price. Price matters in everything. Whether you are on a budget or simply looking for the best quality around, price still plays a role. As a thumb rule, quality always attracts more fees. This may not be the only reason for highly-priced mattresses, but it's common to well-priced beds. The brand and luxury being promised also add to the cost of a mattress. Spending more mostly assures quality, luxury, and durability. So, if you are looking for these criteria - which I know you are - you shouldn't be fearful of paying for premium and exclusiveness.
Versatility. Everyone has a primary reason for getting a mattress. However, it won't be unheard of to want to use your bed in another capacity - say, use an adjustable frame. A versatile mattress will come in handy in situations like this. Versatility is one thing you should consider if you intend to use your bed for multiple functions.
Also read: Best Mattresses for Back Pain
How to Pick the Best Mattress in a Box
When it comes to finding the absolute best mattress in a box in Canada, there's one little secret you should know.
You just need to find a model that would suit your specific needs. It's that simple.
You see, because our bodies are different, we have different requirements when it comes to sleep. So, the main goal here is to find what works for us.
Now, different types of mattresses can be suitable for different sleepers.
Let's take a closer look at each.
Memory Foam
Being one of the most popular types, memory foam mattresses offer that pleasant hugging feel that so many of us like. What makes this material so comfortable for sleep is its ability to adjust to the shape of one's body. Memory foam cradles the protruding parts of the body and helps reduce the tension in pressure points. It allows sufficient sinkage while keeping the spine in a neutral position.
However, because foam has its "memory", it might start tearing and wearing off in the spots of the most frequently applied pressure.
The good news is, you can delay that by regularly rotating your mattress.
Now, we all know that memory foam tends to sleep hot. The material itself does not contribute to air circulation. Additionally, let's not forget about that famous hugging feel.
Here's the kicker, though:
Many manufacturers use foam with an open-cell structure, which helps with thermoregulation. Additionally, it is common to infuse foam with gel for a cooling effect.
Also read: TOP 4 Best Memory Foam Mattresses in Canada
Along with memory foam, some mattresses use polyurethane foam. These two materials are chemically related and share some features, such as an ability to conform to body curves. Yet, polyfoam has quicker response and feels bouncier and cooler than memory foam.
Innerspring
Coil mattresses are probably the oldest type of beds. However, don't confuse them with the squeaky old-school horror we all remember. Modern manufacturers use high-quality coils and pocketed designs to eliminate the noise while ensuring comfort, support, and air circulation.
Innerspring beds typically have strong edges, which enlarges the sleeping space. They offer bouncy support and have responsive surfaces. This means they are not that great in terms of motion isolation but allow for easy moving around the mattress surface.
Here's the good news:
Innerspring mattresses are usually sold at very affordable prices. They are also great for temperature regulation since the coils allow for unobstructed air circulation. This type of mattress is great for stomach and back sleepers since it provides a great deal of bounce and firmer support.
Latex
If you are looking for a more natural option, you should definitely consider a latex mattress. But keep in mind that there are both synthetic and natural latex mattresses out there, which means you need to read the "fine print" before purchasing. Another thing you should know is that most latex mattresses are delivered in their full size. So, it might be challenging to find a latex mattress shipped in a box.
Now, latex mattresses have a unique feel. They offer great pressure-relieving properties but not that much sinkage (especially when compared to foam models). At the same time, latex has a springy structure, which makes such mattresses quite bouncy and responsive.
It gets better:
This type is great for people who hate sleeping hot. Latex allows for natural air circulation and, again, doesn't hug the body as closely as memory foam does. These mattresses tend to be more durable than foam and innerspring beds. However, keep in mind that latex models are typically more expensive and heavier.
It's always a good idea to invest in a mattress protector, especially if the cover is non-removable. This will help prolong its life and keep it fresh at all times.
Hybrid
The name speaks for itself:
A hybrid is a combination of materials.
In most cases, such mattresses have an innerspring base layer. As for the comfort layers, here's where it gets interesting.
Hybrid mattresses allow you to pick exactly what you need according to your personal requirements. Some models use such combinations as pocketed coils + latex, pocketed coils + foam, innerspring block + gel foam + wool, and so on. The list of options can be endless.
So, the choice is entirely up to you. But with so many options comes the main drawback:
You can't always know how this or that combo will work in the long term for you personally. That's why don't forget to do your research and check mattress reviews for every model you are considering.
Many hybrid models have a pillow-top design. The pillow-top part is either sewn into the cover or placed on top of the mattress, hence the name. These mattresses have a very luxurious feel (and look, for that matter). The pillow-top usually adds some plush to balance out the supportive core of the mattress.
Air Mattresses
If you want to buy a mattress in a box, you might want to consider air mattresses as well. Although they are mostly used as a temporary bed, they may offer good comfort and support levels at a very low price.
Now, airbeds are super portable and allow users to adjust the firmness level by simply deflating or inflating the mattress.
It gets better:
There are models that allow for adjustments on two sides, which makes them suitable for couples who have different preferences in terms of firmness.
Body Weight and Mattress Firmness
You can read different mattress reviews from users in Canada that describe the same model in so many different ways. Some people can praise it, others might complain a lot.
Why does it happen, you may ask? Because one bed can work differently for each specific body type.

That's why it is so important to get the right firmness when shopping for a suitable mattress in a box in Canada. Here are the general tips you should consider:
Average sleepers, between 150 and 250 pounds

. Generally, such people enjoy medium-firm mattresses, especially back and stomach sleepers. Side sleepers require a bit more cushion, so it's better to go with the medium firmness.

Lightweight sleepers, less than 150 pounds

. Petite users need softer mattresses to enjoy the balanced combo of cradling and support. Consider getting yourself a mattress that would be around 3-5 on the firmness scale.

Heavier sleepers, more than 250 pounds

. Larger individuals oftentimes sink through the comfort layers and hit the support core, which causes unnatural curves in the spine and generally feels quite uncomfortable. To enjoy stronger support and decent contouring, it's better to get a firm mattress, something around 7.5-8 on the firmness scale.
Keep in mind that every mattress has a break-in period, especially if we are talking about memory foam. It might feel uncomfortable or too firm at first, but after a few nights, it will adjust to your body and the overall feel will change. That's when you can decide whether you want to keep the mattress or not.
Suitable Firmness for Your Sleeping Position
To get the most out of your new mattress, you need to pick the firmness level that is suitable for your specific sleeping position. Now, this may vary from user to user depending on personal preferences, but here are the general rules:
Side sleepers.

Since this position requires good pressure relief and a decent amount of cradling for the protruding parts (hips and shoulders), the best option would be a soft mattress. If you are a heavier sleeper, a medium one will work.

Back sleepers. A medium or medium-firm mattress will provide enough cushioning for your hips and buttocks while keeping the spine in a neutral position.
Stomach sleepers

. For this sleeping position, you will require stronger support. Your mattress should be firm or at least medium-firm to prevent the pelvis from sinking in.

Combination sleepers

. If you tend to change positions while sleeping, you might enjoy a medium-firm mattress the most. Something not too firm and not too soft will be able to give you balanced support throughout the night.
What is a bed in a box?
A bed in a box is a mattress that is delivered to your doorstep compressed and vacuum-sealed in a box. Upon arrival, you need to unbox your new mattress and give it time to expand (take its normal shape).
Can I get an innerspring or a hybrid mattress in a box?
Yes,many hybrid and spring mattresses can be shipped compressed in a box.
How soon should I unbox my new mattress?
Manufacturers typically recommend unboxing mattresses within 30-60 days to avoid damaging the mattress materials (due to long-term compression).
How long do mattresses in a box last?
Mattresses in a box typically last around 10-15 years, depending on the mattress type.
How can I return a mattress in a box?
Most mattress companies arrange a pick-up if you decide to return the mattress, so you don't really need to do much. However, some courier companies might ask you to wrap the mattress in plastic before returning it.
Conclusion
When it comes to sleep, the most important component is your mattress. Your mattress alone can either save or ruin your night's rest.
My pick of the best mattresses in Canada was carefully curated to cater to various individual needs. And if you feel constricted by my list, you can always follow the guidelines for picking the best mattress in Canada for yourself.
While every mattress listed here offers good qualities, the Novosbed is exceptional. Personally, I enjoy the firmness options available to customers, encouraging a personalized touch when choosing a mattress. The perfect blend of cushioning and support guarantee the utmost comfort for every kind of sleeper despite their weight. In addition, the Novosbed performs exceptionally in every parameter used for judging a mattress, its a little wonder it is the best overall choice.
Are you ready to make a choice? Which mattress caught your attention? Share your thoughts in the comments below!
References
:
The Social (March 18). Posture-perfect sleep positions that are right for your body. Retrieved from

https://www.theloop.ca/posture-perfect-sleep-positions-that-are-right-for-your-body/

Dawn Yanek (June 15, 2020). 12 Common Bedroom Items that Are Secretly Toxic. Retrieved from

https://www.besthealthmag.ca/best-you/health/toxic-bedroom-items/
2
Sleep Experts Consulted