Best Mattresses for Back Pain in Canada
This research is supported by you, our readers, through our independently chosen products, which earn us a commission at no additional cost for you. Learn More
Back pain is highly unpleasant, and it can turn your peaceful slumber into a nightmare. However, along with chronic conditions that can aggravate the unpleasant sensations, your mattress may contribute to your back pain as well.

Which is why it's important to choose the right mattress.

Today, I will share with you my reviews of the best mattresses for back pain in Canada and help you understand the most important factors you should consider to make sure you'll make the right choice.
A Quick Preview
Highlights
after-purchase firmness adjustments to ensure customer satisfaction;

low motion transfer to keep your partner undisturbed during the night;

washable cover for easy cleaning and to help prevent allergen build-up.
On review, the Novosbed was my overall best choice of mattresses for back pain in Canada. The simple fact that it is available in various firmness options that can cater to a wide range of sleepers makes it my favorite.
Properly aligning the body is a simple approach to back pain issues. The Novosbed isn't just a mattress available to more users; it provides the required support for the body. Lying on the mattress, I felt my body sink slightly with increased coziness. The support helped my body align despite changing sleeping positions continuously. The Novosbed's excellent support is partially due to its sinkage. I recorded a sinkage of 1.92 inches, which is similar to the Douglas. That means both are similar in offering supportive cradling.
However, the Novosbed performs slightly slower in response timing, making it a more contouring and slow-adaptive mattress. The Novosbed had a recovery speed of 0.9 seconds, which is 0.1 seconds slower than the Douglas mattress.
I liked that the cover was a removable Tencel cover that didn't trap my body heat or breadth. Since hot sleep can be so uncomfortable, I looked for temperature discomfort through the tests, and I have to say I was satisfied with the result. Finally, I liked that you can further adjust the firmness if you are unsatisfied with the firmness option you eventually opted for. It is easily the best mattress for back pain In Canada.
Based on Our Tests
From my tests, I experienced a good balance from support and give, allowing my body to exert pressure in the right places. I have to give special mention to the cover, which feels so soft, cool, and washable.
Recommended for:
Users who are unsure of their firmness preferences.

If you don't know what firmness level is good for you, the Novosbed is a safe option to go with. Opt for the Medium option, which offers a very balanced feel, and in case it doesn't completely satisfy you, adjust it with a Comfort+ kit.

Active sleepers and their partners.

The mattress has incredibly low motion transfer. I'm a pretty active sleeper and my wife is sensitive to movements, and she didn't have any complaints while we were testing this mattress.

Fans of the classic memory foam feel.

I think that the Novosbed will make a good purchase for those who love being hugged by their mattress rather than floating on it.
Pros:
Excellent support.

The Novosbed's transition layers help encourage healthy spinal alignment.

Excellent motion isolation.

The Novosbed's cushioning upper layers help absorb significant motion, helping your sleep remain undisturbed.

Easy-to-remove cover.

For an easy and fast cleaning solution, the cover comes off in seconds which lets you keep your sleeping area super fresh.
Cons:
May be too soft for people;

Not suitable for heavier folks;

Lacks adequate support at the edge;

The mattress may not be comfortable for hot sleepers, as it is memory foam.
Highlights
quality-made but has an attractive price tag, good value for money;

eco-friendly materials, safe even for sensitive users and allergy-prone sleepers;

universal medium-firm feel to satisfy the needs of most sleepers.
Another option I consider one of the best mattresses to soothe back pain is the Douglas mattress, but this mattress is coming in as the best budget option. Considering the challenge of finding a quality mattress that helps with back pain, the Douglas mattress is arguably the best-valued mattress around. The Douglas is $500 less expensive than the Puffy, and $460 less expensive than the Novosbed. Despite the lower price, the Douglas still offers similar contouring and pressure relief that memory foam mattresses are known for.
I find the plushy top quite accommodating enough for many users, regardless of their sleeping styles. This mattress had just the right sinkage for me despite actively testing it with multiple sleeping positions. I find the mattress quite bouncy enough to make moving around on the bed seamless. During my tests, the Douglas had a total bounce of 5.44 inches, which is slightly less than the Novosbed by 1.35 inches. Despite the slightly less bounce, the Douglas can still do the trick for ease of movement.
Most importantly, sleeping on the Douglas mattress didn't leave any of my body parts sour. Going by this, I feel this mattress can cater to back pain by conforming to the body's curves without neglecting the support that will keep the spine aligned. Finally, I think the Douglas mattress can be the right pick for budget shoppers and combination sleepers experiencing discomfort in their backs.
Based on Our Tests
From my tests, I found that it has high-quality pocket coils that eliminate motion transfer. As each coil compresses separately, movements are less likely to propagate to the other side of the bed.
Recommended for:
Those on a limited budget.

The Douglas won't burn a hole in your pocket and is no worse in terms of performance and durability than some of its more costly competitors.

Fans of eco-conscious living.

The mattress uses a Tencel cover made of eucalyptus leaves that are considered a renewable material. Also, the foam in the upper layer doesn't contain harmful chemicals and is produced with a smaller carbon footprint than regular memory foam.

Combo sleepers.

The Douglas is medium-firm, so it may work for different sleep positions and offer an equally good amount of support in each of them.
Pros:
Easily-removable cover.

The cover can be removed via zippers in as little as 10 seconds, helping keep your bed cleaner.

Excellent motion isolation.

The Douglas absorbs most motion in its soft upper layers and base, helping restless sleepers from disturbing their partners.

Good edge support.

The edge is stable and supportive so you never feel like you might fall out of bed.
Cons:
Some people don't like many layers of the mattress;

It does not give adequate support to the hips, hence not suitable for strict stomach sleepers;

Not suitable for individuals weighing more than 250Ibs.
Highlights
medium feel to accommodate a wide range of sleepers;

removable, stain-resistant cover for fuss-free maintenance;

impressive cooling properties to aid tension alleviation without making sleepers sweat during the night.
My next mention of the best mattresses for back pain in Canada is the Puffy mattress. Unlike the Novosbed mattress, it doesn't have multiple firmness options; however, it incorporates the basics a regular sleeper might need into its design, making it a close substitute for the Novosbed.
I liked that the Puffy mattress has a malleable top that sank motion impressively, indicating that pressure on a different part of your mattress won't affect your rest. From my review, the Puffy had a sinkage of 2.5 inches, which is 0.58 inches more than the Douglas. That means the Puffy can offer better cushioning and deep cradling with its thicker, contouring layers. The top layer was also quite comfy, with some bounciness that eased my movement. Most importantly, I got support that kept my body aligned with the parts of my body that sank into the mattress. I was impressed by how well the Puffy mattress adapted to my body preferences as I slept in different positions.
This mattress slept cool as it gave me proper thermoregulation even when I slept on my stomach. I recorded a temperature of 23.8 degrees, making the Puffy 6.6 degrees cooler than the GhostBed Flex. Out of the two, the Puffy works excellent at heat dispersion. I quite like that the cover is stain-resistant. Considering I always like to keep my mattress fresh, that was a welcomed advantage.
Based on Our Tests
During testing, the mattress performs well in giving me spinal alignment which is why I think it would be great for people with back pain. In addition, my tests showed that this mattress has a breathable design that maintains the temperature dynamic between the body and the mattress.
Recommended for:
Mixed sleepers.

According to my wife's and my own experience, the Puffy offers decent support in any sleeping position. You just feel as your muscles relax and the pain diminishes.

Those who typically sleep hot on a foam mattress.

The gel upper layers of the Puffy can cool down even a chronic hot sleeper and help them sleep comfortably while maintaining the needed level of support.

People with hypersensitivities.

The washable cover is soft to the touch and is made of hypoallergenic materials. So, if you have any hypersensitivity, the Puffy might be a good pick for you, as it will prevent you from developing allergy symptoms.
Pros:
Excellent motion isolation.

Its Cooling Cloud foam layer does a great job at isolating motion for less disturbed sleep.

Excellent pressure relief.

Its cradling top layers allow for deep sinkage, which translates to better pressure relief.

Easy-to-remove cover.

The Puffy has a cover that unzips in a matter of seconds, helping you keep your sleeping space cleaner.
Cons:
Some may find it too firmer;

Hot sleepers may not find it too comfortable as it retains and traps heat;

The ultra-conforming nature of the mattress inhibits the ease of movement;

Heavy sleepers over 250Ibs may not get the needed support for their body on the puffy.
Highlights
The Ghost Ice fabric cover is cool-to-the-touch and soft, helping keep sleepers cool.

Its Ghost Bounce layer gives springiness for better ease of movement and buoyancy.

The soft comfort layers are extra contouring and cradling for a traditional memory foam feel.
The GhostBed Luxe is my best memory foam mattress for back pain due to its deep sinkage, its contouring softness, and slow-adaptive motion isolation. The GhostBed Luxe has generous sinkage thanks to its 3 inches of gel memory foam and 2-inch Ghost Bounce foam. From my tests, I found these layers to be effectively contouring and cradling for pressure-relief, which may help with back pain. I recorded a sinkage of 2.7 inches, which is 0.2 inches more than the Puffy, an equally body-hugging memory foam mattress.
The GhostBed Luxe also has contouring softness. When I tested this mattress, I rated it a 6 on the firmness scale, which makes it on the softer side. A softer mattress means more soft foam molding to the body, creating 'weightlessness' and pressure-relief.
This mattress comes with excellent motion isolation that may also help sleepers with back pain. Effective motion isolation can help sensitive sleepers from being jostled in the night by a restless partner. From my review, the GhostBed Luxe could isolate motion as close as 3 inches from my glass of water. This is 2 inches more isolating than the GhostBed Flex, mainly due to the use of coils in the GhostBed Flex that give it more spring and less cradling.
Based on Our Tests
From my tests, the GhostBed Luxe is incredibly cradling. I was well-contoured, and my shoulders and hips were free of tension and pressure.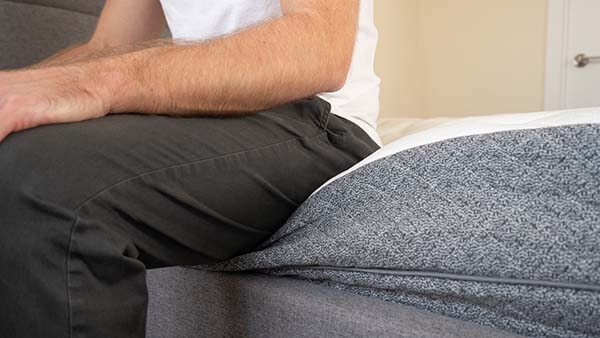 Recommended for:
Restless partners.

If you experience back pain, the motion isolating properties of the GhostBed Luxe may help by reducing motion transfer that could agitate your back.

Sleepers who enjoy a classic memory foam feel.

The GhostBed Luxe offers deep cradling that molds and contours to the body, reducing pressure and increasing comfort.

Sleepers who like ease of movement.

The GhostBed Luxe has response foam layers that are springy, ensuring you have ease of movement across the bed width.
Pros:
Excellent motion isolation for less disturbed sleep

Excellent contouring for deep-penetrating pressure relief

Good edge support for stability
Cons:
Non-removable cover

Long off-gassing period
Highlights
7 layers of comfort featuring contouring memory foam, bouncy latex, and wrapped coils.

The mattress cover is especially cooling as it's made from phase-change material and woven into cooling fiber and gel memory foam.

A thick high-density base layer gives the mattress durability and more support.
My next pick of the best mattresses for back pain is the Ghostbed flex. The Ghostbed flex is particularly adept at thermoregulation, according to my experience testing it. While the cooling feature was outstanding, this mattress is deservedly one of the best for back pain.
The support from this mattress was above average, giving me the feeling of being lightweight. The upthrust from the core was quite noticeable. While this may not be true for heavier people, I reckon this mattress will offer a considerable amount of support for anybody. In addition, the mattress bounce made me shift easily on the bed. From my tests, the GhostBed Flex had 9.01 inches of bounce, 1 inch more than the GhostBed Luxe. This is mainly due to the use of coils in the GhostBed Flex, and I felt well-supported, springy, and free from restriction.
Getting on the mattress was easy, probably due to the pocketed coils that enhance the edges. On lying on the mattress, I felt minimal sinkage, a comfy top layer, and noticeable motion isolation despite applying considerable force. Conclusively, I think the Ghostbed flex will be valuable to hot sleepers needing targeted support for their back while sleeping.
Based on Our Tests
During my review, the outstanding bounce made it easy for me to move around while the mattress also exhibited minimal give. I also enjoyed how the mattress stays cool to the touch while thermoregulating properly.
Recommended for:
Couples with different sleeping styles.

If you and your partner prefer different sleeping positions, then this mattress would work for you. It's medium firm, which means it's comfy for most types of sleepers. It also has low motion transfer.

Combo sleepers.

Sleepers who like to switch positions when sleeping would enjoy the GhostBed Flex. It's easy to roll and turn as it has good bounce, and edge support, so you don't roll off the bed.

Buyers looking for high value.

This mattress comes with a thick high-density foam base which guarantees its longevity and durability
Pros:
Excellent ease of movement to allow for easy changes in sleeping position

Great slow-adaptive layers for contouring and body hug

Good edge support for stability and ease of getting out of bed
Cons:
It might feel too firm for some stomach sleepers;

It might be out of range for budget shoppers.
Why You Should Trust Me
I have reviewed numerous mattresses with over three years of testing experience. I tested several mattresses for two weeks to come up with the best mattresses for people with back pain. Here are the most relevant features I tested when reviewing the best mattress for back pain.
Firmness and edge support
I test the edge support of these mattresses by sleeping and sitting on the mattress perimeter. Afterward, I pay attention to any noticeable sagging or instability. During my test, I also sleep in different positions to discover the firmness level for every sleeping position. The bed's firmness and edge support play a significant role for people suffering from back pain. The mattress must be firm enough to support people with back pains.
When testing cushioning, I check the level of sinkage on the mattress with a partner. My partner lays on the bed while I observe and measure how the mattress sinks and conforms around the body. This test is also carried out in different sleeping positions for a complete and accurate test. The right amount of cushioning is vital for people with back pain. Sleepers will require a mattress that contours around the back and relieves pressure points.
Motion isolation testing requires two reviewers. First, my partner lays on the bed while I sit around the mattress edge and make normal movements. After a while, my partner and I switch positions and take note of how the mattress responds and moves. Afterward, we compare notes to find the most common outcome.
Here's more on my testing methodology.
What Mattress Firmness Is Best for Back Pain?
The best mattress firmness for back pain depends on the nature of the back pain. Medium-firm mattresses are usually the go-to firmness level, but you may need to adjust the firmness based on your weight and what part of the back is causing discomfort.
Now, there are a lot of specs that you need to look for when choosing the right mattress for back pain.
But I want to mention the firmness level above them all.
And here's the trick:
Each type of pain may need a different level of firmness.
That's why even the best mattress for back pain in Canada might just not work for you because of the unsuitable firmness.
So, let me explain the correlation between the pain type and the mattress firmness that may work best for its alleviation.
Upper Back Pain
The most common cause of upper back pain is posture problems. If you tend to slouch, this might result in the kyphosis — an excessive curvature in the chest region of your spine.
Another cause of upper back pain might be scoliosis, which is a sideways curvature of your spine.
"The spine is an 'encasement' for our spinal cord that innervates the whole body. Any posture problems that create unnatural curves in the spine may pinch the nerves, resulting in neuralgia or numbness in different areas."
If you have upper back pain, the best mattress for you would be medium-firm, assuming you have average weight. This level of support is enough for maintaining the natural curves without provoking pain.
Heavier users with upper back pain need to look for a firm mattress. Adding some firmness points will help you feel comfortable and supported on the mattress without sinking too deep, which can create pressure points in your thoracic area.

Lower Back Pain
Lower back pain is the most common complaint of office workers. However, it can have many causes, such as:
hernias in the lumbar spine;

lordosis;

pelvic traumas;

lumbago.
Or, you may feel strains in the lumbar spine because of sleeping on an old mattress. This type of pain is called 'non-specific' and typically appears in the morning.
So, what is the right firmness in this case?
If your pain is a result of trauma, you need a mattress that will help you recover quickly. A medium and medium-firm mattress made of more spongy materials will do best. I recommend choosing polyurethane foam or latex rather than traditional memory foam, because they don't restrict your movements while hugging your body.
Speaking of non-specific lower back pain, a medium or medium-firm mattress works best, according to science (1). A medium bed has a balanced give and is less likely to create pressure points.
The firmness of a mattress is relative to the pressure applied on it. Therefore, only pick out mattresses with adjustable firmness or ample good sleep-trial period.
What Type of Mattress Is Best for Back Pain?
Generally, memory foam beds tend to be the best choice for those with back pain. They offer unbeatable pressure relief in any position and adjust to the body curves so that you can maintain proper spine alignment.
However, memory foam tends to trap body heat, which can often cause night sweats. As an alternative, there are models that use gel-infused or open-cell foam. Both can contribute to thermoregulation during the night.
Additionally, because memory foam has a very hugging feel, it can sometimes seem restricting. This might be an issue for those users whose back pain makes it difficult to move. Add a quicksand-like memory foam to the equation, and shifting in bed would require a lot of effort.
Another good option is a latex mattress made of the sap of rubber trees. Latex is heavier and denser than traditional memory foam, but it also springs back to the shape more quickly after you remove the pressure (2). The latter can be an advantage for those who seek a mattress that won't interfere with their movements during the night.
In addition, latex isn't very likely to cause heat build-up and would work well for hot sleepers. However, latex mattresses belong to the pricier category and may not work for budget shoppers.
Another mattress worthy of note is the innerspring mattress. It is a traditional and highly popular mattress; however, its construction and design aren't recommended for back pain sufferers. Innerspring mattresses have notoriously thin comfort layers and might aggravate back pain instead of easing it.
Finally, there are hybrid beds that combine coils and foam or latex layers in different variations. While offering overall the most balanced feel, these mattresses may be a good option for heavier users because the coil system can support a larger weight more easily. Hybrid mattresses also have stronger edges, which may come in handy for those back pain sufferers who require extra support when getting out of bed.
The best mattresses for back pain are memory foam, latex, and hybrid mattresses. These three types of mattresses offer good support and pressure point relief, which are necessary features for easing back pain discomfort.
Other Things to Consider When Choosing a Good Mattress for Back Pain in Canada
Now, knowing the right type and firmness of your mattress is only half of the deal.
You need your bed not only for alleviating your back pain but also for comfortable sleeping overall, so here are a couple of other important things to keep in mind when making your choice.
Sleep Trial
When dealing with back pain, a longer sleep trial might be a necessity. First of all, it might take you more time to get used to your new mattress, given the fact that back pain can make it challenging to feel comfy on a new mattress at first. Plus, you will need more time to understand whether the new mattress helps with back pain or makes it worse.
Edge Support
Back pain may cause slight mobility issues. If that's the case with you, you might rely on the mattress's edges to get up. Stronger edges will support your arms as you push down to give yourself a boost. In this scenario, it's better to choose among hybrid mattresses. Firmer latex and foam models sometimes also have sturdy edges, but make sure sleeping on a firm mattress won't aggravate your back pain.
Motion Isolation
Whether back pain makes you toss and turn and you don't want to disturb your partner or you are a light sleeper yourself, good motion isolation would come in handy in both cases. Typically, foam mattresses show the best results in this "field". Latex comes a close second, although it might not be ideal if there's a significant difference in weight between you and your partner. And if you are thinking about getting a hybrid mattress, make sure it uses extra-thick comfort layers.
Durability
A foam mattress of decent quality and a medium price will last you 7-10 years on average. Beds made of natural latex have the longest lifespan and can serve you up to 15 years, assuming you take proper care of them.
Coil units tend to wear out sooner, so if you're on the market for an innerspring or a hybrid, prepare to replace them after 7-10 years (3).
To make the most of your mattress, be sure to go for high-quality materials:
foams:

high-density ones for base layers and infused ones, e.g. with charcoal or green tea, for comfort layers;

coils:

choose models with high coil count and thicker wires;

fabrics

: natural fabrics, such as cotton, or semi-natural, such as Tencel or bamboo rayon, typically are safer and more durable than synthetic covers made of polyester.
Thermoregulation
Your comfort will depend not only on the cradling properties of your mattress but also on the temperature in your bed. When we fall asleep, our temperature drops and reaches its lowest point in 2 hours after we doze off (4). This, along with melatonin production, helps ensure an uninterrupted, deep sleep.
However, your body won't be able to drop the temperature if your mattress will retain heat. So, be sure to check mattresses with great cooling effects, such as:
Latex.

Despite being dense, latex has an open-cell structure that allows the heat to escape and cool you down.

Gel foams.

Gel particles make the foam structure more porous and withdraw excess heat from your body.

Coils.

Innerspring and hybrid beds deal with excess heat by promoting better airflow within the layers.
"Mattresses with good cooling effects are also less susceptible to mold growth, which makes their lifespan longer."
Also read: Mattresses in a Box
And don't forget to choose breathable mattress covers — such as those made of Tencel, natural cotton, microfibre, or bamboo. Along with ensuring airflow, these materials absorb moisture and prevent it from getting inside the mattress.
Mattress type
In choosing a mattress for back pain, it is crucial to consider the materials and design used in the construction of the mattress. The qualities of modern mattresses such as bounce, motion isolation, firmness, contouring, and temperature regulation are different for each mattress type. Hence, it is essential to know your priorities and choose a mattress with the right components to help alleviate back pain.
Firmness Level
The firmness level is a vital determinant of the best mattress for anyone with back pain. The firmness level plays a crucial role in determining whether a mattress will provide sufficient support to relieve pressure from joints and align the spine in its natural position. Hence amongst other things you have to consider when searching for a good mattress for back pain in Canada, never forget the firmness level of the mattress.
Don't pick very thick mattresses (14 inches and above), especially sleepers with a tall bed frame, if your back discomfort aggravates getting in and out of bed.
Hypoallergenic
Imagine having to live with back pain and allergies; sleep would almost be a foreign concept. Choose a mattress whose cover is imbued with features that can combat bacteria, mold, dust, mites, and other allergy-causing irritants. Or at least one that can be easily cleaned.
Cost
The priority of any purchase should be getting the best value for money. Although expensive mattresses might possess more sleep-benefit features, the user shouldn't have to go above budget to buy them.
Position
Another factor to consider before choosing a mattress for back pain is the user's sleeping style. Side sleepers require intensive cushioning, back sleepers require minimal cushioning so as not to sink, and stomach sleepers require a firm surface for proper spinal alignment. However, it's not advisable for back pain sufferers to sleep on their stomach, as the position applies the most pressure on the spine.
Some other things to consider when choosing a suitable mattress for back pain are sleep trial for compatibility, edge support to ease boarding, motion isolation for undisturbed sleep, and durability.
Sleepers will also need to watch out for thermoregulation for a cool sleep, mattress type, hypoallergenic qualities for safe rest, and firmness level, which affects comfort, cost, and sleepers' preferred sleeping style. Making the right decisions on these mattress features will simply provide the perfect mattress for you.
What mattress type is best for back pain?
Mattresses that conform to your body, relieving pressure, and support your spine by keeping it aligned are often considered best for back pain. Latex foam and memory foam mattresses best provide these qualities.
Does my sleeping position affect back pain?
Yes. Your sleeping position has a significant impact on muscle imbalance, which may result in acute back pain. Sleeping on your back is considered the best position for back support. This position helps distribute your weight evenly for better alignment. If you are a back sleeper, we recommend a medium to firm mattress.
Is my old mattress responsible for my back pain?
It depends on how old your mattress is. However, mattresses that are very old and have lost their structure are always responsible for back pain. Therefore, we recommend a medium-firm level mattress that will support your back without placing much pressure on your shoulders and hips when selecting a new mattress.
What firmness level is best for back pain?
A medium-firm level mattress that aligns your spine in its natural "S" curve position and relieves pressure from your hips and shoulder is best for back pain.
Is Puffy mattress good for back pain?
Yes, the puffy mattress is good for back pain relief. The conforming features of the puffy mattress ensure that every part of the body, including the back, experiences suiting comfort. In addition, the core also offers the support necessary for spinal alignment during sleep.
Wrapping Up
I hope that I've made your search for a top-rated mattress for back pain in Canada much easier. I've personally tested every model in this review, and I'm sure that each can make a great pick for back pain sufferers.
Our recommended pick for the article is the Novosbed. It is a mattress perfectly balanced between cradling sinkage and dense support for spinal alignment, and to make things even better, there is an optional Comfort+ kit for adjusting mattress firmness level.
And what about you? Which model seems to fit your requests the most? Share your feedback below!
References
Francisco M Kovacs, PhD, Víctor Abraira, PhD, Andrés Peña, MD, José Gerardo Martín-Rodríguez, MD, Manuel Sánchez-Vera, MD, Enrique Ferrer, PhD. Effect of Firmness of Mattress on Chronic Non-Specific Low-Back Pain. Retrieved from

doi.org/10.1016/S0140-6736(03)14792-7

Linda Erlam (n.d.) Latex Mattress Vs. Memory Foam. Retrieved from

https://homeguides.sfgate.com/latex-mattress-vs-memory-foam-94620.html

Abe Abbas (2020, May 8). When to Replace a Mattress. Retrieved from

https://www.thespruce.com/how-often-to-replace-mattresses-1391234

Edward C. Harding, Nicholas P. Franks, William Wisden. The Temperature Dependence of Sleep. Retrieved from

doi.org/10.3389/fnins.2019.00336