Puffy Mattress Review
This research is supported by you, our readers, through our independently chosen products, which earn us a commission at no additional cost for you. Learn More
Puffy is one of the
most popular
mattresses out there, which makes many shoppers wonder:
What makes it so special?
Is this mattress great for sleep, or is it simply sold by people who are
good at marketing
? That's what we will figure out today. In this review of the Puffy mattress, we will take a closer look at what makes this model so popular. We are going to check its layers, the overall feel, and how the Puffy
works for different types of sleepers
. Are you curious to learn whether the Puffy meets the expectations? Then keep on reading!
Cover
Let's start this Puffy mattress review with what's lying on the surface, literally. The first thing you might notice about the cover is how smooth and silky soft it feels. The material is thin and pleasant to the touch. The Puffy uses polyester with added lycra to make the cover stretchy and easy to put on the mattress (and yes, it is removable and machine washable). Polyester is a synthetic fabric, which may disappoint some users as it's not extremely breathable. However, because the material is very thin, it doesn't sleep hot. Now, going back to the convenient design of this cover. You can easily unzip and remove it whenever you feel like your mattress needs to be freshened up. Here's the best part: underneath the cover, there's a thin layer of extra fabric keeping all the layers encased. This will make putting the cover back on so much easier. Plus, it will protect the foam while the cover is in the laundry.
Construction
Another important aspect I want to mention in my review of the Puffy mattress is the layers used in this model. The Puffy is an all-foam mattress that has 3 layers (which make it 10 inches tall):
Cooling Cloud Foam (comfort layer). On the top, you will find a 2-inch thick layer of gel-infused memory foam. Just like traditional memory foam, it is cradling and offers a generous hug. However, since the material is infused with cooling gel, it doesn't trap heat (unlike regular foam). Therefore, the Puffy sleeps relatively cool without sacrificing pressure relief.
Climate Comfort Foam (transition layer). Using slightly more resilient polyurethane foam, this layer is 2 inches thick and serves as the in-between zone for a smoother transition. As the polyfoam has a faster response to pressure, it combats that quicksand feeling sleepers often experience when dealing with memory foam mattresses. Additionally, since this layer doesn't let you sink in too deep, it can enhance the cooling effect by controlling the amount of a hug you get from your mattress.
Firm Core Support foam (foundation layer). Measuring 6 inches in height, the base layer uses dense, sturdy polyfoam and serves as the foundation for the rest of the construction. Because the support layer is made with denser foam, the Puffy can be used on multiple surfaces. This gives users more freedom when it comes to picking a bed frame or a proper foundation. The Puffy is also suited for adjustable frames.
Firmness
When shopping for the Puffy mattress in Canada, you should keep in mind that this model cannot be comfortable for everyone. The comfort level will depend mostly on your weight. However, let's not forget that we all have personal preferences. Now, I tested the Puffy with my wife. I weigh 190 lbs., while she is a petite sleeper (110 lbs.). Therefore, we had slightly different experiences with the Puffy. I rated it 6 on the firmness scale, with 10 being the stiffest. The Puffy seemed quite supportive to me but still allowed my body to sink in.
On my side, I was really comfortable and got plenty of pressure relief. But, for those heavier than me (say above 230 pounds), I think this mattress might actually be a little bit too firm.
Overall, this mattress had a medium feel for me. As for my wife, due to her lighter weight, the Puffy seemed a bit firmer to her. She rated the mattress 6.5 on the firmness scale and noted that it felt closer to a medium-firm feel for her. She didn't experience as much sinkage as I did but still enjoyed that hugging sensation the Puffy offers. Concerning the overall feel, I think it's worth noting that the Puffy adapts quite well to applied pressure. This foam mattress allows the protruding body parts to sink while filling in the gaps and curves, which helps with proper weight distribution. At the same time, this model is rather resilient (probably thanks to that transition layer). It has some bounce to it, which combats the quicksand feeling we often experience when using all-foam mattresses.
Edge Support
Another aspect I want to include in my Puffy mattress review is the edge support. For many users, edge support is one of the decisive factors (especially for couples that need more sleeping space). Now, despite being an all-foam mattress (which are notorious for their weak edges), the Puffy showed good results when my wife and I were testing it. The foam did compress a bit under our weight when sleeping close to the edges, but we didn't feel like we were about to roll off.
To be real, when comparing this with an innerspring or latex mattress, I would say that the Puffy did not have super great edge support. This isn't surprising for a foam mattress, though. So if I'm interested in a foam bed, I can't really fault the Puffy for that.
Motion Transfer
Moving on to motion isolation, which is another important aspect for couples. You see, when the mattress does not absorb shock from movement well, your partner can feel when you toss and turn on the other side of the bed. This can be an issue for sensitive sleepers or couples with different schedules. For instance, if one of you wakes up much earlier and gets out of bed, the other one can be woken up easily by the movement.
Here's the deal: the Puffy is a bit bouncier than regular memory foam mattresses, so it does allow for some motion transfer. However, the levels are not high at all. I was testing the mattress with my wife, who is smaller than me and can be easily disturbed by my movements. On the Puffy, my wife could feel that I was moving on my side of the bed, but the motion transfer was quite moderate and hardly disturbed her. She did not really notice it and could sleep peacefully.
How Hot It Feels for Different Types of Sleepers
Look: A comfortable mattress is usually the one that works for your sleeping position. After all, the way you sleep can affect how a bed feels. That's why it's important to see how the Puffy works for different sleeping positions. Now, I am a 190-lbs. side and back sleeper, and my wife is a 110-lbs. stomach sleeper. When reviewing the Puffy, we made the following conclusions concerning each sleeping position:
Side sleepers. As a side sleeper myself, I appreciate when a mattress can reduce tension in protruding body parts (such as shoulders and hips) and gently cradle them. That's exactly what the Puffy did for me. I felt hugged by the mattress but didn't experience that unpleasant quicksand feeling. While enveloping around my hips and shoulders, the foam filled in the curves and kept my body supported comfortably. My back felt relaxed, which meant my spine was kept in a neutral position (ideal for a healthy sleeping posture). As for my wife, she also felt quite comfortable when lying on her side, which means the Puffy is suited for petite side sleepers as well. Heavier users may sink a bit deeper but should still feel supported thanks to Puffy's dense core.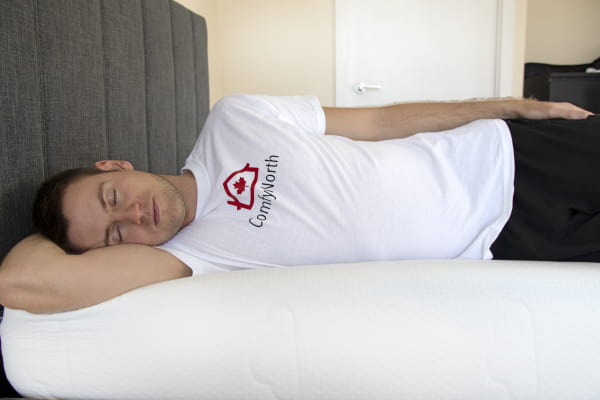 Back sleepers. I think it's safe to say that this mattress is firm enough for back sleepers. As an average individual, I experienced minimal sinkage in the hip area, which allowed my spine to remain neutral. The foam nicely supported the lumbar section of my back, which contributed to the overall comfort levels. My wife didn't have any complaints when lying on her back either. She felt well-supported and cushioned at the same time. Heavier individuals (more than 230 lbs.) may experience a deeper hug (especially in the hip area), but it would still be quite moderate and shouldn't interfere with proper spinal alignment.
Stomach sleepers. As a stomach sleeper, my wife enjoyed using the Puffy. She is a petite individual and found the mattress to be firm enough to keep her body supported and spine aligned. I also tested the Puffy lying on my stomach and, as a heavier user (190 lbs.), wanted something firmer. My hips did sink a little bit and that was the main issue for me. I believe that larger stomach sleepers (more than 230 lbs.) would not enjoy the Puffy as it might not be firm enough for them.
I felt the mattress creating a bend in my back, which I think could lead to pain over time.
Also read: Top-rated Mattresses for Back Pain
Other Important Info
When planning to buy the Puffy mattress in Canada, you need to think about more than just the mattress itself. Firstly, you should know that the Puffy comes with a limited lifetime warranty. Additionally, the company offers a 101-night trial, which means you can sleep on your new bed for a few nights and, if it doesn't feel comfy, return it.
However, Puffy requires a mandatory 14-day break-in period, during which you need to get used to your new bed. Additionally, the mattress foam requires this time to adapt to your body type. Here's some more good news: the Puffy comes compressed and vacuum-sealed in a box (and the shipping is free). So, even if your bedroom is upstairs (or you live in an apartment building), you aren't likely to have any issues moving the mattress.
The Puffy works with pretty much any surface, including spring boxes and flat frames. Chances are, your old foundation will do (which means fewer expenses on your part). And speaking of money: Puffy offers 0% APR financing to their clients. This means you can pay small amounts monthly, which means less stress for your budget. It's also worth mentioning that the Puffy is safety certified (OEKO-TEX and CertiPUR-US), so the mattress doesn't contain any harmful components or harsh chemicals.
Conclusion
Taking everything into account, it's safe to say that the Puffy is indeed a worthy find. It's a quality all-foam mattress that delivers a superb combination of support and comfort.
This model would be ideal for side sleepers of all weight categories. Just keep in mind that heavier users will experience a bit more sinkage while petite individuals might find the Puffy a tad too firm. As for back sleepers, they would also enjoy using the Puffy, especially average and lightweight individuals. Heavier back sleepers should also feel quite comfortable lying on the Puffy unless they are used to stiffer surfaces.
Now, when it comes to stomach sleepers, the Puffy is a bit more limited. It would be best suited for lightweight stomach sleepers. Average individuals should also feel comfy enough but might require a bit more support.
As for larger users, they may experience too much sinkage in the hip area, which isn't ideal when lying on your stomach. All in all, the Puffy is a great mattress that offers value for money. It's well-constructed and has a nice in-between feel: not too firm, not too plush. The top layer is cradling and adaptive, while the transition foam is more resilient and fights the quicksand feeling.
The Puffy doesn't sleep hot and combines decent support with gentle cradling. All of these features make it stand out from many other mattresses.