This research is supported by you, our readers, through our independently chosen products, which earn us a commission at no additional cost for you. Learn More
Some people tend to run hot, and the problem of trying to stay cool through the night is especially more pronounced during summer and hotter climes. Although not everyone indeed requires the best cooling mattress in Canada, it is also true that cooling mattresses help improve restorative sleep health.
We'll be taking an in-depth look at some cooling mattresses in Canada that'll make you achieve peaceful slumber even on the hottest of nights. And to make the read further interesting, there'll be free tips on how to choose the best cooling mattress available on the market. Enjoy.
Our Top 3 Picks of the Best Cooling Mattresses in Canada
Overall Best - Editor's Choice - Puffy Mattress
Click on the button below to check price and go shopping
Check Current Price
Read our detailed review
Highlights:



Medium firm firmness level for adequate body contouring, cushion, and pain relief;




An incredibly dense core that enhances lumbar support and spinal alignment;




Features a zippered stain-resistant cover for easier mattress maintenance.



Our number one pick of the best mattresses for hot sleepers in Canada is the Puffy Mattress. It is a gel-infused memory foam mattress that excels at temperature regulation and heat dispersal. Coupling its gel-infused foam with the proprietary Puffy cloud cover, the mattress performs the function of drawing heat away from the body and leaving the user cool for a night free of sweat.
Apart from breathability, the mattress also offers premium pain relief with its extensive cushioning and adequate spinal support. And in addition, the mattress is compatible with different sleeping styles due to its healthy blend of denseness and sinkage.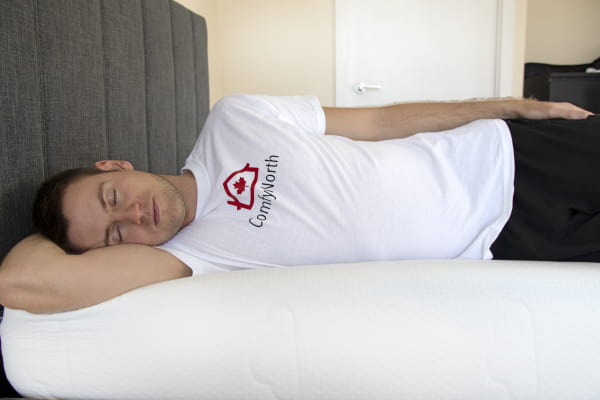 Pros:
It offers incredible motion isolation, a feature especially great for partnered sleepers.

The mattress cover is hypoallergenic, effectively battling dust and other allergy causing irritants.

Its gel-infusion heightens the tension alleviation properties of the mattress.
Cons:
The firmness level is not sturdy enough for heavy stomach sleepers.

It does not possess reinforced edges for mattress support.
Best Cooling Mattress for Back Pain - GhostBed Flex
Click on the button below to check price and go shopping
Check Current Price
Read our detailed review
Highlights:
Incredibly dense support base for optimal back support;

It uses gel-infused memory foam and innerspring breathability to achieve thermoregulation;

Extra edge support feature to enhance mattress surface sturdiness and stability.
The GhostBed Flex exudes a surface that's always cool to the touch even during use, a feature that makes it rank as one of the top-rated mattresses for hot sleepers. It is a hybrid mattress that combines the pain relief and cooling effects of gel-infused memory foam with the sturdiness and durability of innerspring mattresses to guarantee user comfort and luxury.
Another feature of the GhostBed Flex that makes it stand apart is its responsiveness. This is achieved by the exclusive bounce layer used in the mattress that prevents the sinking feeling, which is sometimes associated with memory foam. In addition, it offers minimal motion transference, which is ideal for couples or partnered sleepers.
Pros:
The mattress makeup and construction guarantee durability.

Its improved edge support creates mattress uniformity and more space for users.

It uses several proprietary cooling features to help combat heat retention.
Cons:
It might be a little expensive for shoppers on a budget.

There is a slight off-gassing period when the package is being opened.
Best Cooling Memory Foam Mattress - Novosbed
Click on the button below to check price and go shopping
Check Current Price Read our detailed review
Highlights:
The mattress construction optimizes airflow while reducing heat retention;

It comes with a special comfort feature that allows the mattress to be adjusted;

Incredibly cheap, ideal for shoppers on a budget.
Coming from the stables of Goodmorning.com is another masterpiece called the Novosbed. Designed for optimal breathability, the memory foam mattress uses a combination of an ultra-soft Tencel cover alongside an open-cell foam to ensure that heat retention is non-existent. While also keeping the user free of night sweats (1) and in cool comfort.
The Novosbed mattress is an ideal investment, especially for shoppers on a budget. It is inexpensive, cooling to the touch, durable, and offers pain relief features. Furthermore, due to the amount of cushioning and support that the mattress offers, users of various sleeping styles can sleep on it comfortably.
Pros:
Its top cover is machine washable, making cleaning easier.

It comes with an optional Comfort+ layer for adjusting mattress firmness level.

Compatibility with all types of frames, bases, and foundations.
Cons:
The mattress surface might not be firm enough for heavy sleepers.

It does not possess special cooling technologies like the other mattresses on this list.
Types of Cooling Mattresses
Cooling mattresses are known for their breathability, heat dispersion, and special cooling features in some cases (2). Let's take a look at the types of cooling mattresses available in the market; they include:
Latex
Latex mattresses are naturally breathable and are known for their responsiveness. Apart from being great at temperature regulation, they are also excellent at pain relief and lasting long. However, one of the drawbacks of a latex mattress is that it's expensive, probably due to the scarcity of the resources used in its making.
Foam
Foam mattresses are ideally split into polyfoam and memory foam; however, we'll be facing memory foam alone in this read. Memory foam mattresses are adept at tension alleviation as it offers the intense cushioning needed for body contouring and cradling pressure points.
On the flip side, they tend to restrict movements and can run hot if they aren't gel-infused.
Innerspring
Innerspring or pocket coil mattresses are excellent at temperature regulation due to their construct. The mattress is filled with natural airways that serve as channels for heat dispersion while ensuring a night devoid of sweat. However, innerspring mattresses are not prime relief mattresses as they usually come with thin comfort layers and little cushioning.
Hybrid
Hybrid mattresses are a combination of different mattress types. They take the best of different worlds and merge them into a masterpiece. They are known for their edge support, dense core, breathability, and pain relief. They are excellent for building firm mattresses (check out our firm mattress guide here)
"A form of illness mostly causes night sweats, and hence, the cause must be duly treated. A cooling mattress can lower the effects, but it's vital to note that it's not a cure."
Factors to Consider When Purchasing a Cooling Mattress
Everyone wants to buy the best cooling mattress in Canada; but apart from thermoregulation, here are some recommended tips that users should put in mind before purchase:
Motion Isolation. Motion isolation is the ability of a mattress to minimize the impact of movement. This way, disturbances are minimal, a feature that partnered sleepers and couples are bound to love.
Pain Relief. The comfort layer of a mattress determines its tension alleviating capabilities. Intense cushioning is needed for the mattress to be able to cradle body joints and pressure points, while also ensuring appropriate spinal alignment with a dense core.
Sleeping Style. Individual sleeping style is another important factor to consider when buying a cooling mattress. Side and back sleepers need appropriate sinkage for their protruding parts, while stomach sleepers require a sturdier surface for proper balance and support. User weight also plays another role in this particular section.
Edge Support. Reinforced edges enhance mattress uniformity and support. Furthermore, it affords the users more space by creating edges that can be sat on or rolled to without sinking. King-size mattresses use this feature a lot; read our full king-size mattress guide at

this link

.

Price. The trick to this is finding the right balance between value offered and money budgeted. For example, running hot is a given in situations like RV use; however, some users might believe that

these RV mattresses

shouldn't be spent on. The money spent on such a cooling mattress will go a long way in ensuring that individuals achieve cool comfort during their resting periods.
F.A.Q
What firmness level is best for a cooling mattress?
No particular firmness level is best for a cooling mattress. A cooling mattress will perform its function of temperature regulation, no matter the firmness level. The only scenario where it might not work well is when the user's weight and sleeping style does not match the mattress.
Do cooling mattresses last long?
Cooling mattresses last long, as what makes a mattress durable is the quality of the material used in its production. And since all cooling mattresses boast a firm and thick base layer, durability is guaranteed.
Conclusion
A task as simple as buying a cooling mattress can become daunting if done without proper guidance. And to get the best value for money, we need to understand the functions of cooling mattresses and how they work.
Our recommended pick for this article is the Puffy mattress. It is a remarkable product designed to guarantee cool comfort while improving restorative sleep health. And it has all the features to boot.
Do you have a cooling mattress that you use? We'd love to hear your thoughts; why don't you hit us up through the comments section?
References:
Mayo Clinic. (March 05, 2022). Night Sweats. Retrieved from https://www.mayoclinic.org/symptoms/night-sweats/basics/definition/sym-20050768

Times Square Chronicles. (June 12, 2020). 7 Benefits of Owning a Cooling Mattress. Retrieved from https://t2conline.com/7-benefits-of-owning-a-cooling-mattress/