This research is supported by you, our readers, through our independently chosen products, which earn us a commission at no additional cost for you. Learn More
Some people tend to run hot, and the problem of trying to stay cool through the night is especially more pronounced during summer and hotter climates. Although not everyone indeed requires the best cooling mattress in Canada, it is also true that cooling mattresses help improve restorative sleep health.

We'll be taking an in-depth look at some cooling mattresses in Canada that'll make you achieve peaceful slumber even on the hottest of nights. And to make the read further interesting, there'll be free tips on how to choose the best cooling mattress available on the market. Enjoy.
Highlights:
Excellent edge support for people who enjoy sleeping near the edge of the bed;

Exceptional bounce recovery rate makes it feel resilient;

Amazing sinkage means you'll feel supported by the foam layers.
This mattress really surprised me with its bounce recovery which is faster than many similar memory foam mattresses out there. The Doulgas is my editor's choice due to its excellent firmness, sinkage, and motion isolation. The foam feels supportive and the premium Elastex layer definitely enhances the mattress' cooling properties. After the mattress has been unpacked and fully expanded, you'll notice it has a medium to firm firmness level, which makes it quite firm and ideal for combination sleepers who vary their sleeping positions as well as for back sleepers. From my tests, I rated its firmness as a 6, which is slightly softer and works excellent for side sleepers seeking a cool mattress. This is 1 point softer than the Puffy, which means the Douglas is better suited to sleepers who prefer cradling over firmness.
The Douglas Original Mattress has excellent sinkage and really cradles the body making it easier to fall into a deep sleep. Your shoulders and hips will feel cushioned and supported throughout the night and you won't get that awful dead arm feeling in the middle of the night. According to my tests, I recorded 1.92 inches of sinkage, which is enough to cradle my pressure points and ease tension. The Douglas was 0.58 inches firmer than the Puffy, which means the Douglas is the better option for sleepers who want less sinkage and a more supported spine. The combination of its sinkage, firmness, and responsiveness makes it the perfect mattress for people who like to alternate their sleeping positions between their back, side, and stomach.
The motion transfer features are excellent and you'll barely feel any movement when sharing the bed—making the Douglas mattress the ideal mattress for couples or people who let their pets sleep on the bed with them. From my review, the Douglas had 3.54 inches of compression while I was sitting at the edge, which is firm enough that I never felt at risk of falling out. This is 0.36 inches firmer than the GhostBed Luxe, which makes the Douglas have a firmer, more stable edge for ease of getting out of bed. The edge support is good but sinks slightly lower than hybrid mattresses because it is not reinforced. This doesn't mean it will let you fall off the bed, but that when you sit on the edge it sinks quite low.
The removable cover is fantastic because you can just pop it into the machine on a cold cycle, making the Douglas mattress ideal for parents whose kids slip into their beds during the night. The cover also feels cool to the touch and you'll find that you wake less frequently during the night from overheating.
The Douglas has a plush outer layer that adds softness and comfort to the firmer inner layers. This firmness is ideal for most sleepers who prefer a medium-to-firm mattress that still feels soft and pliable.
Based On Our Tests
During the testing, I felt that the cooling features and mattress composition were performing well to keep my body temperature regulated. I also enjoyed how responsive the mattress was whenever I changed positions during the night. The edge support sunk low when I sat on the edge but retained its shape when I stood up, so the non-reinforced edge is not too soft for people who sit on the edge when getting out of bed.
Recommended For:
Sleepers who prefer less sinkage.

The Douglas offers less sinkage, enough to cushion the body, provide good spinal alignment, and give an even sleeping surface;

Restless partners.

The Douglas can isolate a high amount of motion, helping couples sleep better with less jostling and fewer disturbances;

Sleepers who prefer sleeping on the edges. The Douglas has firm edges that create a stable mattress, ensuring you don't accidentally slip or fall out of bed.
Pros:
The excellent motion isolation makes it perfect for couples;

Superior sinkage makes you feel caressed and supported;

The latex-like layer makes the mattress feel cooler for longer.
Cons:
Off-gassing took 2 days to completely dissipate;

Can feel too firm for some sleepers.
Highlights:
The Cooling Cloud Form offers excellent contouring, cushioning and pressure relief;
An incredibly dense core that enhances lumbar support and spinal alignment;
Features a zippered stain-resistant cover for easier mattress maintenance.
The Puffy is my best option due to its cooling technology, excellent motion isolation, and slow-adaptive responsiveness. The mattress' combination of gel-infused foam, a breathable base layer, and a moisture-wicking top cover ensures that your body heat is dissipated for a sweat-free rest.
During my review, I liked how responsive the foam felt. The mattress cradled my bones and pressure points in all the right places. "The Puffy gives excellently soft and cushioning support for sleepers who enjoy a deep, enveloping contour. The Puffy gives the sensation that you're being hugged by your mattress," said Jackson Lindeke, Executive Director of Sleep Foundation.
I was impressed by the edge support and felt comfy when laying around the Puffy mattress' perimeter. In addition, I tested the motion isolation and found it to be well above average. It absorbed most motion up to 2.5 inches from my compressions and my glass of water. The Puffy had 0.5 inches less isolation than the Novosbed and was able to significantly reduce motion transfer. Of the two, the Novosbed would be the better option for light sleepers needing as much motion isolation as possible. Despite it having a slightly lower motion isolation rate than the Novosbed, it still ensured my partner slept undisturbed even though I got up often when testing it.
While sleeping on the mattress, I noticed that despite the incredible hug it provided. Its bounce rate felt springy and its responsiveness was slower than the Novosbed by 0.8 seconds. So, compared to the Novosbed, the Puffy is the better option for slow-adaptive pressure relief that slowly and deeply cradles the body over time. The mattress surface typically adjusted to my body within 1.7 seconds of each position change. The memory foam top layer adequately cushioned my body while its dense core provided the support needed for spinal alignment.
I think the mattress would be a great choice for lightweight sleepers like me who cherish the weightless feeling that comes with a top cushioning layer.
Its superior cooling layer stayed cooler than the Novosbed and for longer so I didn't wake up feeling clammy and sweaty. I think the mattress would be a great choice for lightweight sleepers who enjoy the cloudlike feel of the top cushioning layer. Just like the company advertised, I felt like I was sleeping on a cool cloud and woke up more relaxed than I had in a long time. I recorded temperatures of 32.8 degrees with the Puffy and was refreshed and cool throughout the night. Cooling tests revealed that the Puffy mattress' surface temperature was 5.7 degrees cooler than the Novosbed's after a 2-hour nap. I would recommend the Puffy for hot sleepers as it has effective cooling.

Based on Our Tests
During the test, I found that this bed provided enough support, which ensured that I didn't feel any back pain throughout the period I used it. People who have constant back pain after sleeping will love this bed.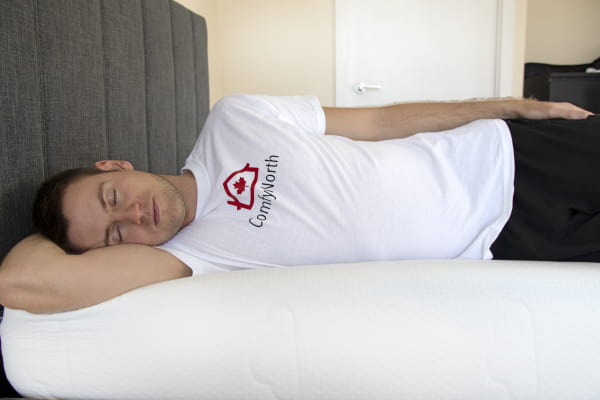 Recommended For:
Hot sleepers.

The Puffy uses effective cooling technology, like its CoolingCloud layer, to keep heat from building up at night, which can help hot sleepers feel more comfortable;

Couples.

The Puffy's soft upper layers perform excellently for motion isolation, ensuring couples aren't jostled by one another as much during the night;

Sleepers who prefer sleeping 'in' than 'on' their mattress. The Puffy offers a deep, cradling sinkage that slowly adapts to the body's curves, giving sleepers better pressure relief and an enveloping feel.
Pros:
It offers incredible motion isolation, a feature especially great for partnered sleepers;

The mattress cover is hypoallergenic, effectively battling dust and other allergy causing irritants;

Its gel-infusion heightens the tension alleviation properties of the mattress.
Cons:
The firmness level is not sturdy enough for heavy stomach sleepers;

It does not possess reinforced edges for mattress support.
Highlights:
The mattress construction optimizes airflow while reducing heat retention;
The high-density memory foam redistributes weight, helping sleepers feel 'weightless';
Incredibly cheap, ideal for shoppers on a budget.
The Novosbed is my best pressure-relieving option choice due to its excellent heat dispersion, slow-adaptive feel, and competitive price. The mattress uses an open-cell foam with channels for heat dispersion and a highly breathable Tencel mattress cover. These dual features mean that you enjoy the stress-relieving properties of memory foam while staying cool, thanks to the mattress construction. The Novosbed has a medium firmness that makes it slightly firmer than the Puffy Mattress which was about 0.5 points softer. This makes it ideal for those who prefer to sleep on their backs. "You want a mattress that has just-right firmness levels. You'll want it plush, but not too soft. Firm, but able to provide pressure relief," Logan Foley, the editorial director at Sleep Foundation explained.
Apart from its temperature regulation, I liked the slow-moving feel of the Novosbed mattress. While reviewing the mattress, I had my partner get in and out of bed multiple times to see how efficient it was at motion isolation. I didn't feel a thing as the mattress absorbed all the movements generated by my partner.
I wasn't surprised that the Novosbed was able to achieve slightly better motion transfer than the Puffy mattress because of its motion-isolating multi-layered foam design. Its ability to reduce motion transfer by 0.5 inches more than the Puffy mattress made it feel as if I was alone in the bed even when my partner was there. I would recommend the Novosbed mattress to any sleeper with a restless partner who wants more restful sleep.

And in addition to its incredible features, the mattress comes at a bargain, cheaper than the Puffy and GhostBed Flex. It is $400 cheaper than the Puffy, and $849 cheaper than the GhostBed Flex. The Novosbed is an excellent option for sleepers on a tight budget.

Based on Our Tests
This mattress felt very cool during my tests. Novosbed's cooling features and the cradling feel ensured I felt comfortable. I also felt that my spine was adequately supported and I didn't notice any body cramps after I got up. In my opinion, this mattress will be a great bargain for hot sleepers.
Recommended For:
Restless partners.

The Novosbed can isolate motion to a high degree, allowing light sleepers to get better rest even with restless partners;

Hot sleepers.

The Novosbed can disperse heat well through its open-cell memory foam and its cool cover, helping hot sleepers stay cool at night;

Fans of a traditional memory foam feel. The Novosbed uses slow-adaptive foam that molds to the body, helping redistribute weight for better pressure relief and a traditional foam feel.
Pros:
Its top cover is machine washable, making cleaning easier;

Excellent motion isolation for couples with restless partners;
Excellent spinel support for sleepers who prefer a firmer surface.
Cons:
The mattress surface might not be firm enough for heavy sleepers;

It does not possess special cooling technologies like the other mattresses on this list.
Highlights:
The Tencel cover and open-cell memory foam, along with the coils, encourage heat to disperse, keeping you cool.
The pliant memory foam contours around your protruding points like your shoulders and hips, helping relieve pressure.
The firmer centre third of the mattress helps keep the spine and hips in alignment, keeping you tension-free.
The Summerhill is my best hybrid option due to its cooling construction, balanced sinkage, and edge support.
In order to be cooling, mattresses have to use some form of cooling technology to channel heat away. The Summerhill is an excellent hybrid option with great cooling due to its conscious design towards heat dispersion. It uses a cool-to-the-touch cover, open-cell memory foam, and coils that allow airflow. This means that heat is pulled away into the deeper layers of the mattress, and less heat is trapped in the foam, helping sleepers feel cool even on hot nights.
In my compression tests with The Summerhill, I got a feels-like of about 28-29 degrees Celsius. I felt this was cool enough for sleepers to enjoy adequate coolness during the night. The Summerhill had slightly better cooling than The Osgoode by about 1 degree. I would recommend The Summerhill to sleepers looking for a cooler, more comfortable sleep.
A balanced, slightly minimal sinkage also helps with cooling as less of your body is within the layers. Less physical contact means the foam has more space to breathe, allowing heat to escape. This leaves the sleeping surface cooler, especially with open-cell foams like within The Summerhill.
In light of my compression tests with The Summerhill, I measured a sinkage of about 1.85 inches. This is moderate enough to relieve pressure while ensuring sleepers don't feel 'trapped' in the layers. The Summerhill had a firmer feel than the Puffy by 0.65 inches. I would recommend The Summerhill for sleepers who want more freedom to move and less enveloping so they feel less heat build-up.
Sinkage of The Summerhill Mattress

Another feature that drew my attention was the edge support of The Summerhill. According to my hand tests, the compression I measured along the edge was about 3.5 inches deep. This is firm enough that most sleepers will feel secure while sitting or lying along the edges.
The Summerhill outperformed the GhostBed Luxe in this regard by 0.4 inches. I would suggest The Summerhill to any sleeper who prefers a more stable edge and wants peace of mind while getting in and out of bed.
Based on Our Tests
From my compression tests with The Summerhill, I have found it to be springy with excellent pushback. This pushback ensures sleepers won't be trapped in heat-retaining layers due to a balanced sinkage, which can aid in a cooler sleep.
Recommended For:
Hot sleepers. The Summerhill uses Tencel, open-cell memory foam, and breathable coils to circulate heat away from the body, keeping sleepers from overheating.
Sleepers who prefer a modern foam feel. The open-cell memory foam of The Summerhill reacts quickly to pressure, bouncing back and ensuring sleepers don't feel 'stuck.'
Sleepers who enjoy being 'on' rather than 'in' their bed. The Summerhill offers a mix of sinkage and support that ensures you feel more buoyant.
Pros:
Excellent support for a healthy spine;
Excellent cooling for those who sleep on the hot side;
Excellent bounce for those who need freedom of movement.
Cons:
Non-removable cover that makes keeping the surface clean more of a challenge;
It ships as is, not in a box, which can make moving it a bit bulky.
Highlights:
Incredibly dense support base for optimal back support;

It uses gel-infused memory foam and innerspring breathability to achieve thermoregulation;

Extra edge support feature to enhance mattress surface sturdiness and stability.
The GhostBed Flex is a hybrid mattress that blends the durability and sturdiness of innerspring with the cushioning comfort of memory foam to deliver zoned tension relief. A feature that makes the mattress great for back pain sufferers. The Ghostbed Flex is the perfect combination mattress for people who prefer spring coil mattresses but also want to enjoy the benefits of memory foam mattresses.
Running hot can sometimes be caused by illnesses or harsh weather; however, with the GhostBed Flex, sleeping without night sweats (1) is assured. The space between the coils assists with the cooling features that the top cushion offers because air circulates easily through the mattress. I found that the Ghostbed Flex slept 0.9 degrees warmer than the Novosbed which still felt comfortable to me, but might be an issue for people who sleep too hot. I would recommend the Novosbed to sleepers who need absolute coolness.

My high point while reviewing the mattress was its reinforced edge support. The mattress edges were extra-rigid, and I could sit on them without the mattress sagging. This feature makes the mattress especially great for back pain sufferers, as it ensures they can easily get out of bed. The reinforced edge support also makes this the ideal bed for children who rest their weight on the edge of the bed when they get in or out because it won't wear down and sag over time. The Ghostbed Flex's edge support sank 1.3 inches lower than the Puffy mattress but still provided adequate resistance without collapsing when I sat on the edge. I would recommend the Puffy to sleepers who want slightly firmer edges.

The Ghostbed Flex has a voluptuous and caressing feeling because it is about 1 point softer than both the Novosbed and Puffy mattresses—giving it a plush medium firmness that reduces pressure on the joints.
The Ghostbed Flex provided 2.5 inches less motion isolation than the Puffy and my partner felt some motion when I got out of bed or changed positions. I would recommend the Puffy to couples who need slightly more motion isolation. The motion transfer is a little slower than a typical memory foam mattress because of the lower coil layer, but it still dissipates the movements quite quickly and will be a wonderful mattress for couples who are deep sleepers.
Based on Our Tests
The bouncy feel this bed provided throughout the testing period makes it easy for me to change my sleeping position. I also discovered that it made me sweat way less, making it ideal for people who sweat a lot overnight.
Recommended For:
Sleepers who prefer ease of movement.

The GhostBed Flex has a responsive sleeping surface that couples with the Ghost Bounce layer and coils to make you feel buoyant and unrestrained;

Sleepers who need reliable edge support.

The GhostBed Flex offers firm, reliable edges that can make getting out of bed easier;

Hot sleepers. The GhostBed Flex's breathable coils and Ghost Ice fabric help disperse heat, keeping you cool and comfortable while sleeping.
Pros:
The mattress makeup and construction guarantee durability;

Its improved edge support creates mattress uniformity and more space for users;

It uses several proprietary cooling features to help combat heat retention.
Cons:
It might be a little expensive for shoppers on a budget;

There is a slight off-gassing period when the package is being opened.
Why You Should Trust Me
We have years of experience reviewing mattresses up close, learning what makes a good mattress great. In-house, we run tests that determine a mattress's comfort, support, and coolness. We also look for other factors, such as edge support and motion isolation, that can impact how well a mattress can suit your home.
The best cooling mattresses in Canada should have superior cooling technology that sets them apart from the rest. They should also have adequate sinkage for pressure relief and enough support to align the spine. During my test, I paid attention to these factors. That's why I chose these particular mattresses for this list, as they performed the best and stood out to me the most. You can read how we review mattresses here to learn more about our extensive criteria list.
Types of Cooling Mattresses
Cooling mattresses are known for their breathability, heat dispersion, and special cooling features in some cases (2). Let's take a look at the types of cooling mattresses available in the market; they include:
Latex
Latex mattresses are naturally breathable and are known for their responsiveness. Apart from being great at temperature regulation, they are also excellent at pain relief and lasting long. However, one of the drawbacks of a latex mattress is that it's expensive, probably due to the scarcity of the resources used in its making.
Foam
Foam mattresses are ideally split into polyfoam and memory foam; however, we'll be facing memory foam alone in this read. Memory foam mattresses are adept at tension alleviation as it offers the intense cushioning needed for body contouring and cradling pressure points.
On the flip side, they tend to restrict movements and can run hot if they aren't gel-infused.
Innerspring
Innerspring or pocket coil mattresses are excellent at temperature regulation due to their construct. The mattress is filled with natural airways that serve as channels for heat dispersion while ensuring a night devoid of sweat. However, innerspring mattresses are not prime relief mattresses as they usually come with thin comfort layers and little cushioning.
Hybrid
Hybrid mattresses are a combination of different mattress types. They take the best of different worlds and merge them into a masterpiece. They are known for their edge support, dense core, breathability, and pain relief. They are excellent for building firm mattresses (check out our firm mattress guide here)
A form of illness mostly causes night sweats, and hence, the cause must be duly treated. A cooling mattress can lower the effects, but it's vital to note that it's not a cure.
Factors to Consider When Purchasing a Cooling Mattress
Everyone wants to buy the best cooling mattress in Canada; but apart from thermoregulation, here are some recommended tips that users should put in mind before purchase:
Motion Isolation. Motion isolation is the ability of a mattress to minimize the impact of movement. This way, disturbances are minimal, a feature that partnered sleepers and couples are bound to love.
Pain Relief. The comfort layer of a mattress determines its tension alleviating capabilities. Intense cushioning is needed for the mattress to be able to cradle body joints and pressure points, while also ensuring appropriate spinal alignment with a dense core.
Sleeping Style. Individual sleeping style is another important factor to consider when buying a cooling mattress. Side and back sleepers need appropriate sinkage for their protruding parts, while stomach sleepers require a sturdier surface for proper balance and support. User weight also plays another role in this particular section.
Edge Support. Reinforced edges enhance mattress uniformity and support. Furthermore, it affords the users more space by creating edges that can be sat on or rolled to without sinking. King-size mattresses use this feature a lot; read our full king-size mattress guide at this link.
Price. The trick to this is finding the right balance between value offered and money budgeted. For example, running hot is a given in situations like RV use; however, some users might believe that these RV mattresses shouldn't be spent on. The money spent on such a cooling mattress will go a long way in ensuring that individuals achieve cool comfort during their resting periods. "One-third of your life is spent on your mattress, so it's always going to be a worthwhile investment," stated Dr. Tim Bertelsman, Co-Founder of ChiroUp.
F.A.Q
What firmness level is best for a cooling mattress?
No particular firmness level is best for a cooling mattress. A cooling mattress will perform its function of temperature regulation, no matter the firmness level. The only scenario where it might not work well is when the user's weight and sleeping style does not match the mattress.
Do cooling mattresses last long?
Cooling mattresses last long, as what makes a mattress durable is the quality of the material used in its production. And since all cooling mattresses boast a firm and thick base layer, durability is guaranteed.
Conclusion
A task as simple as buying a cooling mattress can become daunting if done without proper guidance. And to get the best value for money, we need to understand the functions of cooling mattresses and how they work.

In my opinion, the Douglas mattress is the best cooling option as it offers excellent firmness, pressure-relieving sinkage, and motion isolation. Couples who share the bed with a restless sleeper will have fewer disturbances at night due to its excellent ability to isolate motion.
Still have questions about finding the best cooling mattress in Canada? Alex Savy, the Co-Founder and Chief Editor at Comfynorth has reviewed countless sleep products with over 4 years in the industry and can help you find what you're looking for. Reach out through email at [email protected]. When emailing Alex, include your full name and phone number or email address.

References:
Mayo Clinic. (March 05, 2022). Night Sweats. Retrieved from https://www.mayoclinic.org/symptoms/night-sweats/basics/definition/sym-20050768

Times Square Chronicles. (June 12, 2020). 7 Benefits of Owning a Cooling Mattress. Retrieved from https://t2conline.com/7-benefits-of-owning-a-cooling-mattress/