Best King Size Mattresses in Canada
This research is supported by you, our readers, through our independently chosen products, which earn us a commission at no additional cost for you. Learn More
Everyone wants what's best for themselves, as it is the only way satisfaction is assured, a trait that is evident in mattress selection as well. However, choosing the best king size mattress in Canada is not a simple task, due to the abundant options available.
And this is why we have done the job of sifting through different products to provide you with the top 3 picks. In line with serving unbiased mattress reviews in Canada, the pros and cons of each product are listed, and a comprehensive guide to help buyers make the best choice.
A Quick Preview
Highlights
Memory foam build provides pain relief alongside cool comfort.

Hypoallergenic features ensure a sleep free of dirt and irritation, excellent for allergy sufferers.

The mattress construction is optimized for breathability and temperature regulation.
My first pick of the best king-size mattresses is the Puffy mattress. It is my best overall because it performed better in every criterion of my tests. The plush top was comfy, making me feel cozy. I also got a good bounce and impressive motion isolation. Furthermore, the Puffy mattress was adept at regulating temperature while I used it.
As for its pressure-alleviating performance, I saw that the comfy top alongside the rigid support was able to relieve me of the tension in my body. I liked that the support was balanced to make me comfortable in different sleep positions. The Puffy mattress is a good fit for different sleep styles and weight categories.
The sheer size of king-size mattresses makes them hard to maneuver. You should try and opt for the moderately thick ones, maybe 10 to 12 inches, to ease the maintenance challenge.
Based on Our Tests
During the test, I found that this bed's medium firmness helped position my body in a way that provided needed comfort and support. People who want adequate support for their backs will love this mattress.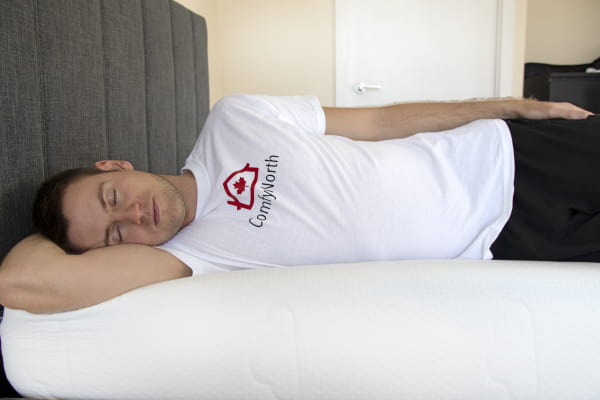 Pros
Medium-firm firmness level that balances between support and cushioning for pain relief.

It is compatible with different types of bases and foundations.

Due to mattress cooling components, heat retention is minimized.
Cons
The surface is not firm enough for heavy individuals.

Some motion transference is still allowed.
Highlights
Cooling fibers in the mattress cover helps keep the mattress surface always cool.

It has a bounce layer which is responsive and combats quicksand sensations.

Mattress construction is excellent for tension alleviation.
If you're looking for king-size mattresses suitable for hot sleepers, let me tell you about the Ghostbed flex. My review showed a mattress that stays cool to the touch, and the thermoregulation is outstanding, as the temperature barely rose throughout my stay in bed.
In addition, the support of this mattress is quite awesome, providing a good upthrust to keep my body rightly aligned on the bed. Through this, I felt the targeted support for my midsection, eventually leading to a tension-relieving rest. Let me add that this mattress is also suitable for heavy sleepers.
Based on Our Tests
I particularly loved the bounce layer this bed consistently retained during the testing period, making it incredibly easy for me to adjust my sleeping position. I also discovered that this body's edge control feature gave me room to sleep, making it ideal for active sleepers.
Pros
Latex and innerspring components assure durability.

The firmness level provides a deep hug needed for massaging pressure points.

Its high-density layer provides adequate lumbar support.
Cons
It is costlier than the other mattresses on this list.

The firmness level might not be ideal for heavy stomach sleepers.
Highlights
Offers an extended sleep trial period for hesitant shoppers.

Zoned pressure alleviation feature for pain relief.

Mattress construction allows for optimal breathability.
The Novosbed is my final pick of the best king-size mattresses. I picked it because of its competitive price, saving you over $300 and $800 from the Puffy and Ghostbed flex mattresses. However, it is not just a cheaper option; my tests showed it is a worthy addition to the best king-size mattress list.
I experienced good support alongside a pressure-alleviating cushion. It was quite comfy, offering motion isolation and bounce in equal measures. While the firmness was satisfactory, I like that people in different weight categories can choose from different options and further adjust the firmness. In conclusion, I think the Novosbed is one of the best-valued mattresses available in Canada.
Based on Our Tests
One of the things I loved about this bed while testing it is the hugging feel it provided while also ensuring I didn't sink in. I also loved that it comes with an extra layer, which allowed me to choose the firmness level.
Pros
Ultra-soft and machine washable cover that ensures cleanliness.

It comes with an extra layer for adjusting the firmness option to user specifications.

Its high-density foam is extremely durable.
Cons
The mattress does not possess many cooling features like its GhostBed counterpart.

It has a slight breaking-in period of off-gassing.
What to Consider When Buying a King Size Mattress in Canada
Here are a few tips to keep in mind to ensure that our readers get the best out of their purchases. In addition, these tips aren't limited to king-size mattresses alone; they work for all mattress sizes (read our RV mattress review here).
Cost. The cost of a king-size mattress can determine what sort of product an individual will purchase, bearing in mind that an expensive mattress will likely have more sleep benefitting features than less costly ones.
Firmness. Sleeping positions align with mattress firmness levels as each sleeper type has a unique blend of cushioning and support. For example, mattresses for side sleepers, back sleepers, and lightweight users require adequate cushioning, while heavier persons (over 230 pounds) require firmer surfaces to avoid sinking.
Motion isolation. Couples or partnered sleepers especially love this feature as it battles movement restriction and minimizes sleep disturbance. It is enabled through the mattress responsive layers that limit sinkage.
Thermoregulation. Special cooling features improve comfortability and chances of sleeping without night sweat; however, adequate breathability helps with heat dispersal.
Pain relief. Cushioning plays a major part in pressure relief as the mattress cradles and massages body pressure points. It is best achieved when using medium-firm or soft mattresses; however, stomach or heavy sleepers require a firm mattress that can assure spinal alignment.
Maintenance. Cleaning a mattress is an almost impossible task; however, maintenance must still be done. Getting a hypoallergenic mattress is an excellent choice as it limits the risk of exposure to dirt, irritants, allergens, and bacteria. Another choice is a removable mattress cover that can be manually washed or dry-cleaned.
Durability. A mattress' durability assures the user of its longevity (1). It can be sometimes tested through the sleep trial period and mattress warranty. If found unsatisfactory or faults are developed, then returns can be made to the company for either mattress change or refund.
Types of King Size Mattresses
King-size mattresses use the same types of materials used in producing regular mattresses; the only difference is that it's done on a slightly bigger scale. Here are the most popular types of king size mattresses available on the market:
Foam. Foam mattresses are split into poly foam and memory foam, with memory foam being the more popular. It is most known for its body cradling properties that aid pain relief. However, they are not great for active sleepers as they sometimes restrict movement, and temperature regulation is poor (except gel-infused).
Latex. It is a foam made from rubber extracts, synthetic or natural, and known for being extremely durable. Even though a latex mattress conforms like memory foam, it does not restrict movement and inherently sleeps cooler. However, one of its downsides is that latex mattresses tend to be expensive.
Mattress compatibility speeds up the process of room setup; when the new mattress does not require a special placement surface, the old base/foundation fits right in.
Innerspring. Among the oldest and most common mattress types, innerspring mattresses are known for their breathability and sturdy base layers. The spring coils used in its construction allow maximum airflow without compromising support. However, the mattress's comfort layer is usually light, making it not ideal for sleeper types that require cushioning.
Hybrid. As the name suggests, the hybrid mattress is a combination of different mattress types. The fusion could be from either two or all three mattress types already listed. Known for durability, sturdiness, and edge support; the most major disadvantage is its size and weight, as hybrid mattresses tend to be quite bulky.
Who Can Benefit from a King Size Mattress?
King-size mattresses are 76 inches wide, meaning they can easily fit two adults. There are different types of people that can benefit from having a king-size mattress, including single adults, partners, or families.
For single adults, there is no reason not to sleep in a wide comfortable area where they can easily switch sleeping positions or find the perfect spot to sleep on. Heavier individuals can also use a king-size mattress all by themselves.
Partners will also enjoy a king-size mattress, because it gives enough room to each person to have their own space. Each person can also customize their own space with a split king mattress.
Finally, when families have new kids, after a few months, the kid needs to sleep with the parents. A king-size mattress is a perfect solution to fix such a situation.
What is the average cost of a king size mattress in Canada?
The cost of a king size mattress depends on the quality of the mattress and the materials used in its construction. This means the average price for king size mattresses in Canada would be based on the mattress type. However, on average, quality king size mattresses in Canada go for about CAD$1,000 (One thousand Canadian dollar) and above.
How long should a king-size mattress last?
The average lifespan of any mattress is between 7 and 10 years; however, factors like sleeper weight, sleeping position, and mattress type all affect durability and longevity.
Conclusion
Bringing the read to a close, we can see how important choosing a top-rated king size mattress is to restorative sleep health. And one does not need to break a bank before purchase, as there are budget-friendly options.
Our top pick for this article, the Puffy mattress, is a product made with a user's best interest at heart. It incorporates several proprietary features to deliver the cool comfort needed for a perfect night's rest.
This piece has been fun, but we'd still love to hear from you. Are there questions you want to ask? Or a piece of information you would love to share with us? Then join us in the comments section, and let us know your thoughts.
References:
Adrienne Santos-Longhurst. (June 12, 2020). How Often Should You Replace Your Mattress? Retrieved from https://www.healthline.com/health/when-to-change-mattress
2
Sleep Experts Consulted