GhostBed Luxe Mattress Review
This research is supported by you, our readers, through our independently chosen products, which earn us a commission at no additional cost for you. Learn More
The GhostBed Luxe is a well-known model from the GhostBed product line that's most popular for its Ghost Ice fabric that's cool to the touch and its pressure-relieving memory foam. We wanted to see if the GhostBed Luxe lived up to the hype and tested it in-house to give you the insider scoop on this model.
Our review of the GhostBed Luxe mattress will break down its features, material, and how comfortable it is so you can decide if this is the right mattress for you.
Let's dive in.
GhostBed Luxe Mattress Review: Our Rating
| Score | Categories |
| --- | --- |
| 5 | Off-gassing |
| 6 | Firmness |
| 6 | Cooling |
| 10 | Sinkage |
| 7 | Response |
| 8.5 | Bounce |
| 7 | Edge Support |
| 8.5 | Motion Transfer |
| 7.5 | Sex (Sinkage + Edge Support + Cooling / 3) |
| 7.2 | Overall Score |
To learn more about how we critique and review our mattresses, we explain our in-house process here.
GhostBed Luxe Mattress Review: Construction and Design
We will first look at the construction and design of the Ghostbed Luxe mattress to begin our review. This mattress has a thoughtful design that focuses on coolness and ease of movement.
The cover is made up of Ghost Ice fabric, which I found cool to the touch. Under the cover is a plush top about 1.5 inches thick. This comprises 0.5 inches of cooling fibers and 1 inch of gel memory foam which help enhance the cool feeling.
Just under the plush top is a thin layer of Ghost Ice material that helps draw away more heat. Along with the cover, I found this to be pleasantly cool.
Under this is 2 inches of gel memory foam, which gives excellent contouring and is soft. Lying on this layer gave my lumbar and spine excellent sinkage and pressure relief.
The next layer consists of 2 inches of Ghost Bounce foam, which is springy and responsive. This layer made it easier to switch my sleeping position while doing tossing and turning tests.
The base of the GhostBed Luxe is made of 7.5 inches of high-density foam, which gives the mattress stability and shape. This layer kept me balanced and level, keeping my spine neutral.
Unboxing and Off-Gassing of the GhostBed Luxe Mattress
The day my GhostBed Luxe arrived, I took it inside and freed it from its packaging right away. Unrolling the mattress onto my bed frame was easy enough, and it decompressed in under 24 hours.
Depending on the mattress, the off-gassing period can differ. Off-gassing refers to how long the manufacturing smell takes to wear off when you first unbox a mattress. For me, the GhostBed Luxe took 5.5 days to off-gas completely. This is slightly longer than average, so I rated this mattress as a 5 in this category.
It should be noted that I let the GhostBed Luxe off-gas in a well-ventilated room. The off-gassing process may take longer if the mattress is in a closed room.
In comparison, the GhostBed Luxe took 2.5 days longer than the GhostBed Flex in terms of off-gassing, making the GhostBed Flex a slightly better option if you don't prefer strong off-gassing.
GhostBed Luxe Mattress Firmness
Firmness is crucial for a bed's overall feel and ties into sinkage, support, and bounce. The softer a bed is, the better it is for pressure relief and slow-adaptive cradling. Luckily, the GhostBed Luxe is precisely that.
From my tests, I rated it a 6 on the firmness scale, which is a medium. I was well-cradled and cushioned in its comfort layers but didn't struggle with feeling 'stuck.' Sleepers who prefer a firmer surface may want to look at our best firm mattresses in Canada.
The GhostBed Luxe has a similar feel to the GhostBed Flex, where both share the same softness rating. The GhostBed Luxe is also 1 point softer than the Novosbed, making the GhostBed Luxe better for sleepers who enjoy a softer sleeping surface.
Cooling of the GhostBed Luxe Mattress
The cooling features of a mattress can help keep you from overheating throughout the night. The GhostBed Luxe uses Phase Change material in its cover and upper layers, which gave me a cool feeling every time I changed to a new sleeping position. Over time, however, these layers do retain some heat.
I recorded a temperature of 32 degrees Celsius, which kept my temperature neutral. This reading is slightly close to the recommended maximum of 32.2 degrees. Considering this, I gave the GhostBed Luxe a slightly lower score of 6 in this category. For more options, we have a list of our best cooling mattresses in Canada.
In comparison, the GhostBed Luxe is 8.2 degrees hotter than the Puffy. The Puffy would be better if you are a hot sleeper or need a more cooling sleep surface. However, I found my temperature still remained neutral for both models, and I didn't have issues with night sweats.
GhostBed Luxe Mattress Review
: Sinkage
Sinkage is essential for pressure relief and overall comfort for a mattress. The more sinkage there is, the better suited the bed is for redistributing weight, even if you're a lightweight sleeper. During my review, I was surprised by how much sinkage the GhostBed Luxe mattress offered. I recorded a sinkage of 2.7 inches, and I was well-hugged while lying down. Due to this, I gave the GhostBed Luxe a solid 10 in this category, making this one of the best mattresses in Canada for deep-contouring and cradling.
The GhostBed Luxe has 0.2 inches more sinkage than the Puffy, which means both are excellent options for deep cradling and a sense of 'weightlessness' that only classic memory foam can give. The GhostBed Luxe also has 0.78 inches more sinkage than the Novosbed, making the GhostBed Luxe better for deep, penetrating pressure relief.
Response of the GhostBed Luxe Mattress
The response of a mattress plays a significant role in how easy it is to move across the width of the bed and change sleeping positions. Despite having a high sinkage, the GhostBed Luxe has excellent response time. Deep sinkage usually means slower recovery speeds, but the GhostBed Luxe pleasantly surprised me.
From my review, the GhostBed Luxe mattress partially recovered from compressions after 0.3 seconds. Its full recovery speed was 0.4 seconds. This quick recovery speed helped me not feel 'stuck' while changing positions during the night. This ease of movement helped the GhostBed Luxe earn a rating of 7 in this category.
Comparatively, the GhostBed Luxe was 0.9 seconds faster than the Puffy, making the GhostBed Luxe better suited for sleepers who prefer deep sinkage and slightly easier position changing.
Bounce of the GhostBed Luxe Mattress
Bounce is crucial for not feeling 'stuck' and is tied in with a response. It is also vital for active couples, as a bouncy bed can offer better ease for fast movement. The GhostBed Luxe has a high bounce rate for an all-foam mattress. It's not as high as some coil mattresses, but it's still excellent for making it easier to get around on the top of the bed.
From my review, the GhostBed Luxe mattress had a total bounce of 8.01 inches, with the initial impressions recorded at 5.2 inches and the rebound at 2.9 inches. I felt springy and buoyant due to the robust base and the Ghost Bounce 'latex-like' layer. This excellent bounciness earned the Ghostbed Luxe a rating of 8.5 for the bounce category.
The GhostBed Luxe has 1.22 inches more bounce than the Novosbed. That means the GhostBed Luxe would better suit active couples and sleepers who prefer a responsive feel to their memory foam.
Edge Support of the GhostBed Luxe Mattress
Edge support of a mattress is vital for feeling stable, especially when sitting on the edge of the bed. For the GhostBed Luxe, I didn't feel as stable or even, as there was slightly too much sinkage at the edges.
I recorded a sinkage of 3.9 inches while seated at the edge, close to the recommended maximum of 4 inches. There is enough support to ensure I could get out of bed without much worry, but the edges sink slightly too much for me to feel completely stable. Due to this, I rated the GhostBed Luxe slightly lower at a 7 for edge support.
The GhostBed Luxe had 0.2 inches softer edge support than the GhostBed Flex. For sleepers who prefer a more stable edge, the micro coils in the GhostBed Flex may provide a more even and stable surface.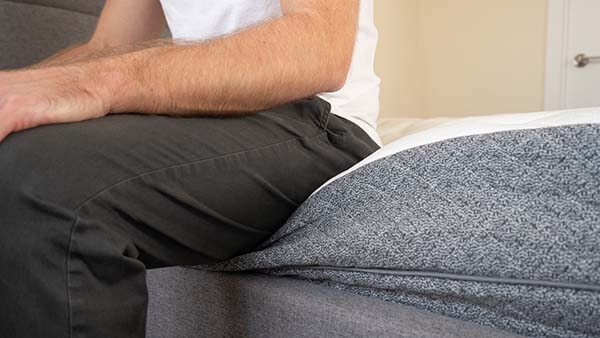 GhostBed Luxe Mattress Review
: Motion Transfer
Motion transfer is how well a mattress can absorb movement when tossing and turning. High motion isolation benefits light sleepers who share the bed with a restless partner or pet. The GhostBed Luxe has excellent motion isolation capabilities thanks to its soft comfort layers and absorbent base.
The GhostBed Luxe reacted to compressions at around 3 inches between the glass of water and my compression test. This is slightly below the ideal of about 2-2.5 inches but still has a high motion absorption rate. My partner barely noticed most of my active sleeping, tossing, and turning, so I scored this mattress 8.5 in the motion transfer category.
An excellent motion transfer rating makes the GhostBed Luxe one of my best memory foam mattresses in Canada.
The GhostBed Luxe had 0.5 inches less motion isolation power than the Puffy mattress. So, out of these two models, the Puffy would better suit light sleepers who need more motion absorption. However, both mattresses still work excellently as motion mufflers.
GhostBed Luxe Mattress: Performance for Sex
How well a mattress performs for sex depends on sinkage, edge support, and cooling. The GhostBed Luxe performed excellently for sinkage but could have done better in the edge support and cooling categories. For active sleepers that don't mind deep sinkage across the width of the bed, the GhostBed Luxe is a viable option.
Considering the scores, I gave the GhostBed Luxe a 7.5 in this category.
The GhostBed Luxe scored 2 points fewer than the Puffy in this category. This is mainly due to Puffy's better cooling and edge support scores. Of the two, active couples may prefer the Puffy over the GhostBed Luxe.
How It Feels for Different Types of Sleepers
Mattresses feel different depending on a sleeper's weight, firmness preference, and sleeping style. Lightweight sleepers may benefit more from a softer bed that envelopes them more easily, while heavier sleepers may prefer a firmer bed with more support. I've tested the GhostBed Luxe in all three sleeping positions to see which sleeper would benefit most from this mattress. As a reference point, I am an average-weight sleeper.
Side Sleepers
The GhostBed Luxe was incredibly comfortable while I was on my side. Its thick sinkage cradled my shoulder and hips nicely, but I didn't feel stuck when changing positions. This contouring makes the GhostBed Luxe one of the best mattresses for side sleepers in Canada.
Lightweight sleepers will feel the most comfortable on their side as the softness will easily envelop them. Heavier sleepers may find there is too much sinkage. However, they will also be supported on their side.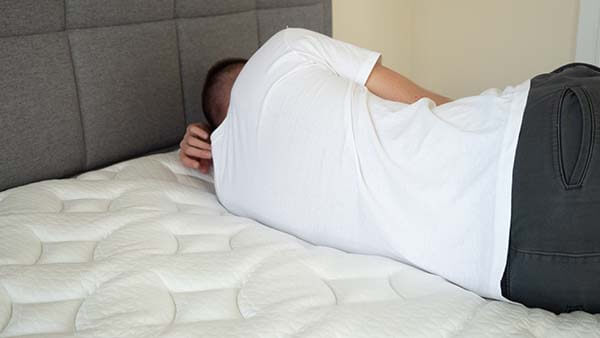 Back Sleepers
Testing the GhostBed Luxe on my back, I found the Ghost Bounce layer and base kept me springy, buoyant, and my spine neutral. There was still plenty of cradling around my lumbar and hips, so I never felt uncomfortable.
Sleepers in all weight categories will find enough support and feel comfortable on their back.
Stomach Sleepers
The GhostBed Luxe works moderately well in the stomach sleeping position. I was comfortable, but I found the GhostBed Luxe was quite soft. I was free of tension, but some sleepers may prefer slightly more firmness for their hips.
Lightweight and average-weight sleepers under 230 pounds will feel comfortable on their stomach. Sleepers who prefer a firmer sleeping surface and heavier sleepers over 230 pounds may find their hips sink too much.
Sleeping Positions: Summary
| Sleeping Position | My experience |
| --- | --- |
| Side Sleepers | The thick, cushioning layers made me feel incredibly comfortable with excellent pressure relief on my side. |
| Back Sleepers | The responsive Ghost Bounce layer helped my spine remain neutral and tension-free while on my back. |
| Stomach Sleepers | The soft comfort layers made me feel comfortable enough, though I was not as comfortable as I would like. |
Recommended For
Restless partners. The GhostBed Luxe has excellent motion isolation properties that can absorb most motion from a partner, allowing light sleepers to rest with fewer disturbances.
Fans of deep, cradling memory foam.

The GhostBed Luxe's deep sinkage allows for better pressure relief and muscle tension, which can cradle and relieve joints.

Sleepers who prefer being 'in' instead of 'on' their bed. The GhostBed Luxe has soft comfort layers that ensure your body is well-wrapped and cushioned for optimum cradling comfort.
Other Important Information
Other essential information about the GhostBed Luxe includes its 101-night sleep trial, its 25-year warranty, its shipping, and its certifications.
A sleep trial is imperative when looking for a mattress online, as this ensures you have time to try out the mattress for the right fit and feel. Luckily, the Ghostbed Luxe has a lengthy trial period of 101 nights. This is enough time to break in the mattress and see if it's right for you.
The GhostBed Luxe has a sleep trial 19 nights longer than the Novosbed and the same trial length as the Puffy mattress. That means the GhostBed Luxe has a trial length slightly higher than average, which can give you enough time to see if it's the right mattress for your home.
A long warranty is crucial for a mattress. A long warranty indicates a mattress is made of good quality materials and covers you in the case of manufacturer defects for a long time. The GhostBed Luxe has an excellent warranty that spans 25 years.
The GhostBed Luxe's warranty is 10 years longer than the Novosbed warranty and the same length of 25 years as the GhostBed Flex. However, it is not as long as the Puffy's Lifetime warranty. Despite this, 25 years is on the longer end for warranties and ensures the GhostBed Luxe will have you covered for years, which can offer peace of mind.
Free shipping is a nice bonus when choosing a mattress. The GhostBed Luxe, unfortunately, does not offer free shipping in Canada. The Puffy and Novosbed mattresses both offer free shipping and returns in Canada. So, if free shipping is a vital feature for you, you may want to consider these mattresses instead.
The GhostBed Luxe is CertiPUR-US® certified, which means it's rigorously tested to ensure it's free of heavy metals, ozone depleters and low in VOCs. This helps give you peace of mind when using a mattress every day in your home, as it will be safe for family and children.
Like the GhostBed Luxe, the Novosbed and Puffy mattresses also have the same CertiPUR-US® certification, making this type of certificate an industry standard to help determine a high-quality mattress.
Also Read: Puffy Mattress Review
Summary
The GhostBed Luxe mattress is well-known for its Ghost Ice technology, thick cradling, and ability to provide comfort. It's a popular mattress that is well-loved, and from my review, it performed exceptionally well for sinkage and motion isolation. The GhostBed Luxe has some of the best sinkage I've tested, and I felt effectively cradled and contoured.
On top of this, the GhostBed Luxe's Ghost Ice fabric was pleasantly cool, giving instant relief every time I changed sleeping positions. I was most comfortable while on my side, as the comfort layers re-distributed my weight while keeping my movement restriction-free.
What are your thoughts on the GhostBed Luxe? Let us know in the comments below!
Pros:
Excellent motion isolation for light sleepers

Excellent pressure relief due to its deep sinkage

Good softness for contouring

Excellent bounce for ease of movement in bed
Cons:
Non-removable cover

Too hot for sleepers sensitive to temperature