Best Places to Buy a Mattress in Toronto: Top 10 Picks
This research is supported by you, our readers, through our independently chosen products, which earn us a commission at no additional cost for you. Learn More
A good mattress can be hard to come by.
But if you know where to look, you may find just what you need.
Today, let's see where you can find the best mattresses in Toronto. We will cover the most popular (and trustworthy) vendors in Canada and explain what makes them stand out from hundreds of other mattress companies. Keep reading and you will find a perfect place to buy your new mattress from.
Key Takeaways:
Goodmorning.com is a well-established and reputable Canadian-based online mattress seller that offers a 120-night in-home trial, a 15-year warranty, and free shipping and returns. Goodmorning.com has two popular hybrid mattresses named the Apollo which has a medium-firm feel, and the Logan & Cove, which comes in medium-firm plush and luxury firm options. They also have several medium-firm multi-layered foam mattresses like the Juno, Douglas, Brunswick, and Novosbed mattresses. Their Recore mattress has a combination of latex and foam layers with a silver-infused cover to ensure maximum comfort all night long.
Polysleep has superior mattresses for back pain sufferers. They are online and also offer a 100-night sleep trial and a 5-10 year warranty on selected mattresses.
Endy offers affordable online and in-person shopping options for shoppers who are looking for multi-layered mattresses with a medium to medium-firm feel. They also offer a 100-night sleep trial, a 10-year warranty, and free shipping and returns.
Sleep Country has over 250 in-person retail stores making it easy to feel the mattress's firmness in-store before buying.
Buying a mattress in-store affords you the chance to feel the mattress before buying it. But because most online mattress sellers offer at least 100 nights to test the mattress in your home you then have the added advantage of giving the mattress a thorough test to determine if it is the ideal mattress for you. The option you choose depends on your preferences.
Online
As North America is the biggest mattress market, it shouldn't be hard to find a good mattress in Toronto. After all, we have a ton of options and vendors to choose from.
Source: https://www.psmarketresearch.com/market-analysis/mattress-market
And online mattress brands remain the most popular among them.
That's not surprising as online shopping is extremely convenient. Moreover, most online brands offer great prices and some extras on top (like extended trials, for instance). So, let's take a look at the most popular ones.
Being Canadian owned and proudly operated, GoodMorning.com was one of the first bed-in-a-box companies in Canada. Cutting the cost on distribution channels, the company sells great mattresses at reasonable prices. Each mattress comes with a 120-night in-home trial, a 15-year warranty, and includes free shipping and returns.
Now, GoodMorning.com offers mattresses for almost any budget and taste. Let's take a quick look at them to give you an idea of the options you have:
Get $750 OFF + FREE Cooling Gel Pillow
Another good place to buy a mattress in Toronto is, again, online. Polysleep offers free shipping and returns, a 100-night sleep trial, and a 5 to 10-year warranty depending on the mattress. It's also worth mentioning that some of the Polysleep beds belong to the best mattresses for back pain in Canada, which means this vendor can satisfy those people who haven't had a good night's sleep in a long time.
Here are the Polysleep mattresses you can pick from:
The Origin Mattress

. This 2-layer foam mattress has a Medium to Medium-Firm feel. The price starts at $396.

The Polysleep Mattress

. This is a 4-layer foam mattress that has reinforced foam edges. This model has a Medium-Firm feel and starts at $556.

The Zephyr Mattress

. This model has 5 layers and combines various foam types. The Zephyr has a Medium-Firm to Firm feel and starts at $1,180.
Now, Endy has a few showrooms in Toronto, but you can also shop for their mattress online. The Endy is an all-foam mattress that uses multiple layers and has a Medium to Medium-Firm feel (depending on your body type). The company offers a 100-night trial and a 10-year warranty. The Endy starts from $675 and includes free shipping. It's clear that the company offers rather affordable prices compared to some of its competitors (1), which can explain why Endy is so popular (and has so many great reviews).
A quick note: many people are concerned about shopping for a mattress online in Toronto due to the fact that they can't try the bed before buying it (2). However, here's the good news: all the online brands mentioned above offer a sleep trial for each mattress. So, you don't have to worry about not liking your new bed. If that's the case, you will be able to return it and get a full refund.
Sleep Country
Some of the best mattresses in Canada are sold here, at the Sleep Country. With more than 250 locations across the country (and high ratings), this brick and mortar store is an excellent option when you don't know where to buy a mattress in Toronto.
Source: https://www.statista.com/statistics/472771/leading-mattress-retailers-by-market-share-canada/
There are multiple Sleep Country showrooms in Toronto, so it shouldn't be hard for you to find one nearby. The company offers mattresses suitable for almost any budget, starting from inexpensive models around $150 and including more luxurious options as well.
The Sleep Country has an online store but still remains a more traditional brick and mortar vendor. You can test their mattresses and enjoy the free delivery service.
With hundreds of reviews on Google, the local Sleep Country showrooms offer a 100-night Comfort Guarantee program that can win many sleepers over. You can pick your mattress up, test it at home, and if it doesn't feel comfortable enough, exchange it for another bed from the Sleep Country.
Ikea
One of the best places to buy a mattress in Toronto is Ikea. That's probably one of the reasons it's so popular (and often crowded). Ikea has a great reputation and a good selection of mattresses that belong to different price categories. You can pick among innerspring, latex, and memory foam mattresses. There are also crib and kids' mattresses available.
Another cool thing about Ikea is that the store roll-packs their mattresses, which makes it super easy to fit one into your car. Additionally, you get 365 days to test the mattress and exchange it for another one if it doesn't work for you. It gets better: all mattresses are covered by a 25-year warranty.
When buying a mattress from Ikea, you can get all the necessary accessories alongside (like a mattress topper, for example). But be careful though: people often leave Ikea with more things than they need. You may come in to pick a mattress and leave with a new bed, a full-size mirror, a set of candles, and "those cute placement mats".
The Brick
Specializing not only in beds, The Brick is one of the best places to buy a mattress in Toronto. The retailer has a few showrooms you can visit and carries a wide selection of mattresses, accessories, and furniture. This is one of the biggest stores in Canada, so it might be easy for some users to get overwhelmed by the number of available options. Don't worry though: the in-store mattress experts will be there to assist you and help you make the right choice.
Thanks to its size and reputation, The Brick offers low-interest and even 0% financing to its customers. So, if you need a new mattress but have a limited budget, The Brick might be the best option for you. Additionally, the company offers exchanges in case you aren't satisfied with your new bed. You will have 120 days to test the new mattress at home, but there's a mandatory 21-day break-in period to keep in mind.
Mattress Mall
Being one of the most highly-rated mattress stores in Toronto, the Mattress Mall is a family own company that has a lot to offer. Their reasonable prices and an impressive selection of items can win almost any sleeper over. With the average rating of 4.9 on Google, The Mattress Mall offers free shipping and the GTA same-day delivery. Even though there are only 2 showrooms in Toronto, the store carries dozens of mattress brands, so you will definitely have a lot to choose from.
National Mattress Outlet Plus+
What makes the National Mattress Outlet one of the best places to buy a mattress in Toronto is not their location, unfortunately. As this is a real outlet, their stores are not so easy to get to if you don't have a car. The stores are typically placed in industrial areas, so you will need to take a drive when shopping.
However, what the National Mattress Outlet Plus+ lacks in convenience, they redeem with their affordable prices and a no-frills shopping. The sales assistants are not on commission, which means you are safe from being pressured to buy anything there. Instead, you will be shopping in a friendly atmosphere among countless mattress models (most of which you will be able to test right there on the spot). The National Mattress Outlet also has frequent sales and discounts, offering the best deals to their customers.
Sleep Factory
In case regular mattress sizes don't work for you, the Sleep Factory is a great place to turn to. While selling standard-sized mattresses, the company also works to deliver custom-made models to their customers. This is an ideal option if you need an RV bed or your bedroom is oddly shaped and cannot accommodate a regular mattress, for example.
Now, the Sleep Factory sells all types of mattresses, including foam, hybrid, gel foam, latex, and even cheaper traditional spring mattresses. There's a 60-night sleep trial that requires you to buy a mattress protector along with your new mattress. You can exchange the purchased model for something more comfortable (and luckily, there's a wide selection to pick from).
EcoExistence
If you are an environmentally-conscious shopper and give your preference to eco-friendly products only, you should stop by the EcoExistence showroom. This retailer is famous for its functional pieces of furniture and eco-friendly mattresses. So, if you're into organic latex beds, the EcoExistence is the right choice for you.
While this is a small local business (and let's face it, their mattresses are rather pricey), it has a great message and cause, which so many shoppers would appreciate. After all, you will feel 100% safe sleeping on a natural, organic mattress.
Conclusion
Now when you know where to buy a mattress in Toronto, all you have to do is drive there and pick your perfect bed. Don't forget to inquire about the warranty and the exchange (or return) conditions, just in case you don't love your mattress after the first few nights.
What mattress types are you looking into? And have you already picked a retailer? Share your thoughts in the comments!
Step-by-Step Mattress Buying Guide in Canada
It seems like Canadians are close to getting those ideal 8 hours of sleep.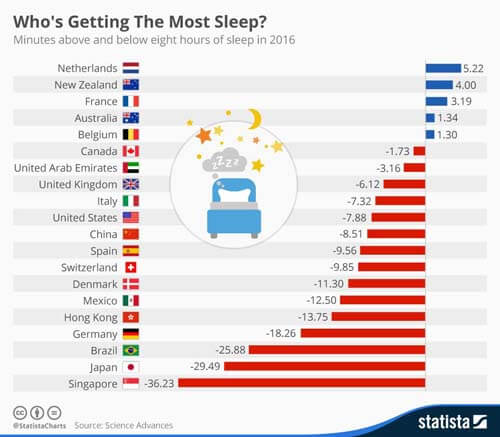 Source: https://www.statista.com/chart/4845/whos-getting-the-most-sleep/
But "close" doesn't mean we are there already.
Here's the deal though: a good mattress has a chance of improving your sleep quality drastically. So, consider the following step-by-step mattress buying guide in Canada that would (hopefully) help you find your perfect bed:
Decide on your budget

. Mattress prices vary from around $200 and can reach sky-high levels. So, it's better to decide right away how much you are willing to spend on your new bed. Keep in mind that shopping around the holiday season can help you benefit from sales and discounts.

Pick the mattress type

. You are already familiar with the most common mattress materials. And now it's time to decide which one would work for you the best. If you want a good bounce, go with a spring bed. If you require gentle pressure relief and want to be "hugged" by your mattress, pick foam. Hybrid beds offer a balanced combination of both. Latex mattresses have a rather unique feel and offer resilient support and springy pressure relief.

Consider your favorite sleeping position

. This aspect is extremely important, as your mattress firmness level must be suited for your sleeping position. Why? To keep your spine properly aligned during the night. Not only will this help you feel more comfortable but also will keep your back healthy. Now, the

best mattresses for

side sleepers

are typically softer ones (around 3-4 on the firmness scale, with 10 being the firmest).

Back sleepers

are advised to pick medium to medium-firm mattresses (5-6 on the firmness scale). As for

stomach sleepers

, they are usually recommended to sleep on firm beds (rated around 7-8 on the firmness scale). If you are a

combination sleeper

and tend to change positions during the night, you should pick something in between, around 5-6 in the firmness scale. Keep in mind that these recommendations apply mostly to

average

individuals (from around 130 to 230 pounds). Which brings us to the next step.

Consider your weight

. Just like the sleeping position, your weight can determine the needed firmness level of your mattress.

Lightweight

individuals (below 130 pounds) should pick softer mattresses. And just like that,

heavier

users (above 230 pounds) should consider firmer beds for each sleeping position. For instance, if you are a heavier stomach sleeper, you need an extra-firm mattress (rated around 8-9).

If you are dealing with any health issues, consult your doctor

. There are many

mattresses suitable for back pain

, arthritis, post-surgery, spinal stenosis, and so on. Your doctor can recommend a proper bed suited for your specific condition.

Decide on the size

. You are already familiar with common mattress sizes. Queen is the most popular one and it can easily accommodate two adults. Cal King often comes in a split version (with different firmness levels on two halves of the bed), which is perfect for couples that have different comfort preferences. King is often an option for partners who like to sprawl in bed (or share it with their kids or pets occasionally). And Twin XL is usually enough to accommodate a taller adult.

Compare models (and prices) online

. The next step would be to compare your possible options. Pick a few attractive ones and see what the main difference between them is and which company offers the best price.

Narrow down your options and check the reviews

. Once you get rid of the least attractive options, you can check other users' reviews. See how the mattress you want to buy performs for different types of sleepers and holds up with time. This will give you a rough idea of whether the bed is worth your money.

Check the warranty and the trial period

. As mentioned before, a good trial period is a must. The same goes for the warranty. Typically, an extended mattress warranty (more than 10 years) signifies that the manufacturer is sure of their product (which means they have used quality materials). And always read the fine print as it could be hiding potential pitfalls and extra expenses.

Consider the accessories

. Often, mattress shopping doesn't end there. You may need to invest in a mattress protector (to extend your bed's life) (

2

) or new bedsheets (if you are upgrading to a larger bed). Additionally, a new mattress may require a suitable foundation. It's better to check these things before finalizing your purchase to understand how much you are going to spend in total.
Should You Shop Online or in Stores?
Now when you know how to buy a mattress, you may start wondering:
"Where should I buy it from?"
These days, you have 2 options: online and in brick and mortar stores. But what's the difference and which one is better?
Let's consider the pros and cons of each option.
Pros
Cons
Online
lower prices (as online stores cut the middleman and save money on the brick and mortar expenses);
extended sleep trials are common, which allows users to test their new beds longer;
it's easier to compare multiple models when shopping online;
no pressure, as there's no sales assistant following you around;
online reviews can often help you make the right choice.
you can't get personalized shopping guidance (while a sales assistant can consult you in a brick and mortar store);
there's no way to test the mattress before buying it;
you may have to pay for shipping, especially if the mattress company is not Canadian.
In stores
you can test the mattress before buying (actually, as many mattresses in the showroom as you want);
most local mattress stores don't charge their customers for shipping;
you can get guidance from the in-store mattress expert;
you can try to negotiate the price if your budget is limited.
may be hard to compare different models side-by-side, especially when dealing with multiple companies and vendors;
not as convenient as shopping online in the comfort of your home;
some sales assistants can be too persistent, which may annoy shoppers a lot;
mattress prices are typically higher as the brick and mortar stores have to deal with more expenses than online brands.
Conclusion
So, now you know how to buy a mattress in Canada.
The task doesn't seem so hard, right?
You just need to figure out what material (and feel) you prefer and consider your weight and sleeping position. Don't forget to consult your doctor if you have any health or mobility issues. And if you are looking for a great value, remember that shopping during the holiday season can help you benefit from countless sales.
Are you ready to ditch your old mattress? Do you plan to shop online or in stores? Let us know in the comments!
References
:
Craig Patterson (June 03, 2018). Mattress-in-a-Box Retail Competition Heats Up in Canada. Retrieved from

https://www.retail-insider.com/retail-insider/2018/6/mattress-in-a-box-retail-competition-heats-up-in-canada

Kenny Kline (n.d.). Why You Should Be Careful When Buying a Mattress Online. Retrieved from

https://www.lifehack.org/444525/why-you-should-be-careful-when-buying-a-mattress-online