Mattress Sizes in Canada
This research is supported by you, our readers, through our independently chosen products, which earn us a commission at no additional cost for you. Learn More
We know 6 standard mattress sizes: Twin, Twin XL, Full, Queen, King, and California King.
But what about mattress sizes in Canada? Are they any different?
Well, not exactly. While Canadian mattress brands have standard sizes that are the same as the mattress sizes in the US, they also offer some non-standard sizes.
Be sure to read this article, so you can distinguish them!
Key Takeaways
There are about 11 different mattress sizes in Canada. However, there are 7 conventional mattress sizes: Full, Queen, King, Cal king, Twin, Twin XL, and Crib.
Apart from the regular and popular mattress sizes, some mattress sizes require special construction or customization, like the Split, RV, Waterbed, and Super single mattresses. These non-standard sizes are created because of special bed frames that don't fit regular mattress sizes.
Standard Canadian Mattress Sizes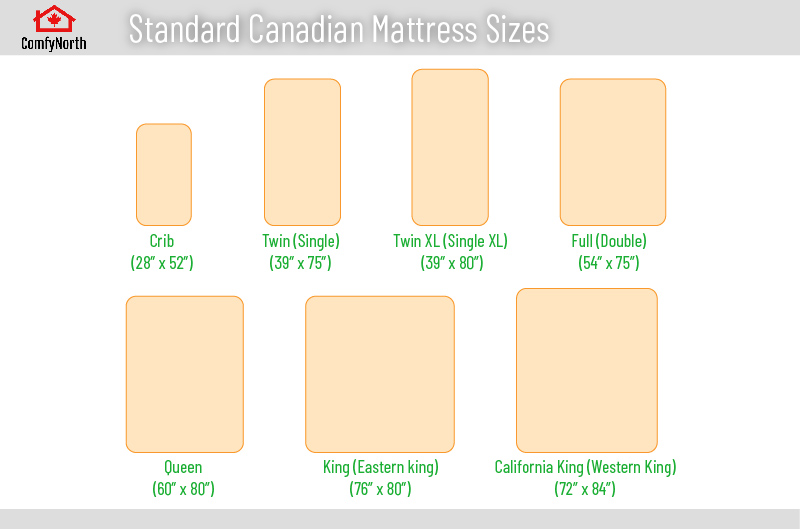 So, let's start with the standard mattress sizes in Canada. These can be found in any mattress store or at the brand's websites.
Crib (28" x 52").

Crib is actually the only size that is regulated by the Consumer Product Safety Commission (

1

). These dimensions are found to be optimal for the baby's safety and prevent them from injuries and accidents.

Twin (Single) (39" x 75").

A Twin mattress provides a sleeping area that can accommodate a single sleeper. Today, Twin mattresses are typically found in kids' rooms and are the next size after cribs and toddler beds.

Twin XL (Single XL) (39" x 80").

This one is a slightly longer version of the standard Twin mattress and is designed for taller individuals. A Twin XL mattress is most commonly found in dorms and caserns.

Full (Double) (54" x 75").

Until the late '60s, the Full size was the only option for couples because it can accommodate two adult sleepers of average weight and height. However, it can feel a bit cramped for heavier users.
Using a mattress with reinforced edge support creates more sleep space for you. This means you get to sleep on the mattress edge without sagging or falling off, especially great for couples/partnered sleepers.
Queen (60" x 80"). The most popular mattress size in both Canada and the US is Queen. A Queen mattress offers a sufficient sleeping area for two adults, even if both of them are large sleepers. Also, a Queen mattress doesn't look monstrous in an average-sized bedroom, leaving enough room for other pieces of furniture.


Queen-size mattress on a bed frame

King (Eastern king) (76" x 80"). King size mattresses are the widest options you'll find available on the market. I especially love the size as I sleep with my partner, allowing me to spread on the bed, even with our dog or kids present. Although not as long as the California king variation, the mattress is excellent for users like me who enjoy large sleep spaces.
California King (Western King) (72" x 84").

Cal King is 4 inches narrower and 4 inches longer than the standard King size, which makes it the longest mattress on the market among the standard ones. California King developed in response to the fact that people were growing bigger: in 1959, nearly 20% of Americans were taller than 6 feet compared to only 4% in 1900 (

2

).
"Note that although there are manufacturing standards, sometimes mattress sizes can vary within ± 1 inch because of the materials. This is common for memory foam beds that come compressed in a box and need some time to expand."
Also Read: TOP 5 Best Mattresses in a Box in Canada
Non-Standard Canadian Mattress Sizes
Now, let's move to another — much broader! — category of mattress sizes in Canada. These are typically tied to a particular type of bed frame, which is why you're unlikely to see them in the line-ups of most mattress manufacturers and will need to make an effort to find bedding accessories to pair with such a mattress.
However, you still need to be familiar with these mattress sizes, so let's begin!
RV Sizes
As you might have guessed, RV mattresses in Canada are different from standard mattress models. And this is because they are compatible with the bed frames in recreational vehicles. These bed frames are shorter than standard beds — because the space inside an RV is generally limited — which impacts the mattress size as well.
That's why RV mattresses are also known as Short.
When choosing an RV mattress, ensure the mattress model is well-thermoregulated. This is because mobile homes tend to run hotter than regular bedrooms and might cause you disturbance during sleep.
The most common RV mattress sizes are the following:
Queen RV (Short Queen): 60" x 75"
I think Short Queen RV mattresses are ideal for individuals who are looking to make the most out of their mobile home. The mattress provides adequate sleep space without cramping up your bedroom.

King RV (Short King)

: 72" x 75".
There's also a version of the King RV that measures 72 x 80 inches, which is still shorter than the standard King, but it's pretty rare to find.
"Most RV mattresses come in a box, so you can easily drag them through the narrow passages in your vehicle."
Also Read: Best Mattresses for Side Sleepers in Canada
Super Single Size
Super Single size, also referred to as 3/4, is something between Twin and Full. Being invented in the 1920s, it measures 47" x 74". Super Single was initially designed for a single sleeper but can accommodate two, even though it would feel a bit crowded.
You're unlikely to find a Super Single mattress today unless you're in the military because modern brands offer a huge variety of larger and more comfortable mattress sizes.
Waterbed Sizes
Waterbeds were first introduced to the market in 1968 and remained incredibly popular for the next twenty years (3).
Today, the share of waterbeds on the market barely reaches 5%. And if you own one, you probably know that the main reason for that is their complicated maintenance.
However, it's important to know that hard-sided waterbeds — those with a wooden frame and a vinyl insert filled with water — have their own dimensions that differ from standard ones.
So, here they are:
Twin Waterbed

: 36" x 72";

Queen Waterbed

: 58" x 82";

California Queen Waterbed

: 60" x 84";

King Waterbed

: 70" x 82".
Waterbed mattresses are slightly smaller than standard mattress sizes because the frame of a waterbed is pretty thick and will compensate for the difference, making the surface area equal to the regular bed.
Also Read: Best Mattresses for Back Pain sufferers in Canada
Split Mattresses
Finally, there are split mattresses that consist of two independent halves. This configuration allows you and your bedmate to adjust the firmness preferences to your sleeping style.
Today, the split configuration is mostly available for the largest options on the market, such as King and Cal King:
Split King:

2 halves measuring 38" x 80" (almost equal to a Twin XL mattress);

Split Cal King:

2 halves measuring 36" x 85".
When ordering such mattresses, all you need to do is just choose the firmness that fits your needs and place it on the standard King or Cal King bed frame.
Whether conventional, standard, or non-standard; it's easier to identify mattress sizes when shopping online than in physical stores. In addition, it saves you the stress of going to the store to confirm sizes, as all you have to do is browse through your preferred website's catalog.
Still have questions about mattress sizes in Canada? Alex Savy, the Co-Founder and Chief Editor at Comfynorth has reviewed countless sleep products with over 4 years in the industry and can help you find what you're looking for. Reach out through email at [email protected]. When emailing Alex, include your full name and phone number or email address.

References
The United States Consumer Product Safety Commission (n.d.) Full-Size Baby Cribs Business Guidance & Small Entity Compliance Guide. Retrieved from

https://www.cpsc.gov/Business--Manufacturing/Business-Education/Business-Guidance/Full-Size-Baby-Cribs

King Size Bed Dimensions: How Big is a King Size Bed? (2019, August 21). Retrieved from

https://purple.com/blog/king-size-mattress-king-sizes

Rebecca Greenfield (2010, August 13) The Rise and Fall of the (Sexy, Icky, Practical) Waterbed. Retrieved from

https://www.theatlantic.com/technology/archive/2010/08/the-rise-and-fall-of-the-sexy-icky-practical-waterbed/61426/