Can You Put a Mattress on the Floor
This research is supported by you, our readers, through our independently chosen products, which earn us a commission at no additional cost for you. Learn More
Whether it is because of health, budget, space, or cultural reasons or because you're into minimalism, can you put a mattress on the floor is a question of the centuries. The answer as to whether you can place the mattress on the floor is yes and no, depending on many reasons.
Here, I'll share everything you need to know about putting a mattress on the floor, including the pros and cons, how to make your mattress comfortable on the floor, and what to put under your mattress if you consider the cons to outweigh the pros. I'll also reveal some insider tips to keep your mattress on the floor and the best mattresses to put on the floor, among many other things.
Key Takeaways
You can put a mattress on the floor because of your culture, back pain, budget, space, aesthetics, and to improve blood circulation.
You should avoid putting your mattress on the floor because it might void your warranty, worsen your allergies, restrict airflow, make it susceptible to bugs and pests, increase dust/dust mite accumulation, and make it challenging to get out of bed, particularly if you have mobility issues.
Is It Safe To Put Mattress On the Floor?
Whether it is safe to put a mattress on the floor depends on many factors. Many mattresses can be placed on the floor, but the safety or otherwise of it depends on the pros and cons, which I've shared exhaustively below.
Pros of Putting a Mattress on the Floor
Here are some advantages of putting your mattress on the floor:
Enhances Blood Circulation
Mattresses are firmer when put on the floor, and laying on a firm mattress distributes body weight evenly. You don't have to put up with pressure on specific body parts, which allows your tissues and muscles to get better circulation at night. Excellent blood circulation assists the body's major organs to function properly, improve muscle recovery and fight off disease (1).
Cost Effective
Sleeping on the floor means you don't have to buy a mattress foundation or bed frame, which can run into hundreds if not thousands of dollars. If you're on a budget, saving a few hundred dollars is huge.
Utilizes Less Space
Some bed frames tend to be bigger than the actual mattress size, meaning they can occupy plenty of space. Putting your mattress on the floor can be a worthy option if you're limited in space. Furthermore, placing the mattress on the floor creates an illusion of a larger room and higher ceilings.
Might Offer Relief from Back Pain
Although there's little research on this, here's my opinion. Firmer mattresses are better for the back. I know this from first-hand experience and this research too (2). Because mattresses on the floor tend to be firmer, you can benefit from back pain relief.
While there might be many causes and solutions to back pain, one effective solution is your sleeping surface and position.
Might Improve Your Sleeping Posture
Poor sleeping posture can contribute to an increased risk of injury, spinal misalignment, and reduced flexibility. Great posture supports your spine's natural curvature as you don't have to grapple with sinking excessively or deeply into a mattress.
I've come to appreciate using pillows to reduce pressure on my spine. I usually place my thin pad beneath my lower back.
Cons of Putting a Mattress on the Floor
Here are some disadvantages of putting your mattress on the floor:
Susceptibility To Dust And Dust Mites
Allergens such as dust, skin cells, dirt, and mites naturally settle on the ground. If you don't regularly clean your floors, these allergens can accumulate and trigger allergies as you sleep. Since you are sleeping close to the floor, it's easy for these allergens to get to your eyes and respiratory system.
As a result, you might develop a running nose, itchy eyes, and difficulty breathing, which could massively interfere with your sleep. Continued exposure to these allergens could lead to chronic respiratory complications.
Challenges Getting In And Out Of Bed
For seniors and individuals with mobility issues like arthritis and back pain, getting going after waking up can be a slow, painful, and complex process when sleeping on the floor.
Potential Accumulation Of Mold And Mildew
There is almost no ventilation under a mattress on the floor compared to a slatted platform or box spring. The lack of ventilation often leads to sweating or hot sleeping. The sweat and oils trapped by the mattress cause moisture build-up.
Without proper airflow, mold, and mildew can grow. In contrast, raised mattresses often have sufficient airflow to prevent moisture build-up and mold or mildew growth.
Discomfort For Some Sleeping Positions
As a side sleeper, I've observed and experienced that the firmer support available after placing the mattress on the floor can be uncomfortable. The increased firmness could create pressure points on the side of the body that can become painful after a while.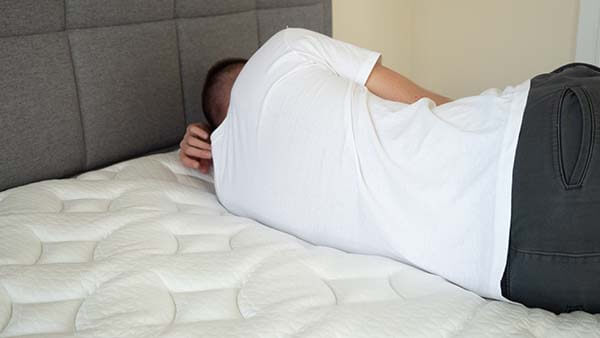 Might Void the Manufacturer's Warranty
Most mattresses are designed to be placed on a bed frame or base. No surprise that some mattresses tend to wear out faster or get damaged when placed on the ground for an extended period.
If a manufacturer advises against placing the mattress on the floor, avoid setting it on the floor, as it could void your warranty.
Susceptibility To Pests And Bugs
Placing your mattress on the floor creates a lot of dark spots for bedbugs to hide. They thrive in moist environments like the one made through sweating and hot sleeping due to your mattress being on the ground.
Bedbugs rapidly multiply once they infest your sleeping space if your mattress is on the ground. Other insects like mites, ants, and spiders can easily invade your mattress when it's on the floor.
Also Read: Best Cooling Mattresses in Canada
How Can I Make My Mattress Comfy On The Floor?
I make my mattress comfortable on the floor by doing the following:
Picking a Good Spot on the Floor
Where you place your mattress on your bedroom floor will significantly impact your experience sleeping on the ground. Try to locate an optimal space to set your mattress. I usually avoid putting the mattress too close to corners.
Using Pillows to Provide Your Body Additional Support
I've noted as a side sleeper that sleeping on the floor can often be painful on my pressure points. I utilize extra pillows around my back and hips for additional support. Pillows increase the surface area of my body in contact with the bed, evenly distributing my weight. Therefore, even if your mattress feels firmer, I often don't have any body aches.
Trying Different Sleeping Positions
Train yourself to sleep in different positions throughout the night. Doing so reduces the likelihood of developing pressure points/pain points in your body. Moreover, sleeping in different positions helps ensure that your entire body is well-rested as you sleep.
Pro Tip: If you are a side sleeper like myself, consider sleeping on your back occasionally. The new position can help relieve lumbar spinal pain, nasal congestion, and neck pain.
Beginning with Small Naps Before Proceeding to a Full Night's Sleep
When I first started sleeping on my mattress on the floor, the first few days were the hardest part. Your first few days will be challenging because your body is yet to adjust to the new sleeping arrangement.
Rather than shifting to sleeping on the ground cold turkey, give your mind and body time to adjust. You can start with small naps and slowly graduate to fully sleeping on the floor.
What To Put Under Mattress On The Floor
When your mattress is on the floor, it doesn't have to be in direct contact with the floor. It's best to place a barrier to protect it from damage. Depending on the manufacturer's warranty terms, you might still keep your mattress warranty active.
The barrier can be a layer of foam, plywood, or cardboard. You can also opt for a polythene sheet barrier for your mattress if you are on a budget.
Using a polyethylene sheet barrier is my preferred choice for protecting my mattress when I place it directly on the floor. It's a cost-effective option that helps prevent moisture, dust, and potential damage from directly contacting the mattress.
I appreciate that a polyethylene sheet is a moisture barrier, especially since I live in a humid environment. It's essential for preventing mold, mildew, and odors from developing on my mattress.
Polyethylene sheets are pretty durable and easy to clean. I can wipe them down with a damp cloth, which helps me maintain a hygienic sleeping space.
While a polyethylene sheet offers moisture protection, it might not allow as much air circulation as other materials. Good air circulation prevents trapped moisture and keeps my mattress fresh.
Depending on the thickness of the polyethylene sheet, it may not add much comfort or support. To address this, I suggest using a thin layer of foam or a mattress topper between the polyethylene sheet and my mattress.
I'll definitely review the manufacturer's warranty terms to see if using a polyethylene sheet barrier affects my mattress warranty. This way, I can make an informed decision.
Tips To Keep Your Mattress On The Floor
Here are some handy tips to keep your mattress on the floor:
Always Air Out Your Mattress
When you lay your mattress on the floor, it might harbor some moisture and cause mildew. Prop it upright against a wall for several months every few weeks to dry out.
Maintain A Clean Floor At All Times
Clean and declutter your bedroom floor daily. This will prevent dust and other allergens from building up and causing allergic reactions and respiratory complications. Furthermore, clutter on your bedroom floor could be a hazard when getting in or out of bed.
Also Read: TOP 5 Best Mattresses in a Box in Canada
Consider A Finished Surface
Finished surfaces such as hardwood floors are easier to clean than carpeted floors, which tend to harbor dirt and dust mites.
Have Something Like A Cardboard Under Your Mattress
Using some form of insulation, such as cardboard under your mattress, keeps your mattress clean without compromising your minimalist look or level of support.
Check The Warranty
Some manufacturers have specific set-up guidelines for your bed, which you need to adhere to preserve the warranty. Before deciding to sleep on the floor, take time to pass through the warranty.
Avoid Foam Mattresses
Foam mattresses are susceptible to trapping moisture and heat. These two are notorious for causing the growth of mildew and mold. Furthermore, foam tends to get damaged if not laid on a foundation that compromises the bed's support level, which can inform an uncomfortable sleeping experience.
If you need to forego a foundation or base and put your mattress on the floor, hybrid and innerspring mattresses are better alternatives.
Consider Using A Mattress Protector
Using a mattress protector goes miles to ensure the mattress remains clean and keeps mildew, bed bugs, and dust at bay.
Add a Canopy
Who said putting your mattress on the floor should be boring? One of my hacks to spice up things is to dress my mattress on the floor with a canopy secured with a shelf bracket. I've noticed that this transforms it from sloppy to chick within seconds.
In my opinion, adding a canopy adds airiness and acts as your room divider devoid of a hardline of division, making for an ideal shared bedroom idea.
Best Types Of Mattresses To Keep On The Floor
Not all mattress types are suitable for sleeping on the floor. Foam mattresses are more susceptible to developing problems if placed on the floor.
Pro Tip: In my experience, polyurethane, and memory foam mattresses can trap heat and moisture when placed on the floor. The warmth and humidity create perfect conditions for mold and mildew to grow and thrive. If left unchecked, the mold and mildew can colonize the entire mattress in a few months.
You'll be breathing the spores as you sleep, which can result in allergies and respiratory problems. It's best to abandon a mattress when you notice mold and mildew growth signs.
The most suitable mattresses on the floor are air, folding, and roll-up.
Go for options that are several inches thick and specially made to be placed on the floor. Air, folding, and roll-up mattresses are easily toned down, meaning you can seamlessly convert your sleeping space to other things.
Air Mattresses
As their name suggests, air mattresses are inflatable with air to sleep on. Once done, you can deflate, fold up, and tuck them away after waking up. If you use them correctly, inexpensive mattresses can last around six years.
One thing I've realized about air mattresses is that they are tailored for limited use. Frequent use will wear them down faster.
Rolling Mattresses
Like futons, you can roll up and store your rolling mattress when not used. These are relatively compact and thin and effortless to store. Rolling mattresses are made of foam, and you can use them on camping trips.
Folding Mattresses
They're usually 4-6 inches thick and feature high-density memory foam or polyurethane. They can fold up into 3rds and 4ths for effortless storage.
Designed to be laid out on the floor, air mattresses are handy for guests, particularly children. Choose those with a machine washable cover or allergen-repellent to ensure the foldable bed remains comfy and clean for guests.
My Experience With Putting The Mattress On The Floor
During my college days, I explored an unconventional sleeping set up – placing my mattress on the floor. This decision was informed partially by budget constraints and partially by the limited space of my room.
Fast forward to summer during my trip to Japan to visit a friend. I discovered that many bed set ups in the country followed an almost similar practice of having a mattress on the floor.
It's actually deeply rooted in their cultural tradition. So from my two experiences, I believe I know a thing or two about setting up a mattress on the floor.
FAQs
Does putting a mattress on the floor void its warranty?
Yes, putting a mattress on the floor can void its warranty! Many brands recommend against it, and doing so runs the risk of voiding a mattress warranty. The general rule of thumb is that your mattress set-up (like using an improper foundation) can void its warranty.
How can I prevent my mattress from sliding on the floor?
You can prevent your mattress from sliding on the floor by placing a rubber or non-slip pad between the floor and your mattress. Doing this gives it a firm grip on smooth surfaces like tile or wood.
Is a mattress topper a good alternative for a mattress on the floor?
Although technically, a mattress topper could be a good alternative for a mattress on the floor; you should avoid doing it. The two do not serve the same purpose. The former is handy at adding a comfort layer to overly firm mattresses, which means they do not have the supportive base layers of a traditional mattress.
What should be my ideal bed height from the floor?
The ideal bed height from the floor depends on your individual needs. Nonetheless, the standard size is around 25 inches. A great way to establish if your bed is too low or high is to sit on it and check the angle of your knees.
Conclusion
Can you put a mattress on the floor is a popular question among many when considering how they sleep. Placing the mattress on the floor is a trend that has gone on for years. Although sleeping on the floor might be an option for some folks, such as those grappling with back pain, not all mattresses are ideal for placing on the floor. You need a suitable bed base, mainly if your mattress is memory foam.

Still have questions about whether you can put a mattress on the floor? Alex Savy, the Co-Founder and Chief Editor at Comfynorth has reviewed countless sleep products with over 4 years in the industry and can help you find what you're looking for. Reach out through email at [email protected]. When emailing Alex, include your full name and phone number or email address.
References:
How to Boost Circulation and Why it's Important (10 December 2021) Retrieved from

https://integrisok.com/resources/on-your-health/2021/december/how-to-boost-circulation

Effect of firmness of mattress on chronic non-specific low-back pain: randomized, double-blind, controlled, multicentre trial (2003 Nov) Retrieved from

https://pubmed.ncbi.nlm.nih.gov/14630439/