Best Mattresses for Adjustable Beds in Canada
This research is supported by you, our readers, through our independently chosen products, which earn us a commission at no additional cost for you. Learn More
Mattresses are a huge investment, especially if you also have an adjustable bed frame! When buying a mattress for such a customizable sleep-set up, you have to ensure your mattress can take the strain of elevation and folding. We've personally tested three of the best mattresses for adjustable beds available in Canada, and we can believe the following recommendations will give you a great night's rest!

Our 3
Top-Rated for Mattresses for Adjustable Beds (July 2023)
Unlike standard bed frames, adjustable beds are incompatible with some mattresses. After all, you want to ensure you can bend its shape to custom-fit your sleeping style while preventing possible damage. Given that, remember to consider the following when picking a mattress for an adjustable bed:
Mattress Construction.

Most non-innerspring mattresses, such as latex,

memory foam

, or gel, should work. The metal coils in spring mattresses may break when placed on an adjustable frame.

Firmness, Edge Support, and Sinkage.

Mattresses for this bed frame must be flexible enough to be bent into the desired shape but not so soft that it could quickly lose its form.

Cover Material.

Like the mattress, its cover should be flexible to take on folding. If too stiff, the protective covering could rip or break.

Size.

You want equal support across the bends of your mattress, and ensuring a size fit between your mattress and the adjustable bed is the best way to do so
Make sure to also consider your personal preferences in mattress selection as you read this post! If you want a mattress that keeps you cool or an especially firm mattress, list it down as you review your options.
Now let's get into our best mattresses for adjustable beds in Canada.
Highlights
2 inches of high-density memory foam for durability and comfort;

Stretchy cover materials that can withstand the twisting and turning of adjustable beds.
After reviewing Novosbed's Memory Foam Mattress, we knew it had to top this list of mattresses and name it one of the best mattresses for adjustable beds in Canada .
Its 2 inches of high-density memory foam ensures the mattress's longevity. This is an essential consideration for adjustable beds, as mattresses on these frames naturally take on more wear and tear by being bent in ways that a typical mattress isn't. I found that this type of high-quality foam will keep the bed feeling new, but it also conformed closely to my body when I lay down.
It gets better:
Novosbed considered all parts of this mattress when giving this mattress a "luxury feel" down to the cover! Its stretchy and durable cover material ensures that it can twist and turn without the threat of severe damage. The cover is characterized by furniture-grade upholstery on its side for maximum durability. At the same time, its two-way elastic core makes it flexible and resilient.
Based on Our Tests
During our tests, the Novosbed provided me with an excellent spinal alignment experience, attributed to its medium-high firmness. The mattress recorded only 1.92 inches of sinkage in the center and 4.1 inches at the edge. This made me feel secure and supported on the Novosbed, regardless of the mattress region used. Compared to the Douglas and Puffy mattresses, the Novosbed is firmer and provides less sinkage, so it certainly takes the cake in longevity on an adjustable bed frame.
We also measured the mattress's motion transfer by using the water test and having multiple people sleep on the mattress simultaneously. Here are the results:
It took being 2 inches away from compression movements before our water bottle fell, making for a stable sleeping experience even with a restless partner.

When tested with my partner, I noticed minimal disturbance and really enjoyed its motion isolation.
Recommended For:
Back sleepers.

The firmness of the memory foam keeps the spine aligned throughout the knight.

Side sleepers may want to consider other options

;

Heavyweight sleepers.

Due to its lower sinkage, this mattress can support a wide range of weights without compromising comfort and sleep;

Couples.

The superior motion isolation keeps both partners comfortable AND reduces squabbles about disturbing each other throughout the night.
What's To Like?
High-density foam.

A feature that makes this one of the

best luxury mattresses in Canada

;
Open-cell foam.

The foam structure permits airflow, keeping your sleep cool the whole night;

Washable cover. Its easy-to-remove and washable cover makes the mattress feel new after every cleaning.
What's Not So Great?
Too firm for some side sleepers.

Side sleepers may need a softer alternative that better contours their sleep style;

Longer off-gassing period. The strong "new mattress" smell took almost two days to disappear. Keep this in mind if such a scent might bother you while you sleep.
Highlights
Flexible latex-mimicking Elastex Foam layer that can take on the desired shape of an adjustable frame;

Uniform pressure point relief that provides equal support, regardless of bed position and shape.
This next mattress has been recognized for its true value, and has been subsequently recognized as one of the best mattresses in Canada. But while it's a great standard mattress - is it suitable for your adjustable bed?
In our opinion, the Douglas is easily a top-rated mattress for adjustable beds for its highlights.
The Elastex Foam can easily bend in the direction of your frame. Also, the faux-latex is resilient to these folds, so if you change the positions of your adjustable bed, the Douglas can bounce back.
The consistent and uniform support is excellent for maximizing the purpose of the adjustable bed. This pressure point relief is significant for those experiencing back pain, often caused by inadequate support across their back and spine.
When unboxing the Douglas mattress, we found it was one of the fastest to off-gas among all our three options listed in the article. Despite placing the mattress in a well-ventilated room, our Douglas took less than 1 day to eliminate the new mattress smell.
Based on Our Tests
In our tests, the Douglas felt slightly softer than the Novosbed but stayed comfortably in the medium-firm range. In fact, we measured an identical sinkage of 1.92 inches for both the Douglas and the Novosbed! This is also a good 0.58 inches less than the Puffy.
However, our edge tests showed that the Douglas has superior edge support, as it recorded an edge sinkage value of only 3.54 inches. This is significantly more support compared to the Novosbed's 4.1 inches of sinkage, but not quite the Puffy's 2.4 inches. Regardless, I never felt unstable when getting off the bed.
This superior edge sinkage result makes the Douglas great for supporting larger mattresses, so it may be a great option if you're looking for a king-size adjustable bed.
Now:
I also have to emphasize the Douglas' response rate performance. A mattress's "response" is its ability to bounce back against weight and pressure. It is an essential metric for freedom of movement. While lying on the mattress, I never felt restricted when I tossed or turned.
Recommended For:
Back sleepers.

The pressure point relief and firmness level is ideal for people who have to support their back when sleeping;

Restless sleepers.

The response rate of this mattress is great for anyone who loves to toss and turn in the night. The balanced response makes you feel supported when stationary but free to move about;

Lightweight sleepers.

Given its slightly softer nature, heavier sleepers looking for a firmer mattress may want to look elsewhere.
What's To Like?
Affordable price tag.

At only C$799 for a Queen-size mattress, the Douglas is no throwaway "runner-up." It costs C$600 less than the Novosbed and C$500 less than the Puffy. While I can't say it performs

just as well

as other options, it's a close contender for much less money;

Great support for any adjustable bed size.

Due to its excellent edge support, the Douglas can be bought in any size without concern for its longevity on an adjustable frame;

Environmental consciousness. Douglas' cooling gel foam uses 40% less carbon in its manufacturing than other memory foams.
What's Not So Great?
Running warm

. We've found that the Douglas actually retains a lot of body heat through our tests.
Highlights
A Grip Base cover that can keep the mattress firmly in place despite an adjustable bed's irregular shape;

A Climate Comfort Foam layer that reduces the long-term damage of humidity on mattresses.
The manufacturers of the Puffy Mattress specifically created it to be usable on any bed foundation, including adjustable ones. We reviewed the Puffy, and we could immediately see the thought behind each feature that gives the mattress this claim of versatility.
The mattress's lower cover has "gripping" patterns that prevent the Puffy from moving around on its surface. This is great for adjustable bed frames, which are more likely to induce slipping and sliding since it's not flat. It also means you can move as much as you like on the Puffy without worrying about shifting the bed.
Comprising the third layer of the mattress, the special Climate Control foam consists of humidity-resistant material which keeps you cool. However, this feature is also really great for maintenance, as excess humidity can cause mattresses to deteriorate faster. The Puffy may last longer, allowing you to maximize your investment in an adjustable bed.
I also have to mention that among our three options, Puffy's off-gassing time was the shortest among all our options. After placing it in a ventilated room, the mattress's smell cleared within 24 hours. It was ready for use, even for those with the most sensitive noses.
Based on Our Tests
The Puffy is easily the softest mattress among this list's other options. On my first use, I almost immediately sank into its layers and felt pretty cradled while I rested. We recorded around 2.5 inches of sinkage, making it great for deep pressure relief. Surprisingly, this is the same sinkage as the Puffy Lux, which has an additional Plush Foam layer. Softer mattresses like this are great for adapting to the shape of adjustable beds, but they may be less resilient in the long term.
I must also praise the Puffy Mattress for its cooling capabilities! I kept cool throughout our test runs with two layers aiding the cooling process (the Cooling Cloud gel layer and Climate Comfort foam). Compared to the Novosbed, it was cooler by 10.2 degrees Celsius, which shows why the Puffy earned its title as one of the best cooling mattresses in Canada.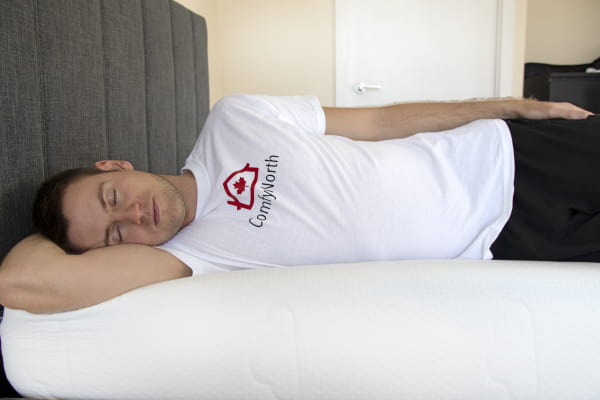 Recommended For:
Warmer sleepers.

The Puffy has two layers specially designed to keep you cool. This is an excellent option if you run hot when sleeping or your bedroom is in a warmer spot;

Side sleepers.

In general, side sleepers would do better on softer mattresses because of the extra cushioning for the shoulders and hips;

Those looking for a luxury, hotel-like experience. We all love the plush feeling of a hotel bedspread, and the Puffy's soft texture gets you pretty close! If you're willing to spend, you can also opt for the Puffy Lux Mattress, which we've determined to be one of the best luxury mattresses in Canada.
What's to like?
Uniform pressure relief.

If certain body parts are unsupported, it can lead to discomfort and strain. Consistent pressure relief ensures adequate support across the whole body;

Excellent temperature control.

The Puffy is great for heat distribution and preventing uncomfortable humidity;

Not going anywhere.

The grip cover is handy for people who foresee sliding as an issue on their adjustable bed frame.
What's not so great?
Too soft for back and stomach sleepers.

Soft mattresses definitely aren't for everyone. Going with our previous firmer options might be better if you lay on your back or stomach.
Why Should You Trust Us?
Every mattress we feature has been personally reviewed and thoroughly measured for all the metrics you care about. We know how big of an investment it is to purchase a brand-new mattress, so we take several days to provide you with information you can't get anywhere else.
We test our mattresses by:
Analyzing each layer of the bed to give you firsthand thoughts on its construction

Sleeping on various regions of the mattress to assess its firmness and edge support

Using 35-56 pound weights on different mattress parts to measure its sinkage and fit with sleepers of different weights.

Measuring its motion isolation by observing the effect of compressions on standing water bottles on the mattress. When bottles topple right away, it's a sign that the motion isolation is not so great.
Read more about our tests here.
F.A.Q
How long do mattresses last with an adjustable base?
How long your mattress lasts on an adjustable base can depend on its construction and the sleeping lifestyle you have. Softer mattresses with less resilient materials will naturally wear out faster, and if you're constantly changing the shape of your adjustable bed - expect a shorter lifespan. However, you can probably expect to keep your mattress around for around 7 years.
Can I use my current mattress on an adjustable bed?
Whether you can use your current mattress on an adjustable bed depends on how your mattress is made. Most beds made of memory foam, gel, or latex would do just fine on an adjustable bed. If so, you may not need to buy a whole new mattress! On the other hand, older models that have traditional springs may get damaged when used on an adjustable frame.
That said, some mattresses might be compatible with adjustable beds but are not optimal. Suppose you're aiming to maximize your investment in this customizable frame. In that case, getting a mattress with better flexibility and the appropriate firmness might be best.
Conclusion
The "right" mattress is always different for everyone, and you're the one who knows your lifestyle the best. Other than looking through lists for the best beds, I suggest you make your own list of priorities to take with you when shopping. Note the positions you sleep in, the temperature of your room, and even your partner's preferences, and keep them in mind when reading through lists like these. If possible, I recommend looking for a showroom and trying these mattresses yourself.
However, if you need a quick recommendation, you can't go wrong with the Novosbed Memory Foam mattress. The high-density foam mattress is made for a great sleep experience, and its durability easily makes it one of the best mattresses for adjustable beds in Canada.
If you have any questions about mattresses for adjustable beds, want advice for picking out a mattress, or want to share your experience with the Novosbed, Douglas, and Puffy, comment below, and we'll respond when we can!