Best Luxury Mattress in Canada
This research is supported by you, our readers, through our independently chosen products, which earn us a commission at no additional cost for you. Learn More

A key point differentiating the best luxury mattresses in Canada apart from regular mattresses is the comfort level provided by the mattress. Even though people might decide to purchase luxury mattresses for various personal reasons, one reason that ties them all together is the relaxation level and restorative sleep health it offers.
We'll be discussing the top 3 picks in the Canadian luxury mattress market, what makes them ideal for use, and what features endear them to users. In addition, there's an extra segment on some tips that individuals might find helpful in purchasing their luxury mattresses. Enjoy.
A Quick Preview
Highlights
Remarkably dense core, ideal for spinal alignment and lumbar support.

Adequate body cushioning perfect for pain relief and tension alleviation.

This versatile mattress can be used on any foundation, potentially reducing the cost of a new foundation.
The Puffy Lux is my first mention of the best luxury mattresses in Canada. I think this mattress is the most exquisitely designed and aesthetically pleasing mattress around. The well-stitched side upholstery adds to the mattress's appeal and has enough quality to help the mattress's longevity.
I tested a very responsive mattress. It conformed to my body, offering superior coziness. The plushness restricts movement a bit, but I experienced good bounce. The top layer was cool to the touch. Despite the plush top, I could feel rigid support from beneath. While I enjoyed the mattress's quality, I also like that it comes with a lifetime warranty to further bolster trust in its quality.
Based on Our Tests
From my tests, I saw impressive motion isolation, completely putting me in a different bed space from my partner. Its breathable mattress cover is also soft and helps with skin allergies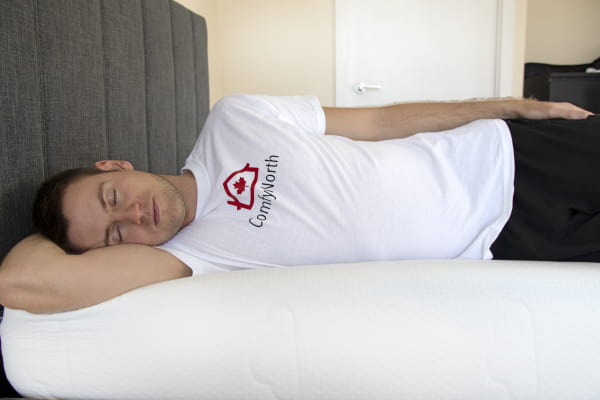 Pros
It is compatible with all types of bases and foundations.

Its cooling features ensure adequate heat dispersal.

Cleaning is easily done with the removable mattress cover.
Cons
The firmness level may not be ideal enough for heavy stomach sleepers.

The mattress does not have reinforced edges.
Highlights
An always cool quilted mattress cover, that combines gel memory foam and a patented Ghost Ice fabric for optimal temperature regulation.

Latex and memory foam build allows cushioning without restrictions.

Firmness level adequately balanced between sturdiness and body cradling.
My next luxury mattress pick is the Ghostbed Luxe, especially for its superior cooling properties. This mattress is cool to the touch, which is always a welcome feeling after a stressful day. I noticed zero significant increase in the mattress temperature during my stay in bed. It gave the feeling of being on cool water.
My review showed good motion sinking and mattress bounce. It is also quite springy, easing movement on the bed. The support I got from this mattress was impressive. Although the support might be uncomfortable for side or back sleepers, it is an assurance of density and longevity. Unlike the Novosbed and Puffy lux, this mattress's top layer is undulating, which helps me relax easily.
Based on Our Tests
What impressed me the most from my review is the ever-cool mattress surface which adeptly sinks heat that could have made sleeping uncomfortable. Even while cooling me, I still felt the foam subtly aligning my spine and cradling my body.
Pros
The motion isolation makes it a better option for partnered sleepers.

The materials used in its construction are highly durable.

It is excellent in pain relief due to the generous hug of memory foam.
Cons
It is a little bit costlier than the other mattresses on this list.

It has a slight breaking-in period.
Highlights
Offers incredible value at half the price of other mattresses on this list.

Mattress firmness level makes it compatible with different sleeping styles.

A specially designed structure for mattress breathability ensures temperature regulation.
The Novosbed is my budget pick for my top-rated luxury mattresses in Canada. From the inviting soft covers to the exquisite finishing of the side upholstery, I was quite impressed with the luxury on offer at such a price, over a thousand dollars cheaper than the Puffy lux and Ghostbed Luxe.
I think this mattress has a versatility that favors sleepers undecided about their favorite firmness level. I liked that the firmness can be picked out and adjusted on request. On testing, the firmness wasn't a reflection of the support I got, as even the plushiest version of this mattress offered premium support for my body. The top layer was plush enough for a cozy feel. However, I liked that I could move freely despite the plush top layer.
Based on Our Tests
My tests showed that this mattress has a firmness range that caters to different sleep positions and body weights. Also, I could scarcely feel my partner's movements even while it provided spine support.
Pros
Extended sleep trial period where users get to ensure satisfaction.

It comes with an extra layer, useful for adjusting firmness levels.

It is excellent for couples as it has a low motion transference feature.
Cons
It is not equipped with special cooling technologies like the GhostBed Luxe.

The firmness level might not be sturdy enough for heavy users.
Luxury Mattresses: What Make Them
Like all the best mattresses in Canada, a luxury mattress' construct is made from the standard mattress types available.
Memory foam. Many of the best mattresses in Canada have memory foam in their construction (1). This is due to the versatility of the foam, alongside its great pressure relief tendencies. However, memory foam mattresses tend to run hot except gel-infused, and they are also not great with motion isolation.
Innerspring. Innerspring mattresses are known for having strong edges and excellent support bases. They are also remarkably breathable as their construction allows for maximum airflow, ensuring adequate temperature regulation. However, its con is that it usually has a thin comfort layer, making cushioning almost impossible.
Latex. Durability and bounce are two features why many users prefer latex mattresses. It also possesses impressive body cushioning without the excessive hug, which is excellent for active sleepers. The only drawback is that latex mattresses are costly, probably due to the rarity of their production material.
Hybrid. Combining the best of multiple worlds, a hybrid mattress is designed for sturdiness, bounce, and pain relief. If made right, an average mattress will last for 10 years before showing signs of sagging; however, they tend to be bulky and heavy, not designed for everyday movement.
Buyer's Guide: What to Consider

To deliver an unbiased mattress review where consumers do not feel influenced, here are a few tips that users should keep in mind when shopping for their luxury mattresses. This way, purchases aren't made on our words alone; buyers can choose for themselves.
Sleeper type. When purchasing a luxury mattress, the first tip is the sleeper's type; it is determined by sleeping style and body weight. Some positions require intensive cushioning, while others need only a fraction of it.


For heavier/stomach sleepers, check out our

Canadian firm mattresses

, as this is the most suitable firmness level for the sleeping style.

Hypoallergenic. This feature is especially important to allergy-prone individuals. It helps combat dust, mites, bacteria, and other allergens that one might come in contact with.
Thermoregulation. Temperature regulation is another feature of top-rated luxury mattresses in Canada. Mattress breathability and several cooling technologies help with body heat dispersal and ensure a sleep free of night sweats.
Size. The mattress bought must be the right fit for wherever it's to be used. For example, purchasing a Cal King where a bunk RV mattress should be is a no-brainer.
To increase mattress durability and reduce sagging, it is advised that you flip or rotate your mattress once every 3 months. This way, indentations made on one side have a chance of recovering.
Pain relief. A mattress cannot be rightfully called luxurious if it does not perform the basic function of pain relief and pressure alleviation. The best bet for this feature is a mattress with adequate cushioning, which encourages body sinkage without giving up spinal support.
What Determines the Price of a Luxury Mattress
A luxury mattress's price can be impacted by several factors, including how it's been sewn, whether it includes natural materials, how thick the layers are, whether it's a custom-designed mattress, etc.
Natural and eco-friendly material, hand-sewn quality, and custom mattress designs are important factors, meaning that the manufacturer has put a lot of care into the mattress. They make the mattress look and feel special, hence becoming expensive.
Thicker layers can also affect the price since it adds to the mattress's quality and durability. Plus, if the mattress uses a new feature or technology to improve thermoregulation or zoned support, you can expect it to be more luxurious.
These criteria are just related to the structure of the mattress and not the bedding, cover, or sheets. The softer, more hypoallergenic, and more natural the covering materials are, the more valuable the mattress.
What firmness level is best for luxury mattresses?
The medium-firm or luxury firm is the most acceptable firmness level for luxury mattresses, as the mattress can accommodate a wide range of sleeper types. It has enough cradling for lightweight, side, and back sleepers, while support is also sturdy enough for heavy/stomach sleepers.
What mattress type is best for body cushioning?
The memory foam mattress has the best cushioning properties of all mattress types. However, it is vital to know that it comes with movement restriction, a feature no one fancies.
Conclusion
Choosing a luxury mattress is all about the comfort level it can offer you. Laying down and immediately feeling relaxed enough to sleep is the goal of all mattresses; however, luxury mattresses have made this a reality.
Our recommended pick of the review, Puffy Lux, has been proven adept at delivering users the optimal comfort needed for restorative sleep health. A medium-firm, gel-infused, memory foam mattress that works well with different sleeper types.
Did you find this review interesting? Or would you like to know more about luxury mattresses in Canada? Why don't you let us know through the comments?
References:
Mattress firm blog. (2018, July 8). 5 Benefits of Buying a Memory Foam Mattress. Retrieved from https://www.mattressfirm.com/blog/mattress-obsessed/the-benefits-of-buying-a-memory-foam-mattress
2
Sleep Experts Consulted